CAS Department Updates September 2012
German and Russian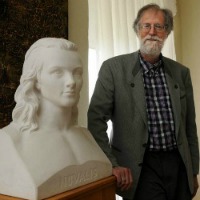 At the May 2012 meeting of the International Novalis Society at the birthplace of the poet in Oberwiederstedt, Germany, Professor Dennis Mahoney had the honor not only to give the keynote address, but also to be elected President. Novalis – the nom de plume for Friedrich von Hardenberg (1772-1801) was not only an ancestral title from the Middle Ages but also a sign of his aspiration to a "clearer of new ground" – has long been regarded as one of the principal figures not only of German, but also European Romanticism. For these same reasons, though, East German authorities had been about to demolish his ill-kept birthplace in the 1980s, until a local citizens' initiative prevented this; the founding of the society in 1992 was one of the first cultural expressions of a united Germany.
Mahoney, whose doctoral dissertation dealt with the combination of idealistic philosophy and science in what Novalis called a "poeticized nature," was first invited to speak in Oberwiederstedt in 1993. Since then he has taken part in three international symposia sponsored by the Society. Becoming its president – the first non-German to have been so chosen – is truly the highlight of his scholarly career.
Philosophy
Associate Professor and Acting Chair Louis deRosset spent six weeks in April, May, and June as a visiting fellow at the Centre for Consciousness at the Australian National University, in Canberra, Australia. He was also invited to the Art and Metaphysics Conference at Lingnan University in Hong Kong in May to give a paper entitled, "Art, Analyticity, and Ontology." In the months since returning to Vermont, deRosset has had three papers accepted for publication: "No Free Lunch," forthcoming in a volume from Philosophia Verlag in Munich, edited by Miguel Hoetlje, Alex Steinberg, and Benjamin Schnieder and entitled Dependence, Emergence, Supervenience; "Possible Worlds for Modal Primitivists," forthcoming in the Journal of Philosophical Logic; and "Grounding Explanations," forthcoming in Philosophers' Imprint.
Associate Professor Sin yee Chan presented the paper "Confucian Motherhood" at the Australasian Society for Asian and Comparative Conference, Sydney, Australia in July 2012.
Political Science
The Department of Political Science is very proud that three of its faculty received important University awards in recent months:
Professor Robert Bartlett, Gund Professor of the Liberal Arts, was named the College of Arts and Sciences Dean's Lecturer for the fall semester 2012. The Dean's Lecturer award recognizes CAS faculty with excellent teaching and research records. Bartlett will deliver his Dean's Lecture, "Sustainable Environment, Sustainable Democracy, Sustainable Politics," on October 3 at 4 PM in Waterman Memorial Lounge.
Associate Professor Lisa Holmes was awarded the 2012 Kroepsch-Maurice Award for Excellence in Teaching at the associate professor rank. This University-wide award recognizes "faculty in each of the academic ranks who have demonstrated excellence in classroom teaching, the ability to motivate and challenge students and the capacity to engage students in the pursuit of knowledge and understanding."
Associate Professor Ellen Andersen was awarded the Glen Elder Faculty Leadership Award by the LGBTQA Center. The award recognizes LGBTQ faculty members "who go beyond the requirements of their jobs to advance understanding of and/or improve climate on our campus for LGBTQ people and their allies."
The Department is delighted to recognize three of its faculty who were promoted during the previous academic year. These promotions took effect at the beginning of the 2012-13 academic year: Associate Professor Michele Commercio, Professor Jack Gierzynski, and Professor Jan Feldman.
The Department is also very happy to welcome a new member to its ranks, Assistant Professor Melissa Willard-Foster, who received her Ph.D. in 2011 from UCLA and spent the last academic year as a fellow at the Belfer Center for Science and International Affairs at the Kennedy School of Government, Harvard University. She will teach courses on international relations and international security.
Romance Languages and Linguistics
The Department of Romance Languages and Linguistics now has a Faceboook page; "like" us at: https//www.facebook.com/UvmRomanceLanguages
Tina Escaja and Juan Maura, Professors of Spanish, and Debora Teixeira, Lecturer in Portuguese, are co-organizing the 19th annual Hispanic Forum to take place on our UVM campus on October 11-12; the title of the Forum is "The Green and the Greenest: The World's Strongest Sustainable Emerging Market in the Greenest Academic Campus (Brazil and UVM)."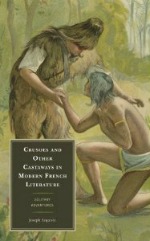 Joseph Acquisto, Associate Professor of French, just published a book (pictured at left): Crusoes and Other Castaways in Modern French Literature: Solitary Adventures (University of Delaware Press, 2012); the volume examines the many ways in which the castaway, particularly in the form of engagement with Robinson Crusoe, has been reinterpreted and appropriated in nineteenth through twenty-first century French literature.
Antonello Borra, Associate Professor of Italian, has a selection of poems (including "The Dodo," "The Rabbit," and "The Hare"--all from his Alfabestiario) appearing in the WRUV Reader, a Vermont writers' anthology; the UVM book launch for this volume takes place on September 29.
Catherine Connor, Professor of Spanish, published an article in the spring 2012 issue of Cervantes, Bulletin of the Cervantes Society of America, the most prestigious international journal of Cervantes studies; the article, titled "Beyond Cognition: Don Quijote and Other Embodied Minds," is featured in a special cluster of essays entitled "Cognitive Cervantes"--a rapidly growing area of Spanish literary and cultural studies.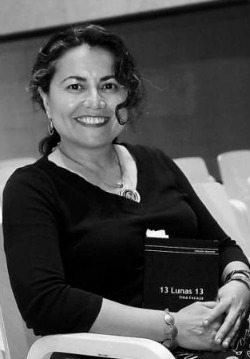 Tina Escaja, Professor of Spanish, has presented her poetry book 13 lunas 13 in Panama and Spain, a book that is also part of a larger project that includes video, installation, and interactive testimony. This project will be presented at the L/L Gallery this October. Other recent research activities include coediting the volume on gender, art, film and literature entitled Fronteras de la memoria: Cartografías de género en artes visuales, cine y literatura en las Américas y España, and the collaboration editing the volume Feminismo Descolonial, a special issue of Letras Femeninas. In this volume Prof. Escaja also published a book chapter on women and technology: "Género, tecnología e Internet en Latinoamérica y vigencias del formato digital."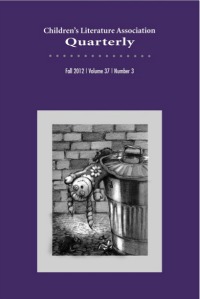 Cristina Mazzoni, Professor of Italian, published an article in the Children's Literature Association Quarterly (pictured at left) on the link between dolls and trash (and poop), titled "Treasure to Trash, Trash to Treasure: On Dolls and Waste in Italian Children's Literature."
John Waldron, Associate Professor of Spanish and Program Director for Latin American and Caribbean Studies, has had accepted for publication an article titled, "From Incorporation to Corporations: How Teutonic Exceptionalism Shaped US Involvement in Mexico and Puerto Rico" for the prestigious Uncovering the U.S. History Project series published by Arte Público. This article explores how the U.S. leaders drew connections between themselves and mythical inhabitants of the Teutonic forests who were, in their opinion, the only race genetically disposed to live under democratic laws. He shows how this exceptionalism lead to the exclusion of people that inhabited colonized and incorporated lands of the South West and, eventually, to what some have called the "curious status" of Puerto Rico. He shows how Teutonic exceptionalism still forms an insurmountable limit to U.S. interactions with Mexico and Puerto Rico to the present day. He also participated in the Blackwell Encyclopedia of Postcolonial Studies with a contribution on the Nuyorican Poets Café. In addition, he has completed a biographical article on Puerto Rican writer Mayra Santos Febres that will appear shortly in a collection called, The Contemporary Spanish American Novel, edited by Wilfrido Corral.
Sociology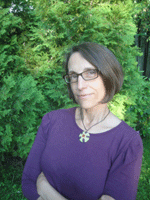 Professor Kathy Fox recently received a Fulbright Senior Scholar award to conduct research in New Zealand for the spring semester of 2013 while on sabbatical. Kathy will be doing qualitative research about New Zealand's prisoner reentry programs, including a comparison with a similar program in Vermont. She will also be researching their restorative justice programs, which are alternatives to traditional justice, that includes victims and community members in a reparative process.