Please read the instructions below for information on how to search our scheduling system for open appointment slots at the Tutoring Center. If you get "no results found," please call us at (802) 656-4075 to get campus wide tutor emails and Supplemental Instruction schedules.
As a courtesy, due to the volume of appointments, we only allow one individual tutoring session per week per class. There is no limit on group sessions.
When searching for availabilities, you must first select Center. Choose the only option, "SUBJECT-AREA".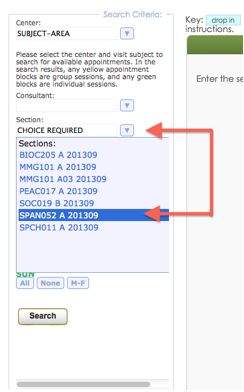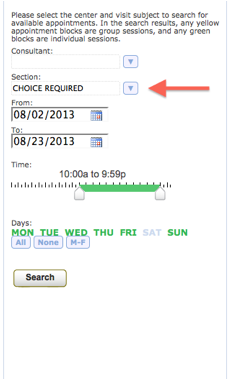 Next, select a Section. Choose either one of your listed courses or "LEARNING SKILLS" for a Learning Skills appointment.
The date and time range are default. These settings provide the highest chances of finding any possible availability, so do not modify them.
If there are any available appointments based on your criteria, they will be listed based on date, time, and appointment type. One-on-one sessions are noted in green, while group sessions are in yellow. The date is listed at the top of the field, and times are listed in descending order below. Select the desired time.

On the Appointments Entry page, enter your cell phone number and notes for the session. A cell phone helps us contact you if necessary. By providing notes, a tutor has a better idea of how to help you. This improves your session, and they're strongly recommended. Be sure to mention specific content, not chapter numbers.
The field for Location refers to different spaces within the Tutoring Center. No appointment scheduled through this system will be at another location.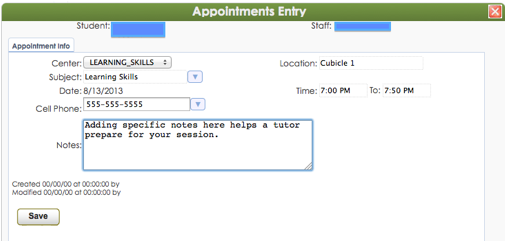 Finally, hit Save. You should receive a confirmation email.
To cancel an appointment, or attempt to reschedule, students should call the Tutoring Center directly (802-656-4075).