As hope is delivered via syringes around the world, in the rugged mountains and fjords of Southeast Alaska, that delivery can also require a seaplane, a seasoned pilot and an adventure-ready nurse equipped with precious vials of COVID-19 vaccine. As a state public health nurse based in Juneau, Claire Geldhof '11 is among these frontline workers.
February and March 2021 found Geldhof in Alaskan towns and villages such as Pelican, Tenakee Springs, Elfin Cove, Hoonah and Gustavus, among others. Many of them have fewer than one hundred residents, with roots in the lifestyle and livelihood of commercial fishing. All of the locations can be challenging spots to land a small floatplane in rough weather. The Lisianski Inet on Chichagof Island, home to Pelican and Tenakee Springs, for example "can be a wind party," advises Geldhof.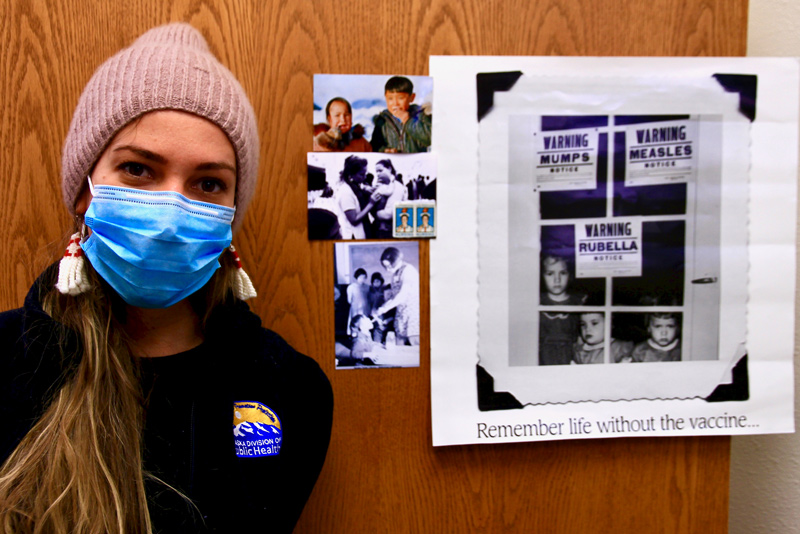 These remote places are on the regular by-air and by-sea rounds of Geldhof's job, often focused on preventive health care and all-too-often measures to help counter a life-destroying opioid epidemic that grips many in the region. Being the final link in the chain of vaccine delivery adds a special level of urgency in this moment, but it's built upon Geldhof's broader sense of dedication to her work and where she practices.
"These communities are incredibly special and resilient. They are also dwindling, with the vast majority of population aged 65-plus," she writes via e-mail, grabbing a rare moment when spare time and solid Wi-Fi mesh. "When I travel out to these areas, I think a lot about the landscape of the community in the next decade. Serving individuals with rural health care and meeting people where they are is an honor."
The College of Nursing and Health Sciences alumna's commitment to serving the people of Alaska is strongly rooted in her experience as a student in a very different place — Dhaka, Bangladesh, where Geldhof and a cohort of fellow nursing students completed a public health nursing rotation during her senior year, guided by Professor Hendrika Maltby.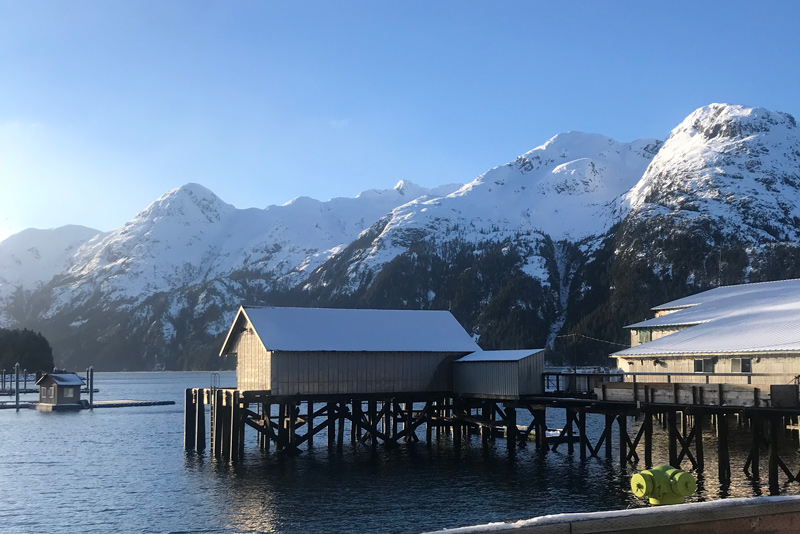 Another day on the job in Pelican, Alaska. (Photo: Claire Geldhof '11)
It was a transformative experience as she learned to navigate a city of 14.4 million, worked with people in extreme poverty and found ways around language barriers. Geldhof notes that she had struggled to find her particular fit in the health care profession until then, but was enlightened by and drawn to the essential power of listening deeply to her patients in Bangladesh. She came to see the ways a public health nurse, through work on the ground in communities, can leverage broader societal change.
"I think I was born to practice nursing in the world," Geldhof writes. "I love the capacity to meet humans where they are and listen to stories, assess individual and community-wide problems and creatively work to support strategies and problem solving. I embark on my tenth year of nursing empathically. Forever a student to the curiosities and provocation of the world's needs."