A seat at the tables on the first floor of Howe Library has long been a prime UVM study spot. Along the walls of this student hub, in the form of the H. Lawrence McCrorey Gallery of Multicultural Art, the spirit of one of the university's most respected and beloved professors continues to exert a quiet influence. Established at his retirement in 1995, it's a fitting memorial for a champion of social justice and a true renaissance man, an accomplished jazz saxophonist who began performing with bands in Camden, N.J., at age 13.
When Larry McCrorey joined the UVM department of physiology and biophysics in 1966, he was one of just two Black faculty on campus. He had come to UVM from the University of Illinois College of Medicine in Chicago, following his graduate school mentor Norman Alpert, who recruited McCrorey to help him build a strong teaching program. While he would go on to excel in front of the classroom within his discipline, winning numerous university teaching awards, McCrorey made a wider impact on the university and Vermont communities through his forthright voice calling out and working to combat racism.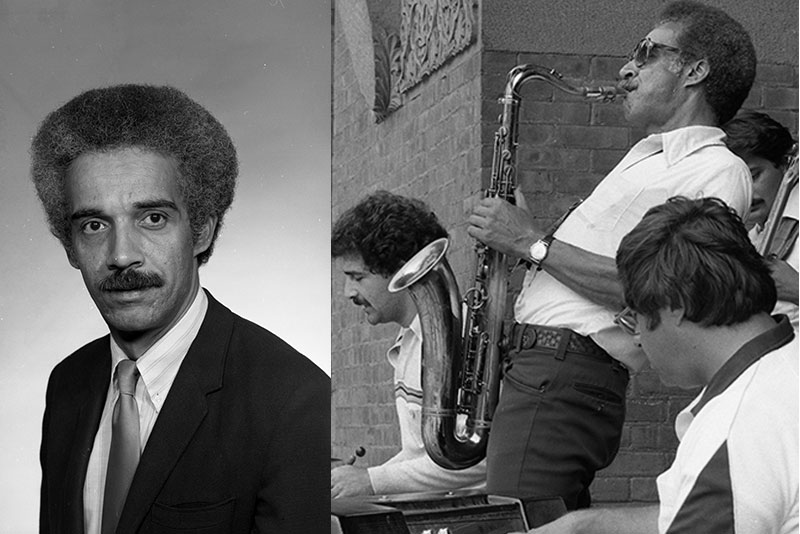 Today, his daughter Leslie McCrorey Wells reflects, "The university meant a great deal to my father and he truly wanted it to be the best institution of higher learning that it could be. He believed that since racism was learned, it could be un-learned or never learned in the first place. He was convinced, at least for most of his time in Vermont, that he could make a difference and, of course, he did." McCrorey Wells, who earned bachelor's and master's degrees at UVM, is co-owner of Pizzeria Verita, Trattoria Delia, and Sotto Enoteca restaurants in Burlington.
In 2002, speaking to Fran Stoddard on Vermont Public Television's "Profiles," McCrorey recalled the challenges that racism presented when he moved into the state in the mid-sixties. "When I recognized what was happening here, I said to my boss, Norman Alpert, 'Look, I don't want to embarrass you, you brought me here. But I've got to fight this stuff. I can't just be a scientist or just be a professor. I'm going to have to be involved politically.'"
Alpert's response: "If you didn't get involved politically, I'd be very upset with you."
As both a moral and educational leader, McCrorey stood on the shoulders of his direct ancestors. His father was the presbyterian minister of Lombard Central Church in Philadelphia, his grandfather the first African-American president of Johnson C. Smith University, a historically Black college in North Carolina. At UVM, McCrorey's roles would come to include dean of the School of Allied Health Sciences (now the College of Nursing and Health Sciences), and associate vice president for academic affairs.
Working to effect change in Vermont, McCrorey was a frequent public speaker in the community, an adviser to three governors, and a charter member of the state's Human Rights Commission. Considering what her father might say as the United States continues to struggle with race issues, McCrorey Wells says, "His view on racism would be the same today as it was in every speech he ever gave. He would encourage people to 'fight racism with everything you've got but never let it be an excuse for failure.' He would argue that this very predictable outcome is born of America's inability to come to grips with its racist past and present, and that until that happens, very little will change. His advice would inevitably circle back to the teacher in him: in order to know where we're going, you need to understand where we've been."
Larry McCrorey passed away in 2009 at age 82, but his teaching continues at Howe Library. All would do well to pause and remember him through his words stenciled on a slate blue wall at the north entrance of the McCrorey Gallery: "Each person needs to look into himself or herself to encounter the racism there, to uncover it, and to finally deal it a death blow. Each of us needs to understand that the price of hating other human beings is loving oneself less."