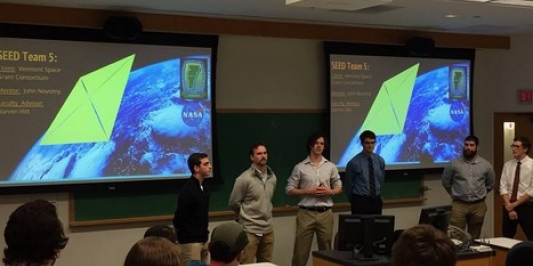 VTSGC MISSION
The VTSGC is dedicated to encouraging students at all levels to take more mathematics and science courses and to consider careers in science, technology, engineering, and mathematics (STEM) areas. Through its activities, the VTSGC connects Vermont citizens to NASA and contributes to the development of the scientific and technical workforce that will be needed by NASA, its contractors, and the nation to remain competitive in the future. As a Capability Enhancement Consortium, the VTSGC emphasizes programs in Higher Education and seeks to increase Vermont's research infrastructure in areas that are a NASA priority.  In all of its programs, the VTSGC promotes diversity by actively encouraging the participation of women, members of underrepresented groups, and persons with disabilities.
VTSGC HISTORY
The Vermont Space Grant Consortium (VTSGC) was established in 1992 as part of NASA's National Space Grant College and Fellowship Program. VTSGC affiliates include Vermont academic institutions, professional organizations, private sector companies, and community organizations interested in the enhancement of scientific and technical education and the promotion of research in aerospace-related areas. At the state and local level, the VTSGC provides a focal point for those wishing to connect to NASA. At the national level, the VTSGC participates in the National Space Grant Network of 52 consortia, one in each state, the District of Columbia, and the Commonwealth of Puerto Rico.
NATIONAL NETWORK
Funded by the National Aeronautics and Space Administration (NASA), the Vermont Space Grant Consortium (VTSGC) is one of a network of 52 university-based Space Grant Consortia representing every state, Puerto Rico, and the District of Columbia.
VTSGC MISSION
To Serve the citizens of the State of Vermont and the larger National community by fostering increased expertise in aerospace-related education, research, and public engagement. To provide a statewide network to enhance communication and interaction among Vermont organizations and individuals with interests in aerospace issues.
STRATEGIC PLAN & GOALS
Goals of the VTSGC include enhancing Vermont's STEM educational and research base, encouraging Vermont students to pursue careers in scientific and technical fields, strenghtening the Vermont STEM workforce, and improving representation of all Vermont communities within STEM. We strive to make aerospace and all things NASA-related equitable, accessible, and fun for all Vermonters.
CONTACT VTSGC
Vermont Space Grant Consortium/NASA EPSCoR
University of Vermont
Mansfield House, Room 204 & 206
25 Colchester Avenue
Burlington, VT 05405-0156
For more information, please contact Dr. Ellen KW Brennan, Program Administrator, at Ellen.Brennan@uvm.edu.