Welcome
For three decades, faculty, staff, and students of the University of Vermont cosmogenic nuclide sample processing laboratory have worked closely with engineers and machinists at the University's IMF Labs to design and build many items that make sample processing easier, more consistent, and more efficient. Together we have envisioned, tested, refined, and produced equipment for use in our isotope and geochemistry clean labs. 
Beginning in 2018, we were funded by the US National Science Foundation (grant NSF-EAR-1735676) to serve as a community laboratory dedicated to training visitors from around the world and working on methodological developments to share with other cosmogenic nuclide laboratories. As part of that mission, we are making these purpose-built laboratory items widely available for colleagues at other institutions who have similar facilities and use similar methods. We are happy to now be able to share these items and their designs with the broader science community in cooperation with University of Vermont's IMF Labs.
Here, we provide photographs, descriptions, and plans for these inventions. Because we have been continuously supported as a research and research training facility by US National Science Foundation, we provide CAD renderings of these pieces free of charge under a creative commons license for non-commercial use. The University of Vermont IMF Labs can make and sell these pieces to academic institutions for research purposes for the cost of labor and materials. You can order them at this site.  Get a Free Quote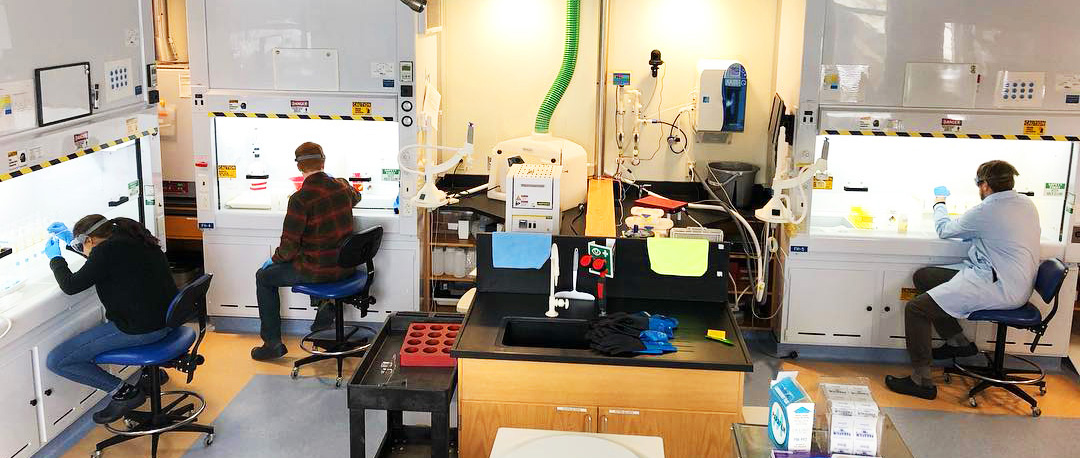 © The University of Vermont and State Agricultural College. Created with government support under [NSF-EAR-1735676] awarded by the NSF.
The designs are released under the Creative Commons Attribution-NonCommercial license (CC-BY-NC). Anyone is welcome to use the designs for any non-commercial purpose. The designs are provided as-is with no express or implied warranty. For information on commercial use, please contact Paul Bierman, pbierman@uvm.edu.
Bottle Static Sleeve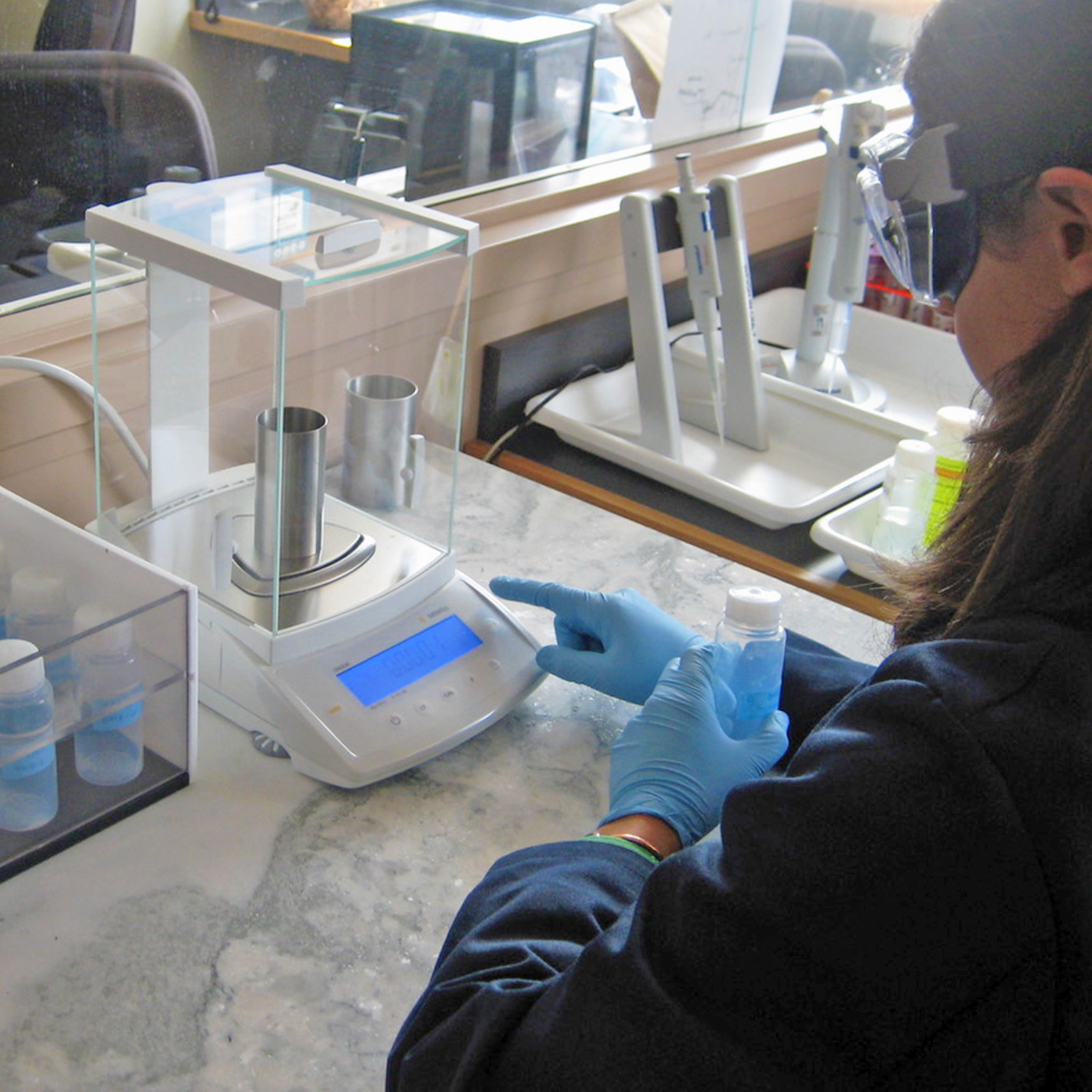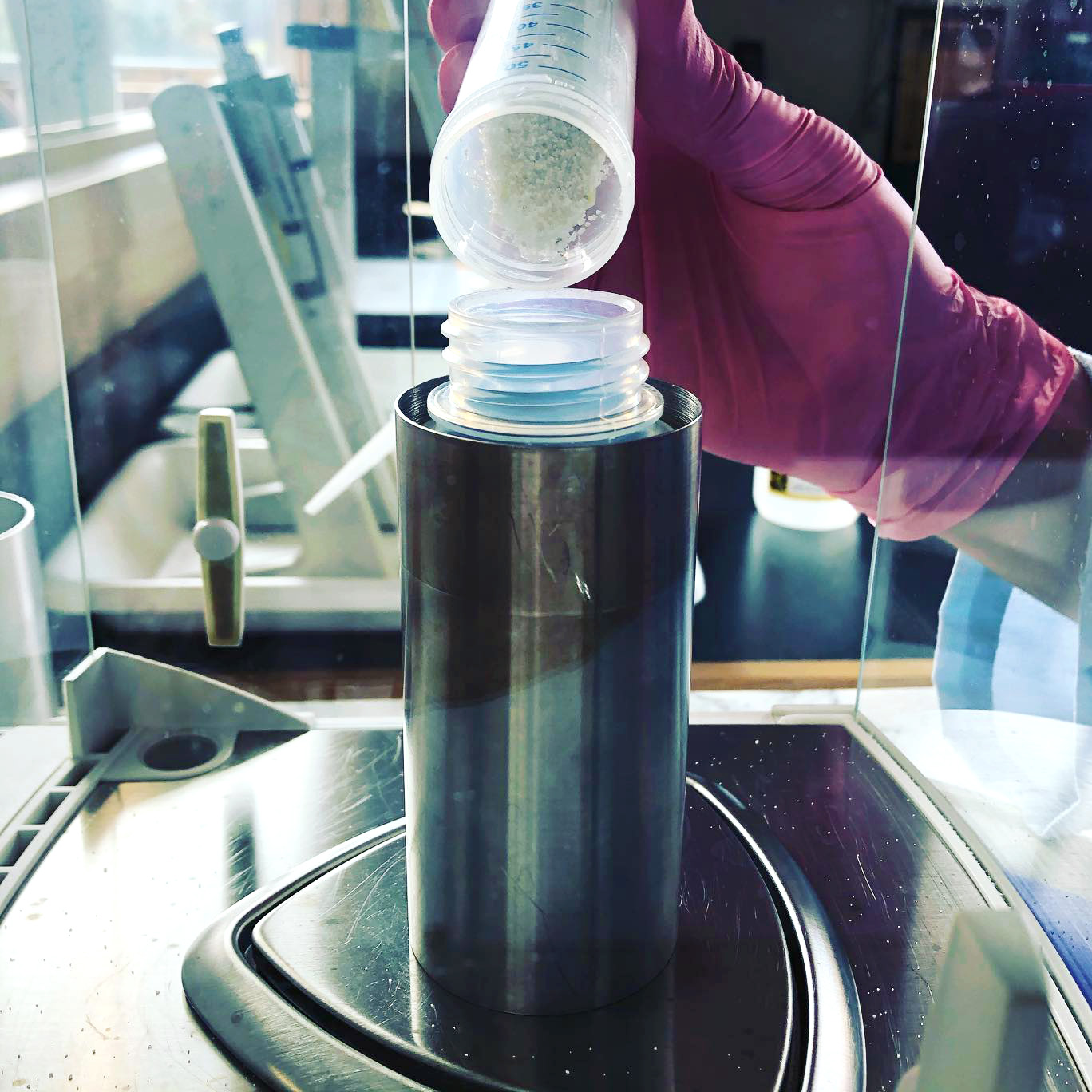 | | |
| --- | --- |
| BOTTLE STATIC SLEEVE | This cylindrical sleeve, made from lightweight aluminum, is designed to hold digestion bottles during initial sample massing (i.e., while adding quartz and Be/Al carriers). It holds the bottle upright, minimizing the chance of tipping. It also bleeds off static electricity, thereby increasing the accuracy and precision of sample massing. There are two sizes: a smaller sleeve designed to hold a 125 mL Teflon bottle and a larger sleeve designed to hold a 250 mL Teflon bottle. See the Be/Al Extraction Method for additional detail. |
| FOR USE WITH | 125 mL or 250 mL clear Nalgene FEP Wide Mouth Teflon Resin bottles |
| LOCATION USE | Intended for use on a high-precision balance |
| CLEANING | Cleaned using a water rinse if needed |
| DIMENSIONS | Small sleeve: 1.875" outer diameter x 1.842" inner diameter x 3.77" tall; Large sleeve: 2.5" outer diameter x 2.395" inner diameter x 4" tall |
| MATERIAL | Aluminum |
| COST | $180 for the small (125 mL) sleeve, $180 for the large (250 mL) sleeve plus shipping |
| DRAWING | For a Plan email itsinfo@uvm.edu |
Digestion Block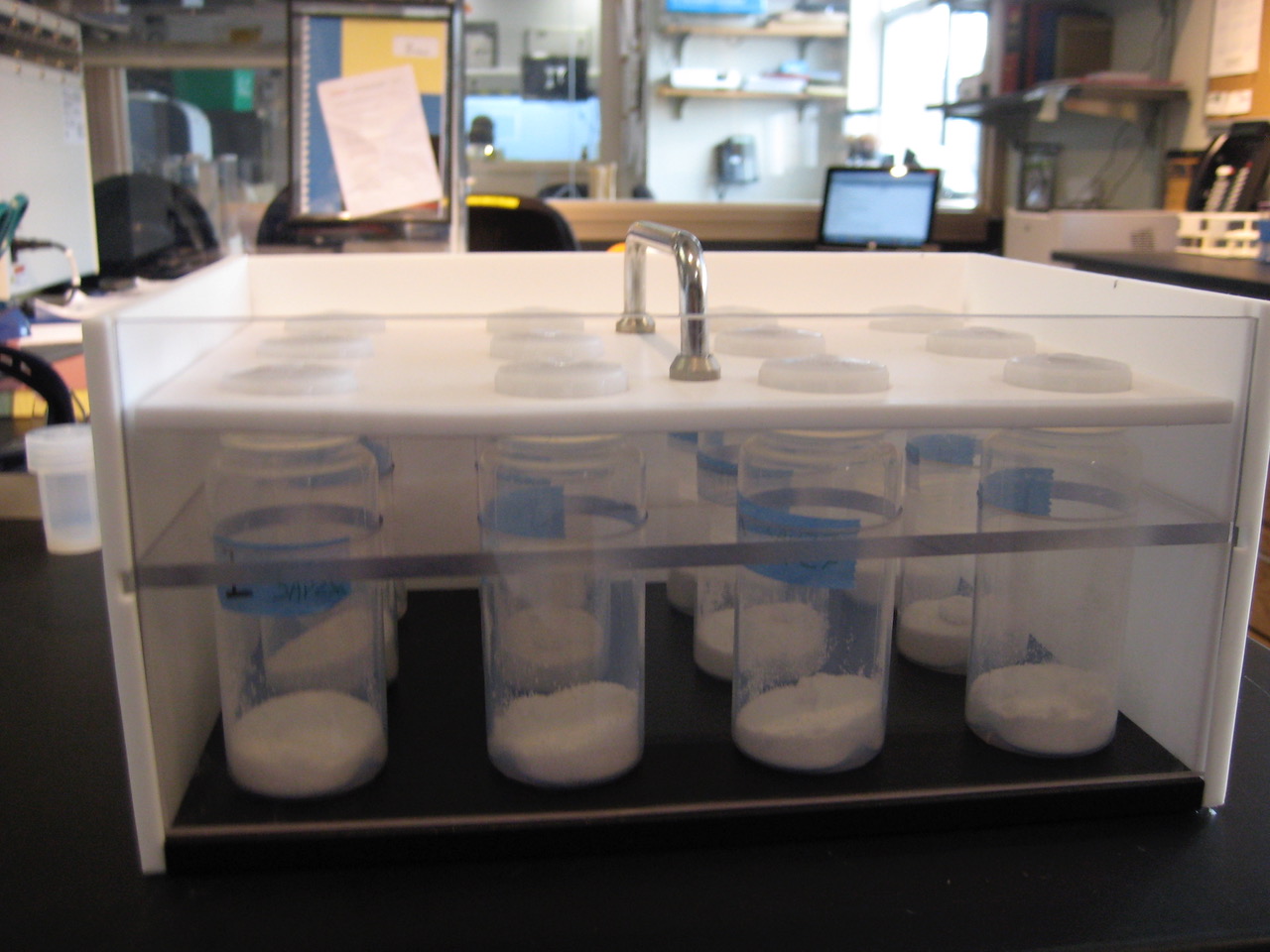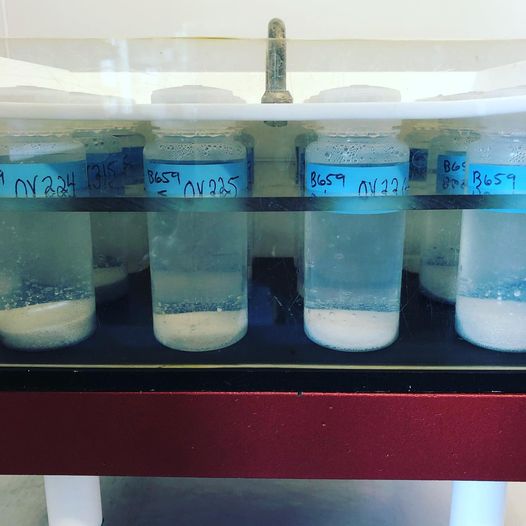 DIGESTION BLOCK
This block is intended to optimize both the safety and efficiency of quartz digestion in hydrofluoric acid. It holds 12 samples (in a 4x3 matrix); each sample bottle sits in its own circular hole, all enclosed in a rectangular box with a removeable lid. This configuration ensures that a sample cannot be knocked over during digestion, which would represent a significant safety hazard. The design of the box also traps heat, allowing the quartz to dissolve more quickly. There are two different size digestion blocks: one for 125 mL bottles and one for 250 mL bottles. See the Be/Al Extraction Method for additional detail.
FOR USE WITH
For use with 12 x 125 mL or 250 mL clear Nalgene FEP Wide Mouth Teflon Resin bottles
LOCATION USE
Intended for use in a fume hood on a hot plate
CLEANING
Cleaning with dilute nitric acid and a water rinse
DIMENSIONS
Small digestion block: 11.625" length x 7.75 "width x 5.625" height
Large digestion block: 11.625" length x 7.75 "width x 5.625" height
MATERIAL
Teflon coated stainless steel base with Teflon sides and a plexiglass front
COST
$1,350 for the small (125 mL bottles) block, $1,350 for the large (250 mL bottles) block plus shipping
DRAWING
For a plan email itsinfo@uvm.edu
Anion Column Rack (12 samples)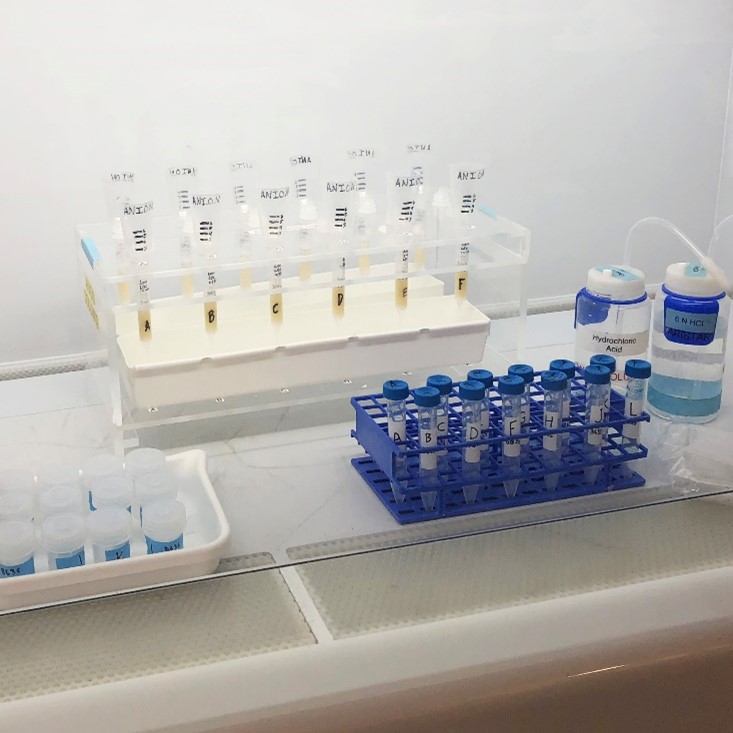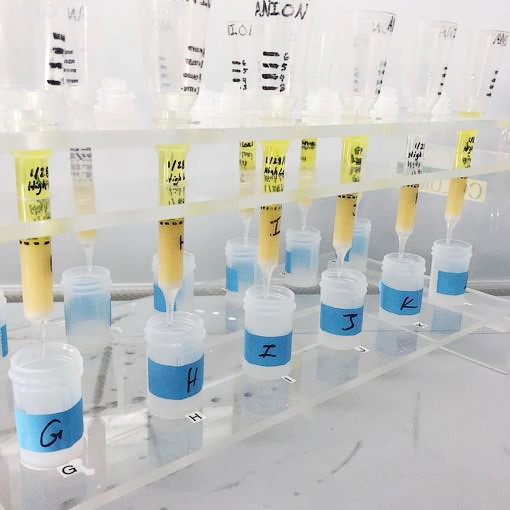 | | |
| --- | --- |
| ANION CHROMATOGRAPHY RACK | Holds up to twelve 5 mL columns (Thermo Fisher Scientific Part # 29922) and corresponding 22 mL (Savillex Part # 200-022-20) beakers for iron removal. User performs a step on the first six columns, then rotates the rack in order to perform the step on the second six columns.  See Anion Column procedure for more detail in Be/Al Extraction Method. |
| WASTE TRAY | Designed to accomodate place waste trays (Rubbermaid part # L3-2917-RO-WHT) |
| LOCATION USE | Intended for use in a fume hood or other ventilated space |
| CLEANING | Dilute acid washing followed by a water rinse. |
| DIMENSIONS | 21.6 cm Tall x 19.4 cm Wide x 43.2 cm Long |
| MATERIAL | Cast Acrylic with Dichloroethane to bond |
| COST | $ 375 plus shipping |
| DRAWING  | For a plan email itsinfo@uvm.edu |
Cation Column Rack (12 samples)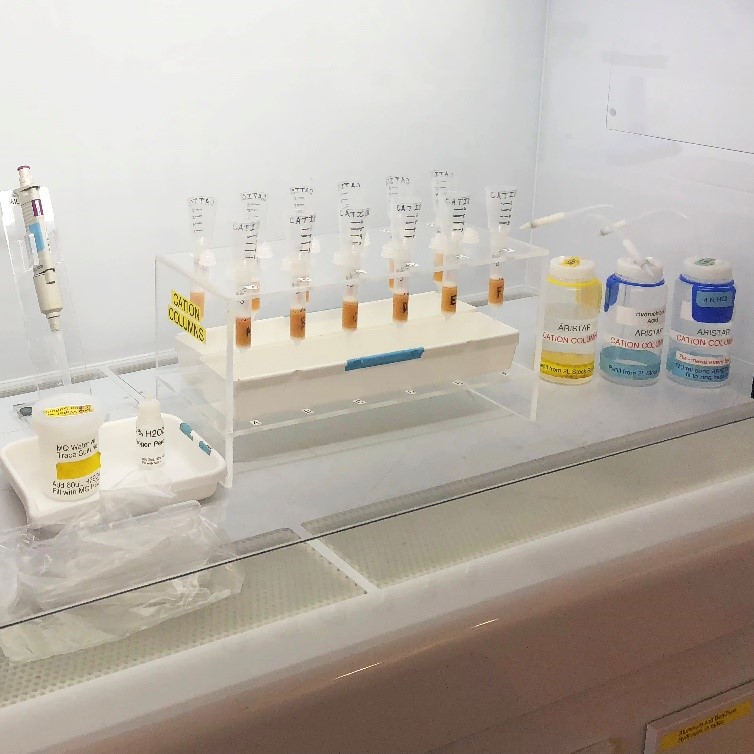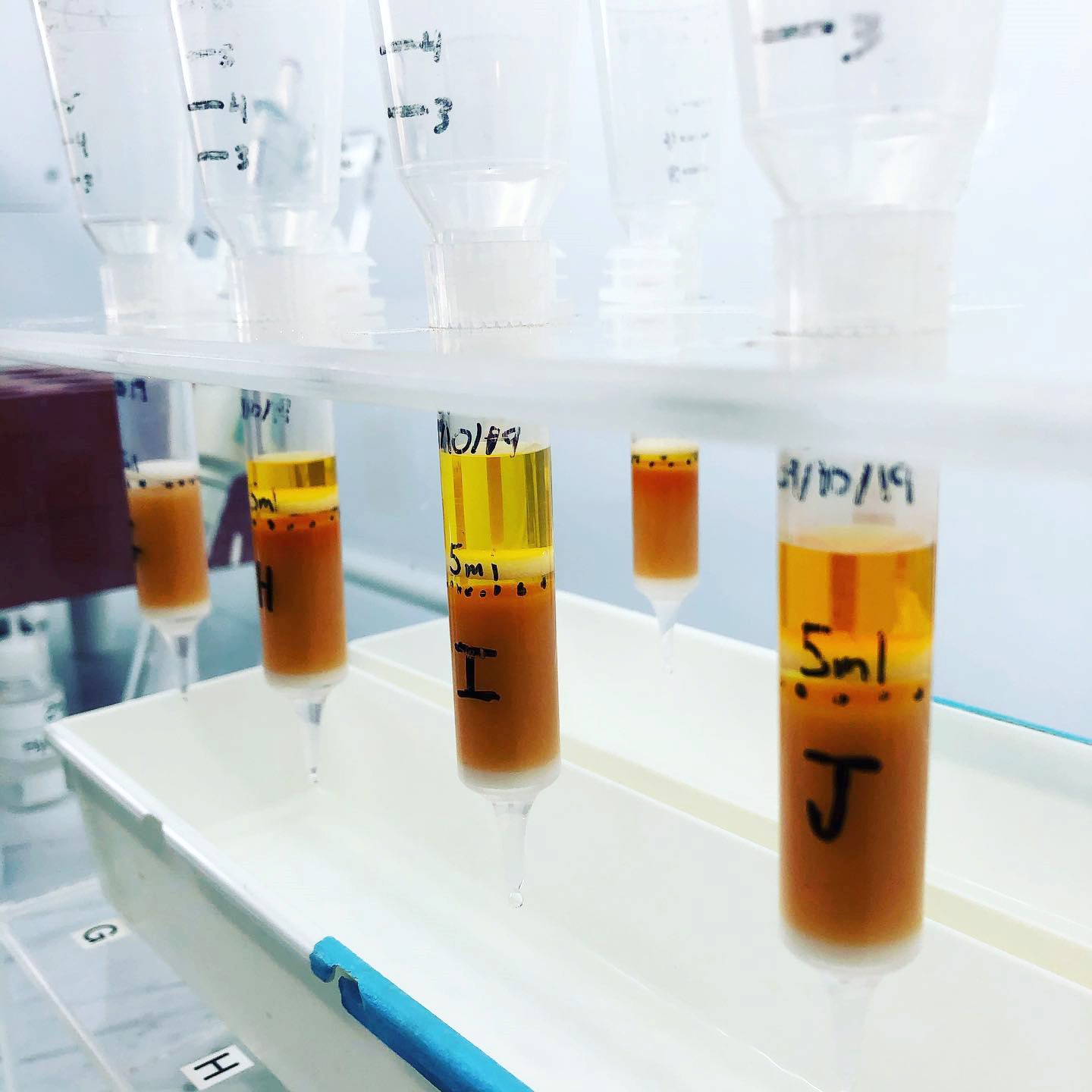 | | |
| --- | --- |
| CATION CHROMATOGRAPHY RACK | Holds twelve 10mL columns (Thermo Fisher Scientific Part # 29924) and corresponding 22mL and 30mL beakers (Savillex Part # 200-030-20 and # 200-022-20) for the separation of titanium, beryllium, and aluminum by cation column chromatography methods. See Cation Column procedure for more detail in Be/Al Extraction Method. |
| WASTE TRAY | Designed to accommodate plastic waste trays (Rubbermaid Part # L3-2917-RO-WHT) |
| LOCATION USE | Intended for use in a fume hood or other ventilated space |
| CLEANING | Dilute acid-washing followed by a water rinse |
| DIMENSIONS | 21.6 cm Tall x 19.4 cm Wide x 43.2 cm Long |
| MATERIAL | Cast Acrylic with Dichloroethane to bond |
| COST | $295 plus shipping |
| DRAWING | For a plan email Itsinfo@uvm.edu |
Gel Drydown Block
| | |
| --- | --- |
| GEL DRYDOWN BLOCK | This heat block, made from aluminum (VWR part, # 13259-288), is designed for holding 15 mL centrifuge tubes upright while drying BeOH or AlOH gels. Each block holds 12 tubes in a 4x3 matrix. The block sits directly on a hot plate, and the conductive material transfers heat into the tubes. By drying gels at 65°C until consolidated, then driving off lingering water vapor at 98°C, the gels form a single, small pellet that can easily be transferred to a quartz crucible using the Pellet Funnels (also shown on this page). See Sample packing procedure for more detail in Be/Al Extraction Method. |
| FOR USE WITH | Falcon 15 ml tubes (part # 352097) |
| LOCATION USE | Intended for use in a fume hood or other ventilated space |
| CLEANING | Cleaned using dilute acid and deionized water |
| DIMENSIONS | Diameter: 17.1 mm   Depth: 44.5 mm |
| MATERIAL | Aluminum |
| COST | $ 190  plus shipping |
| DRAWING  | |
Pellet Funnels

| | |
| --- | --- |
| PELLET TRANSFER FUNNELS | These funnels are designed for transferring a dried BeOH or AlOH pellet from a Falcon 15 mL centrifuge tube into a quartz crucible. The funnels are only useful for those labs that dry BeOH and AlOH gels directly in centrifuge tubes (see the Gel Drydown Block, also available for order). The wide end of the funnel is specifically sized to fit into a Falcon 15 mL centrifuge tube and the narrow end is sized to fit into a quartz crucible for subsequent burning and mixing. We recommend getting the number of funnels that corresponds to your sample preparation batch size. See Sample packing procedure for more detail in Be/Al Extraction Method. |
| FOR USE WITH | Designed for use with cathodes from Lawrence Livermore Laboratory and PRIME Laboratory |
| LOCATION USE | Intended for use in a fume hood or other ventilated space |
| CLEANING | Funnels are cleaned using sonication with dilute detergent followed by dilute acid wash and DI water rinse |
| DIMENSIONS | 0.6" Tall / 0.57" outer diameter  |
| MATERIAL | Stainless Steel |
| COST | $20 per funnel plus shipping |
| DRAWING  | |
Vial Block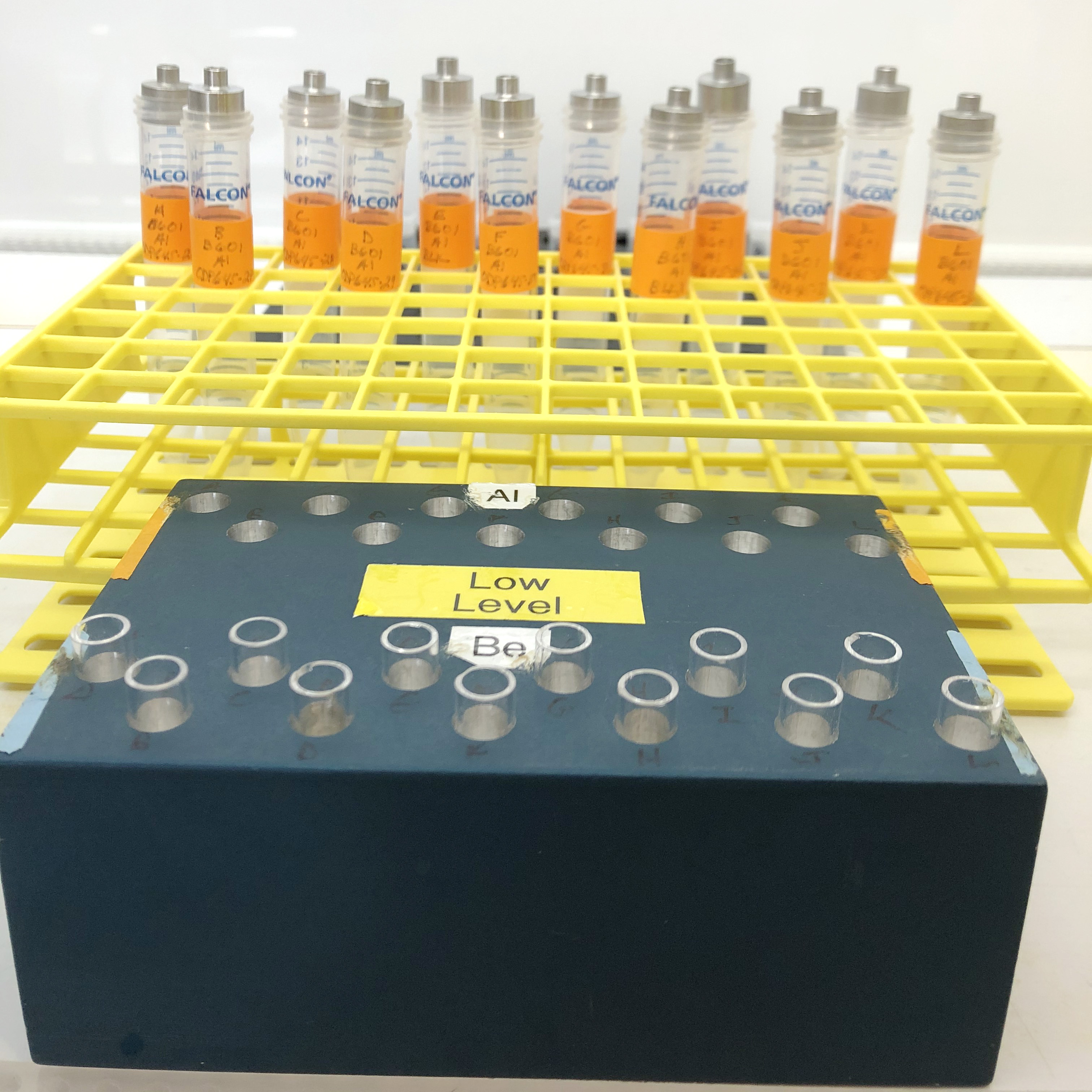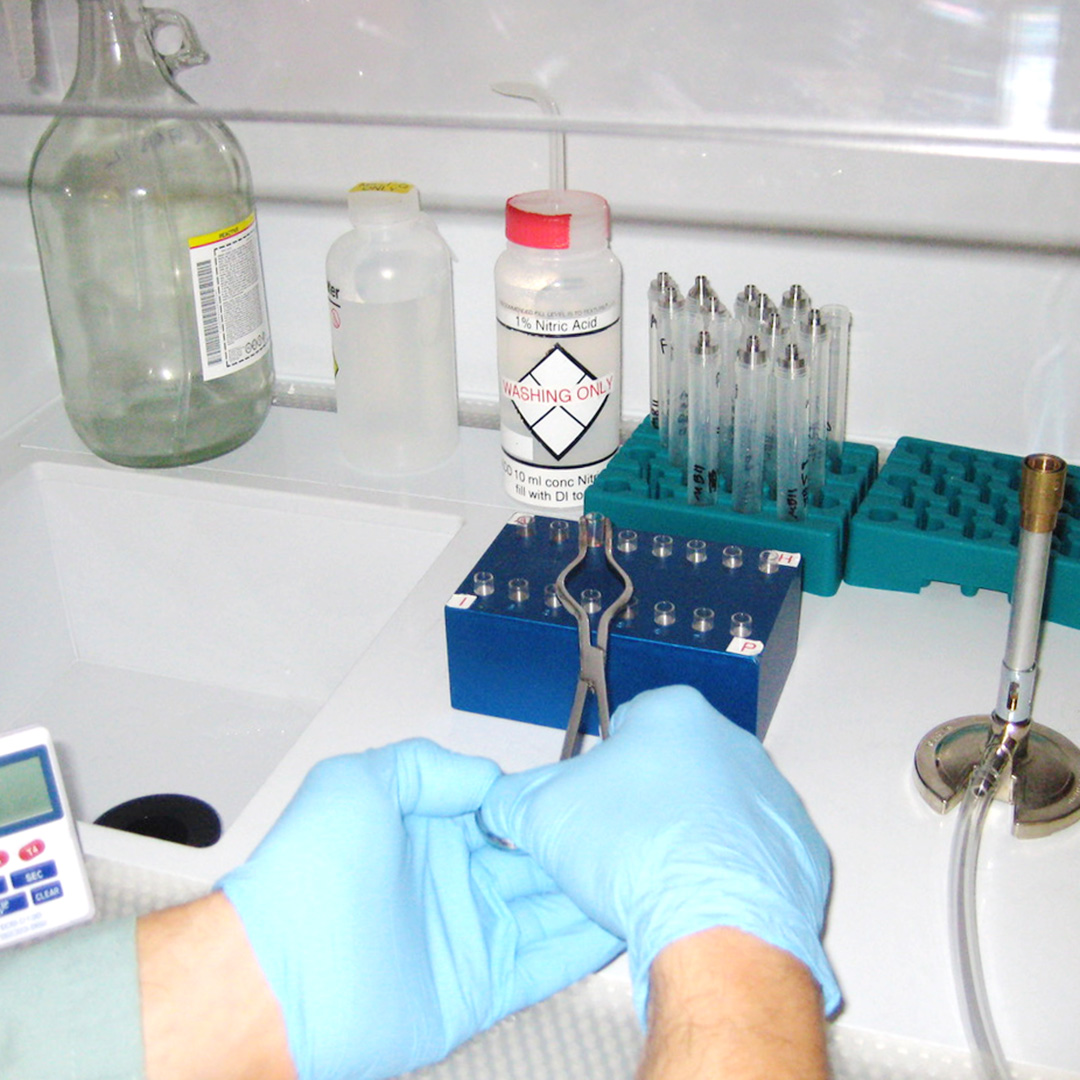 | | |
| --- | --- |
| VIAL BLOCK | This block, made from aluminum (VWR part # 13259-288), is designed to be a safe place for storing hot quartz crucibles. It holds two sets of quartz crucibles, accommodating either a 12-sample batch of both Be and Al analyses or two batches of a single isotope. The block is purposefully large and heavy so that it acts as a heat sink. The user can burn the quartz crucibles in a torch, then set the hot crucibles back into the block safely. |
| FOR USE WITH | Quartz crucibles |
| LOCATION USE | Intended for use in a fume hood |
| CLEANING | Cleaned using dilute acid and deionized water |
| DIMENSIONS | 5.90" length x 3.75" width x 2.25" height |
| MATERIAL | Aluminum |
| COST | $395 plus shipping |
| DRAWING | For a Plan email Itsinfo@its.uvm.edu |
Packing Plate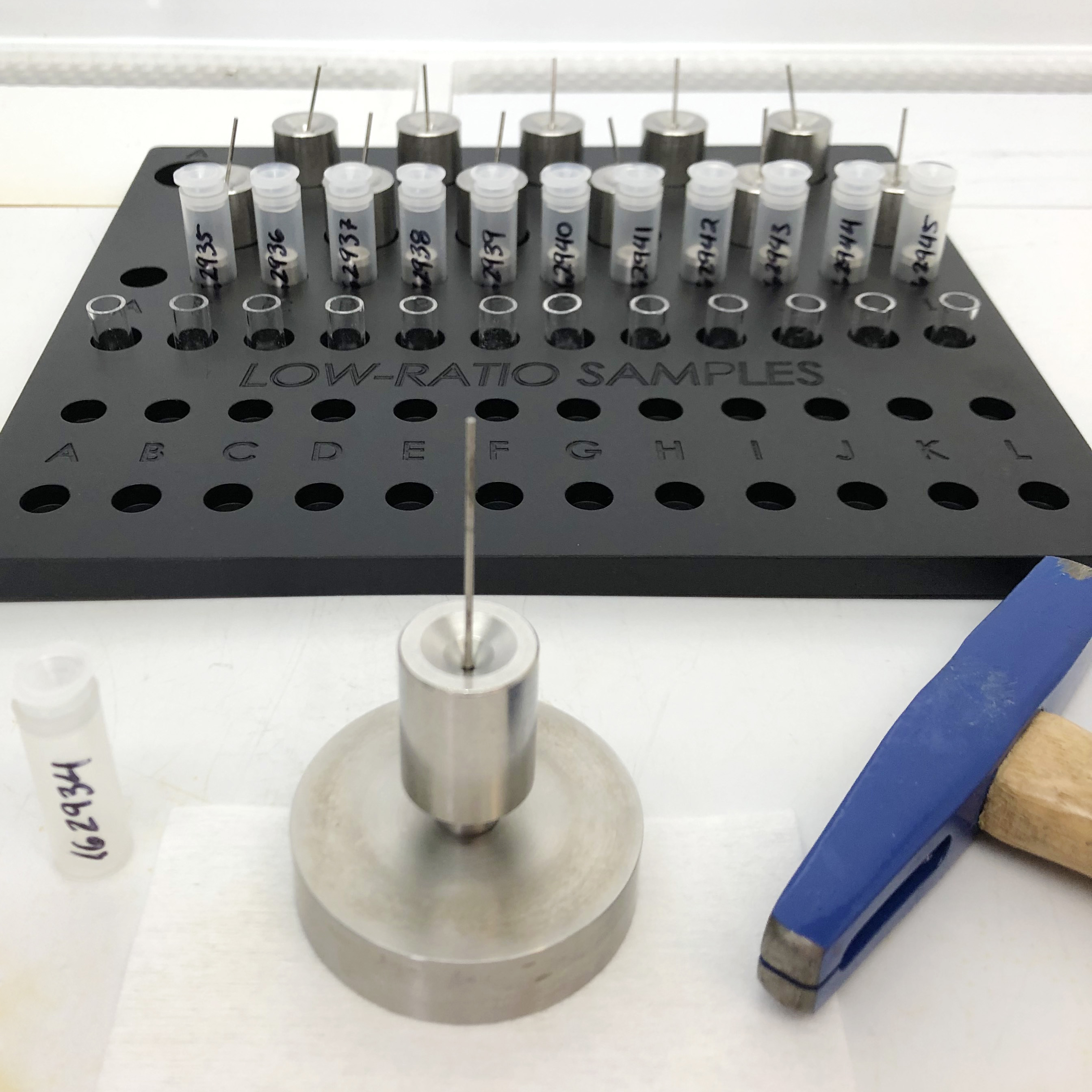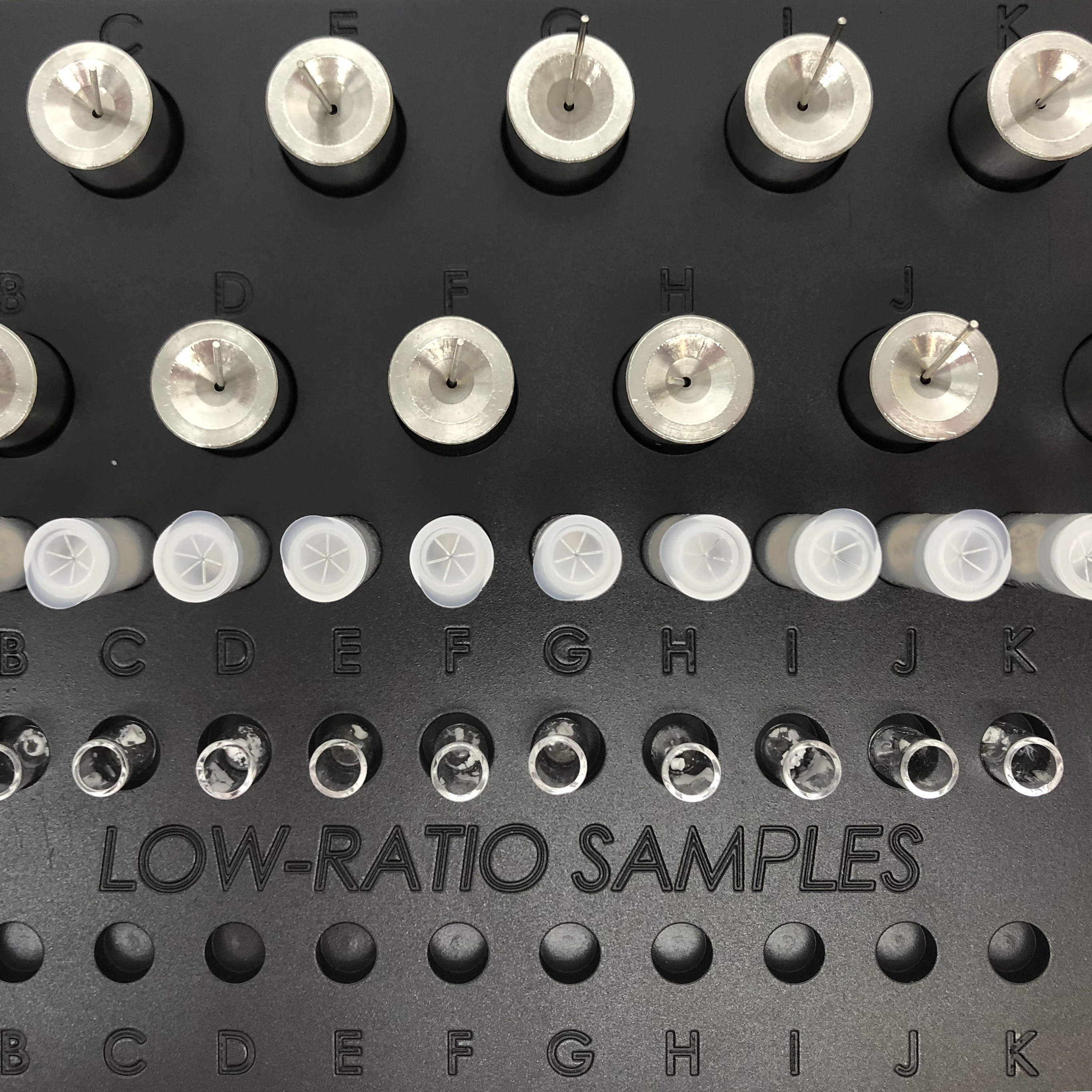 | | |
| --- | --- |
| PACKING PLATE | This plate, made from aluminum and coated in teflon, is a staging ground for laboratory gear needed to pack AMS cathodes. It can hold everything needed for up to 12 samples, for both Be and Al analyses. The back rows of holes are specifically sized to hold 12 powder funnels (also on this page). The middle rows can hold two sets of 12 AMS cathodes, enabling the user to pack both Be and Al at the same time; these holes fit cathodes from both LLNL and PRIME. The front rows can hold two sets of 12 quartz crucibles, again for packing Be and Al simultaneously if desired. There are labels (letters A-L) for each position. |
| FOR USE WITH | Powder funnels (also on this page), cathode tampers, AMS cathodes, and quartz crucibles |
| LOCATION USE | Intended for use in a fume hood or glove box |
| CLEANING | Cleaned using dilute acid and deionized water |
| DIMENSIONS | 9" length x 8" width x .500" thick |
| MATERIAL | Aluminum coated in teflon |
| COST | $395 plus shipping |
| DRAWING | For a Plan email itsinfo@uvm.edu |
LLNL Cathode Stand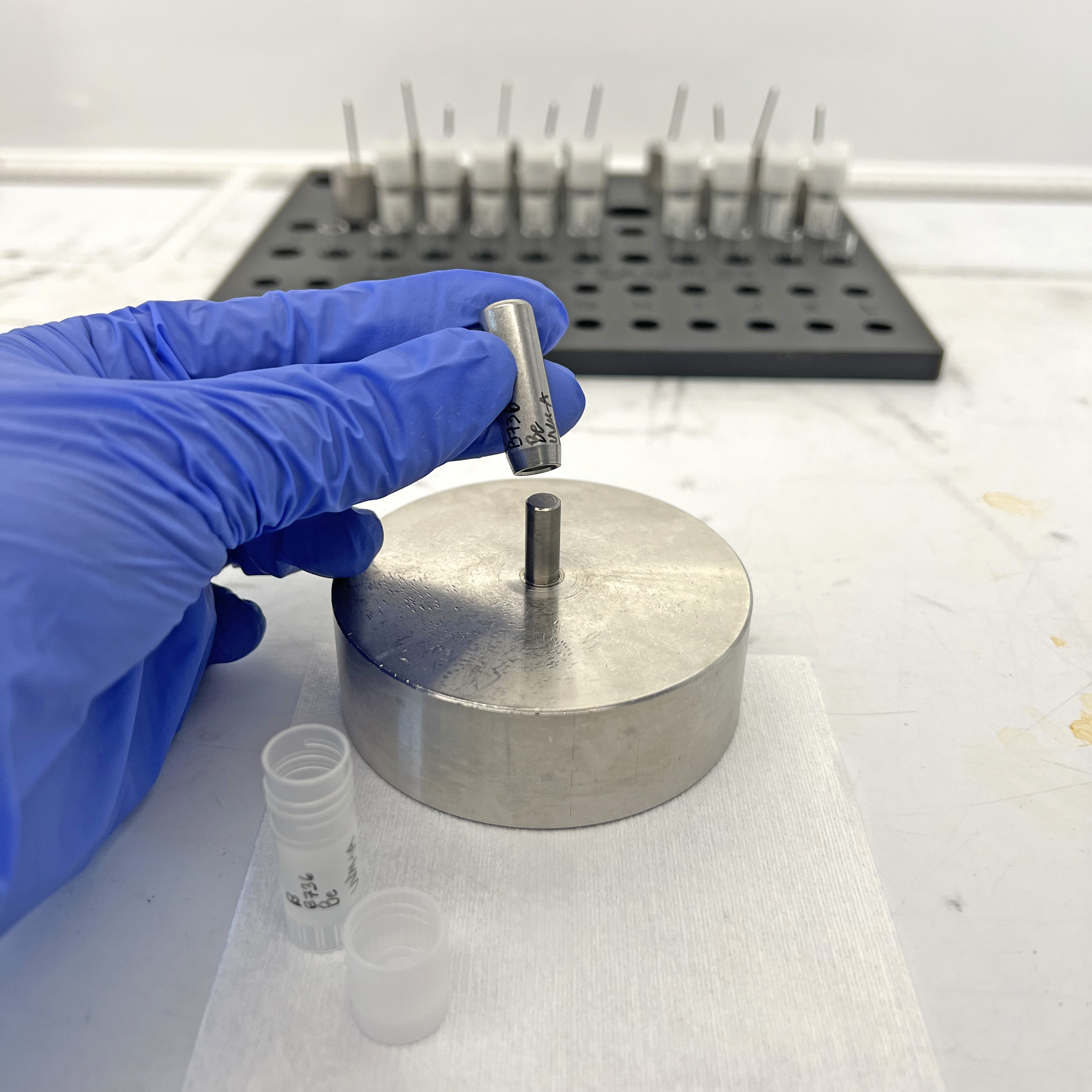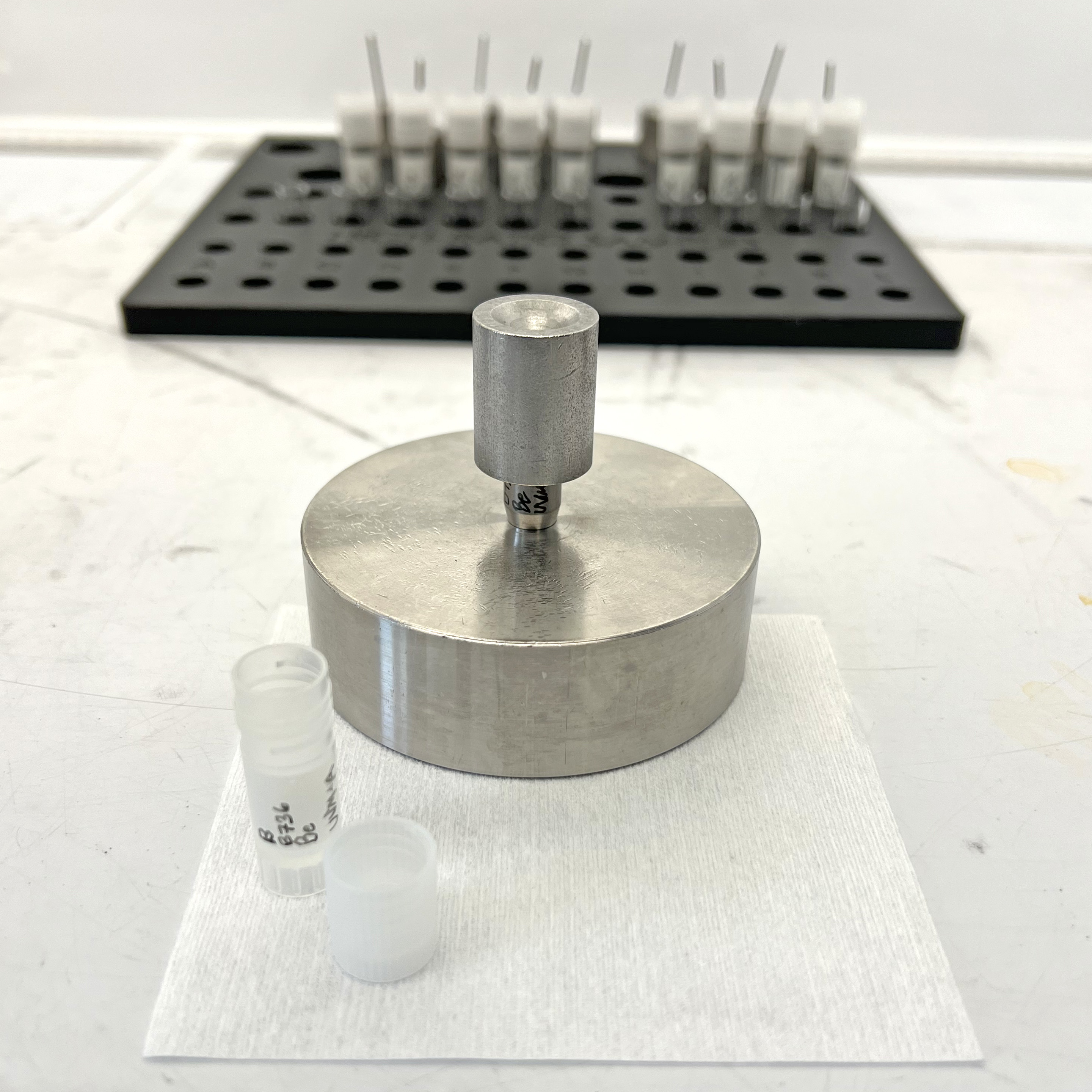 | | |
| --- | --- |
| LLNL Cathode Stand | This stand, made of stainless steel, is designed to hold cathodes for Lawrence Livermore National Laboratory (LLNL) during packing. A heavy base keeps the holder upright and stable. A peg, specifically sized for LLNL cathodes, fits into the bottom of the cathode and holds it upright. |
| FOR USE WITH | Designed for use with LLNL cathodes, as well as the "Powder Funnels" and "Packing Plate" also on this page. |
| LOCATION USE | Intended for use in a fume hood or other ventilated space |
| CLEANING | Easily cleaned by wiping between samples and after use with ethanol |
| DIMENSIONS |   |
| MATERIAL | Stainless Steel |
| COST |   |
| DRAWING | For a Plan email itsinfo@its.uvm.edu |
PRIME Cathode Stand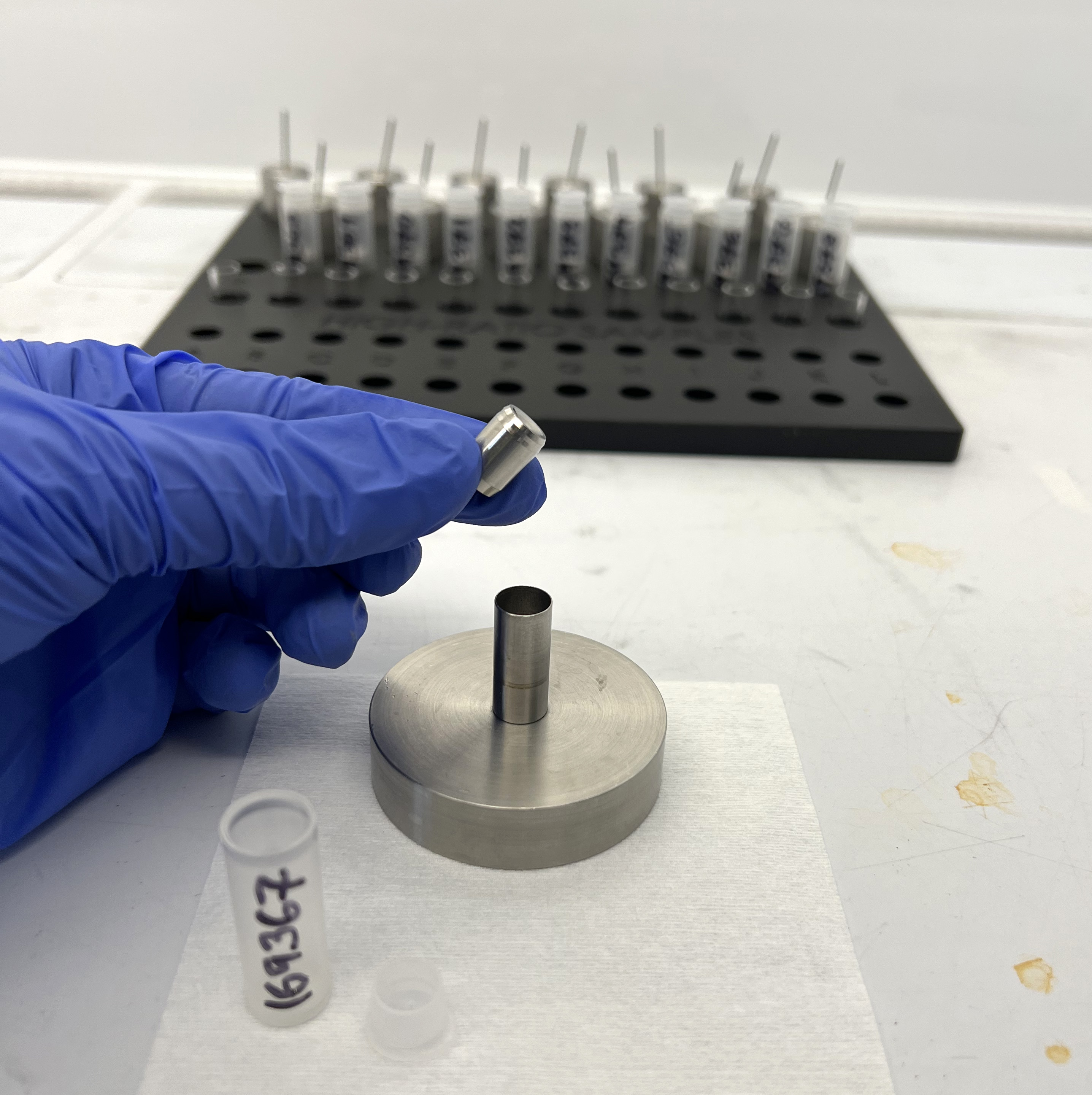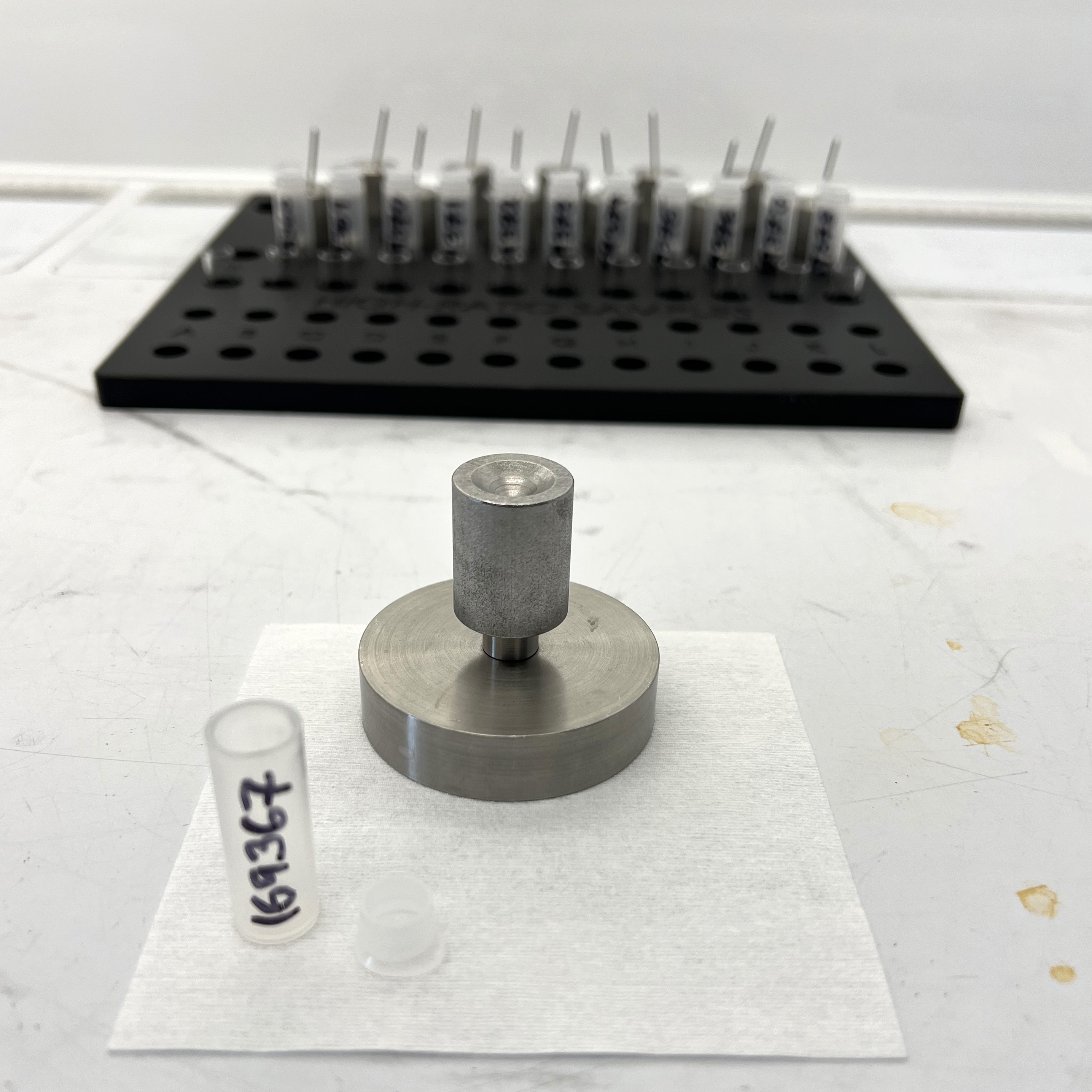 | | |
| --- | --- |
| PRIME Cathode Stand | This stand, made of stainless steel, is designed to hold cathodes for Purdue Rare Isotope Measurement Laboratory (PRIME) during packing. A heavy base keeps the holder upright and stable. A peg, specifically sized for PRIME cathodes, fits into the bottom of the cathode and holds it upright. |
| FOR USE WITH | Designed for use with PRIME cathodes, as well as the "Powder Funnels" and "Packing Plate" also on this page. |
| LOCATION USE | Intended for use in a fume hood or other ventilated space |
| CLEANING | Easily cleaned by wiping between samples and after use with ethanol |
| DIMENSIONS |   |
| MATERIAL | Stainless Steel |
| COST |   |
| DRAWING | For a Plan email itsinfo@uvm.edu |
Powder Funnels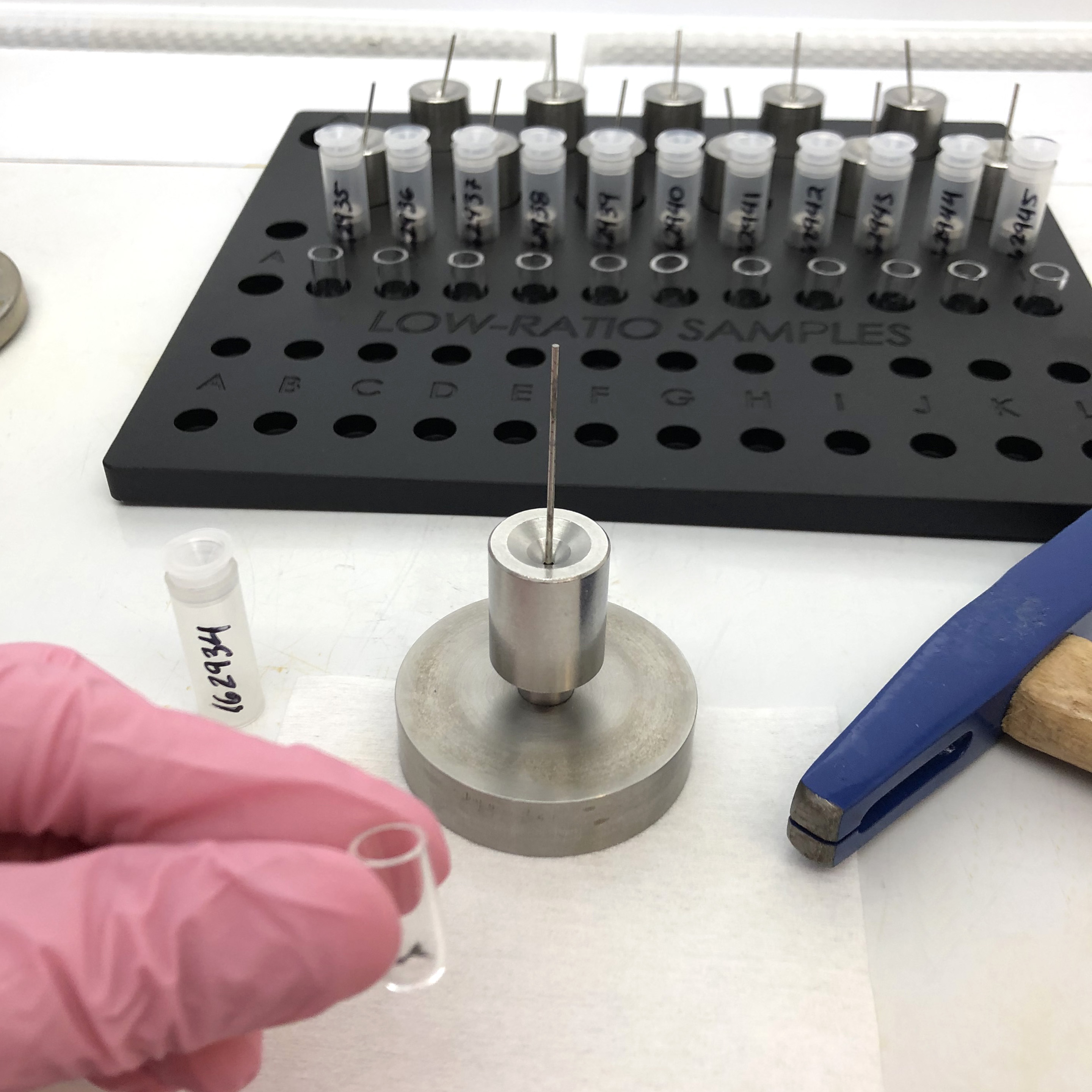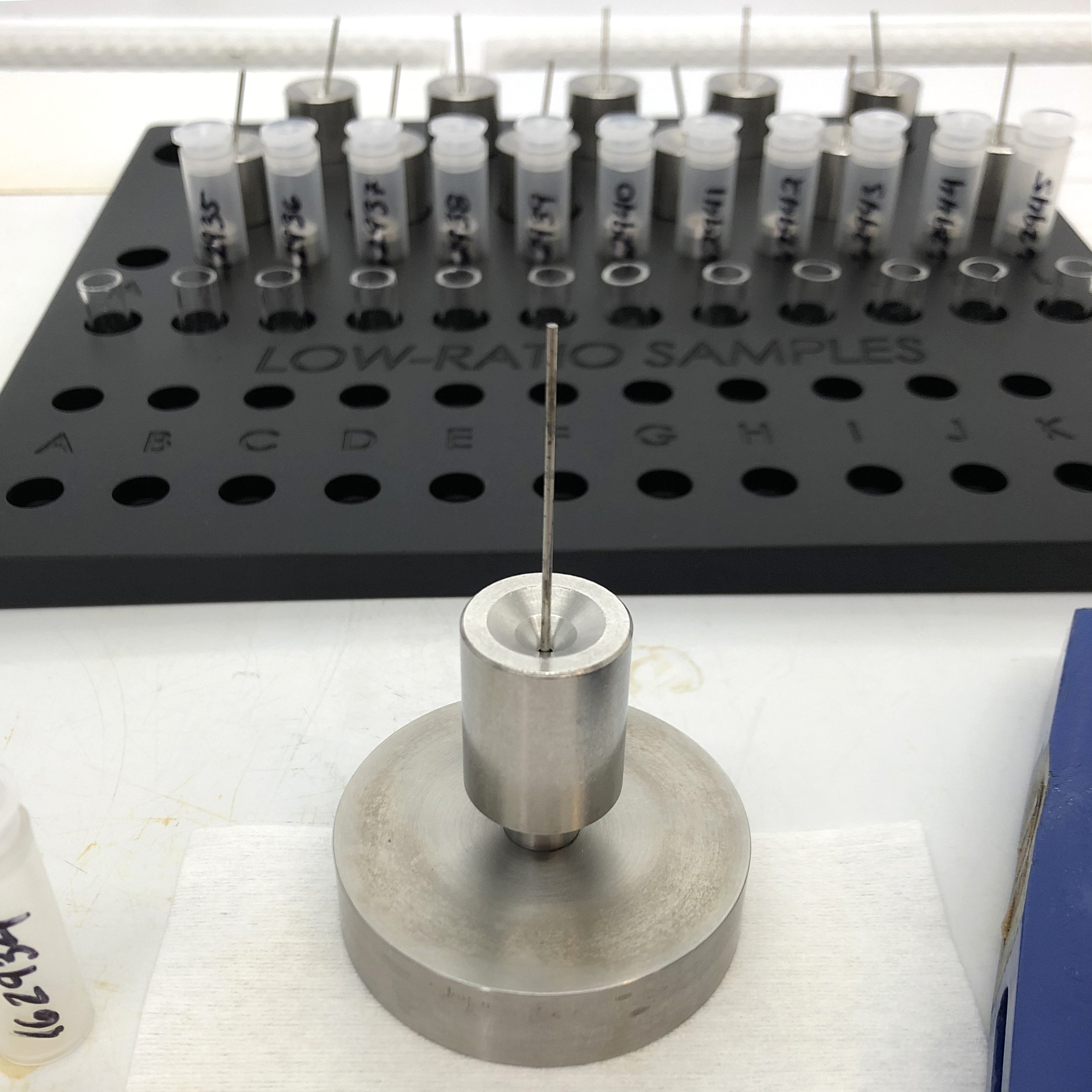 | | |
| --- | --- |
| POWDER TRANSFER FUNNELS | These funnels, made from stainless steel, are designed for transferring homogenized powder (e.g., BeO and Nb) from the quartz crucible and into an AMS cathode. The funnel has a wide opening that tapers down to a narrow hole, designed to efficiently channel powder directly into the cathode with minimal loss. The body of the funnel is sized to fit onto cathodes for Lawrence Livermore Laboratory, PRIME Laboratory, or any other AMS that uses cathodes of the same diameter. We recommend getting the number of funnels that corresponds to your sample preparation batch size. See Sample packing procedure for more detail in Be/Al Extraction Method. |
| FOR USE WITH | Livermore and PRIME lab cathodes and loading stand. |
| LOCATION USE | Intended for use in a fume hood, other ventilated space, or glove box |
| CLEANING | Funnels are cleaned using sonication with dilute detergent and followed by dilute acid wash and  DI water rinse |
| DIMENSIONS | 0.93" Tall  / 0.75" outer diameter |
| MATERIAL | Stainless Steel |
| COST | $25 per funnel  plus shipping |
| DRAWING  | For a Plan email Itsinfo@uvm.edu |
Visit:
University of Vermont/National Science Foundation Community Cosmogenic Facility