How can I connect?
If you are looking to connect with a thriving wellness community and endless partnerships to assist you in your wellness journey, then you are in the right place.  Below, you will find multiple ways you can connect with the Employee Wellness program.  If you have any questions, feel free to e-mail us.
Monthly Newsletter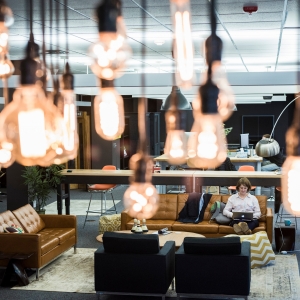 Join our listserv to receive news and updates about Employee Wellness programs and our monthly newsletter.  Each month we have exciting new opportunities launching.  Joining the listserv email group is a great way to stay informed about your Employee Wellness opportunities!
Wellness Ambassadors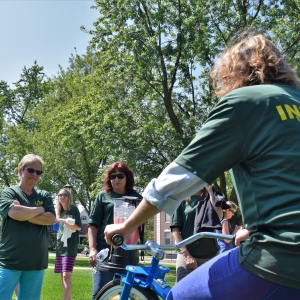 A Wellness Ambassador is a UVM faculty or staff member who is committed to promoting health and wellness in the workplace and acts as a catalyst for culture change at UVM. Wellness Ambassadors play a vital role in supporting the promotion of health and wellbeing among the University of Vermont's faculty and staff.  There are currently several vacancies where additional Wellness Ambassadors are needed. If you are interested in becoming a wellness ambassador, read the role description and apply!
Current Wellness Ambassadors
Athletics
Justina Reichelt
Justina.Reichelt@uvm.edu
Campus Recreation
College of Agriculture and Life Sciences
Lori Pinard
Lori.Pinard@uvm.edu
UVM Extension
Vacancy 
College of Arts & Sciences
Robin Hopps
Robin.Hopps@uvm.edu
Geology
Nickie Fleury
Nicole.fleury@uvm.edu
Art and Art History

Libby Dunbar
Elizabeth.Dunbar@uvm.edu
CAS Dean's Office
College of Engineering and Mathematical Science
Amanda Stemple
Amanda.Stemple@uvm.edu
Student Services for Recruitment and Retention
College of Education and Social Services
Jean Evans
Jean.Evans@uvm.edu
CESS Dean's Office
College of Nursing and Health Sciences  
Cara Feldman-Hunt
cara.feldman-hunt@med.uvm.edu
CNHS Dean's Office
Mischka Rizzo
Mischka.Rizzo@med.uvm.edu
Nursing
Vacancy
Division of Diversity, Equity & Inclusion 
Paul Suk-Hyun Yoon
Paul.Yoon@uvm.edu
Senior Advisor for Inclusive Excellence
Enrollment 
Bridget Baldwin
Bridget.Baldwin@uvm.edu
Admissions
Lynda Ossola
Lynda.Ossola@uvm.edu
Student Financial Services
Sondra Jewett
Sondra.Jewett@uvm.edu
Student Financial Services
Enterprise Technology Services 
Rich Downing
rdowning@uvm.edu
Enterprise Application Service
Finance and Facilities
Christopher Butz
Christopher.Butz@uvm.edu
ABSC
Caleb Gilbert
Caleb.D.Gilbert@uvm.edu
Custodial Services
Cindy Lee
Cindy.Lee@uvm.edu
VP Finance & Facilities
David Blatchly
David.Blatchly@uvm.edu
Physical Plant Department
Laura Stasi
Laura.Stasi@uvm.edu
UVM Bookstore
Sharon Bergeron
Sharon.Bergeron@uvm.edu
Financial Reporting & Accounting Services
Grossman School of Business
Jen O'Donnell
Jennifer.ODonnell@uvm.edu
Grossman School of Business
Honors College
Simone Blaise-Glaunsigner
Simone.Blaise@uvm.edu
Honors College
Human Resources Services
Cara Hancy
Cara.Hancy@uvm.edu
Human Resource Services - UVM Employee Wellness Coordinator 
Greg Paradiso
Greg.Paradiso@uvm.edu
Human Resource Services
Vacancy
Larner College of Medicine
Amy Gilman
Amy.Gilman@med.uvm.edu
Office of Clinical Trials Research
Kiersten Hallquist
Kiersten.Hallquist@med.uvm.edu
Office of Medical Education
Lindsey Hullfish
lindsey.hullfish@uvm.med.edu
Technology Services
Maddie Mank
Maddie.Mank@med.uvm.edu
Medicine – Pulmonary
Melanie Sestokas
Melanie.Sestokas@med.uvm.edu
Biochemistry
Janet Franz
janet.l.franz@med.uvm.edu
COM Public Relations
Kathryn Raymond
Kathryn.raymond@uvm.edu
Department of Surgery-Event Coordinator
Library
Sandra Aldrich
Sandra.Aldrich@uvm.edu
Dana Medical Library
Professional And Continuing Education (PACE)
Nichole Hathaway
Nichole.Hathaway@uvm.edu
Continuing Education
President Office
Amanda Broder
Amanda.Broder@uvm.edu
Department of Communications
Bethany Wolfe
Bethany.Wolfe@uvm.edu
VP Operations
Provost Office
Lori Desotell
Lori.Desotell@uvm.edu
Executive Assistant to the Provost and Senior Vice President
Research
Angie Leahey
Angie.Leahey@uvm.edu
Sponsored Project Administration
Rubenstein School of Environment and Natural Resources
Sarah Warren
sarah.e.warren@uvm.edu
HR Coordinator
Brittany LeBeau
brittany.lebeau@uvm.edu
Student Services/Professional Academic Advisor
Student Affairs
Jackie Hayes
Jacqueline.Hayes@uvm.edu
Center for Health & Wellbeing
Vacancy