NGP White Coat Ceremony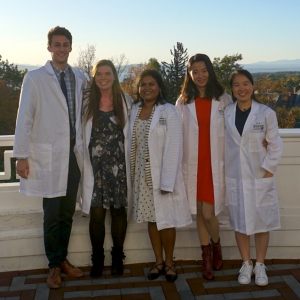 October 20, 2017
On Friday, October 20th NGP held our annual Lab Coat Ceremony and Reception in honor of the 2nd year NGP students choosing a lab. Each student was cloaked by their new advisor at Waterman Manor with celebrations afterwards.
Katharine Tooke will be joining Margaret Vizzard's Lab. Yu Han will be joining Patty Prelock's Lab in the department of Communication Sciences and Disorders. Zhaojin Li is joining Marilyn Cipolla's Lab in the department of Neurological Sciences. Nicholas Toker has joined the laboratory of Jeffrey Spees in the Department of Medicine. Mahafuza Aktar is being co-mentored by Dr. Victor May and Dr. Sayamwong Hammack.
Welcome to your labs, students!
Estelle Trego Spear Successfully Defends Dissertation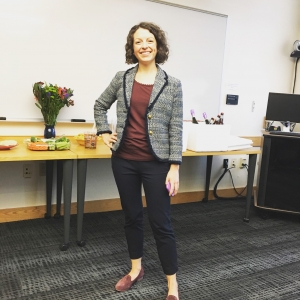 October 13, 2017
Estelle Spear, an NGP student in Dr. Mawe's lab, successfully defended her dissertation entitled "Altered Gastrointestinal Motility in Multiple Sclerosis" on October 13, 2017. Her new appointment will be as a postdoctoral fellow at Stanford University, working in the lab of Aida Habtezion, where she will continue studies of neuro-immune interactions of the gut.
Congratulations, Estelle!
Dr. Mark Bouton Publishes in Psychological Science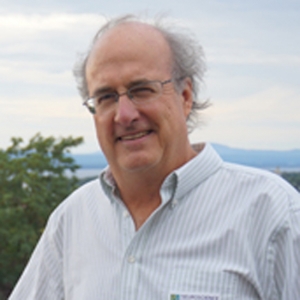 September 28, 2017
Assistant Director of the NGP, Mark Bouton, co-authored the study with his Ph.D student Scott Schepers, which was published in the Journal Psychological Science.
James Hart Bishop Successfully Defends Dissertation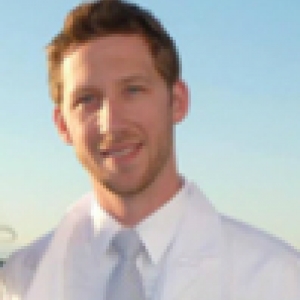 August 4, 2017
James Hart Bishop, Dr. Naylor's lab, successfully defended his dissertation entitled "Imaging Pain and Brain Plasticity: A Longitudinal Structural Imaging Study" on August 4, 2017. He is moving on to Standford University to be a part of the Brain Stimulation Lab in the Department of Psychiatry and Behavioral Sciences under Mentors Nolan Williams, M.D. and David Spiegel, M.D. investigating the effects of repetitive transcranial magnetic stimulation on hypnotic analgesia. Congratulations, James!
Dr. Benedek Erdos Receives Inaugural Bloomfield Investiture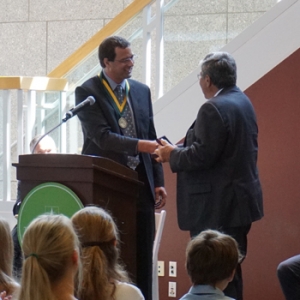 July 31, 2017
NGP faculty, Dr. Benedek Erdos, was invested in a formal ceremony as the inaugural Martin E. Bloomfield '56 M.D.'60 and Judith S. Bloomfield '59 Early Career Professor in Cardiovascular Research. It is the first time ever at the University of Vermont that an early-career professorship has been endowed.
Alumnus Receives a K99/R00 Career Development Award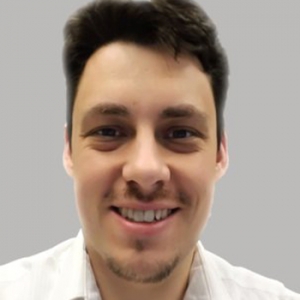 July 26, 2017
Michael Williams, a previous UVM Summer Neuroscience Undergraduate Research Fellow and an alum of the UVM Neuroscience Graduate Program (Morielli Lab), was recently awarded a competitive K99/R00 career development award from the National Institute of Mental Health. The scientific focus of his project will be to determine the role of a receptor tyrosine kinase implicated in neurodevelopmental disorders using viral and transgenic strategies in a murine model. This two-phase five-year award will provide support for Dr. Williams' to complete advanced technical training under his Dartmouth College advisors (Dr. Hermes Yeh and Dr. Bryan Luikart) and will facilitate and fund his transition to an independent principal investigator.
"I am very grateful for the training and ongoing support I have received from my Dartmouth and UVM mentors, without which this grant would not have been possible. With the generous support of the NIMH, I believe this project will give us new insights into the molecular biology underlying the developmental specification of synaptic connectivity. Our hope is that these types of studies will not only inform the basis of normal brain development, but will also inform the etiology of developmental disorders and highlight potential therapeutic targets, as well."
Mahafuza Aktar Awarded the PEO International Peace Scholarship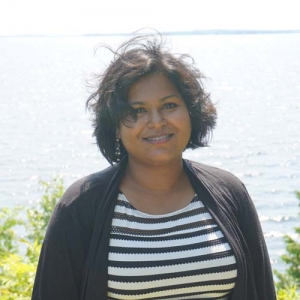 June 29, 2017
Congratulations to 2nd year student, Mahafuza Aktar, for being awarded the PEO International Peace Scholarship! Established in 1949, the program provides scholarships for selected women from other countries for graduate study in the United States and Canada.
Nicholas D'Alberto Awarded the 2016-17 GTA of the Year Award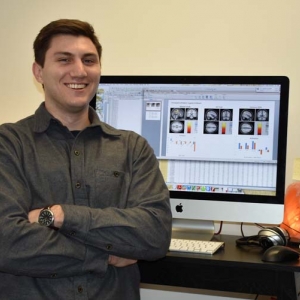 April 24, 2017
The Graduate Teaching Assistant (GTA) of the Year Award recognizes annually the accomplishments of GTAs who have demonstrated unusual excellence and creativity in their teaching and commitment to student learning. Beginning in 2013, two awards are given each year, one for GTAs who have served as the primary instructor in a lecture based course, one for teaching assistants who have served as laboratory instructors. While only two GTAs are chosen to receive the Graduate Teaching Assistant of the Year Award, the department and program nominees for the award are also recognized and honored. NGP student, Nicholas D'Alberto has receieved this year's award for laboratory instruction. Read more on the Graduate College Student Awards page. Congratulations, Nick!
Kutibh Chihabi Successfully Defends Dissertation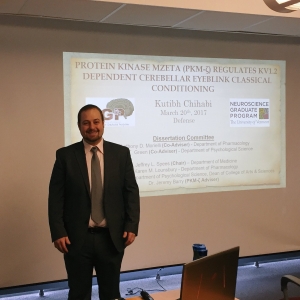 March 20, 2017
Kutibh Chihabi, an NGP student in Dr. Morielli and Dr. Green's lab, successfully defended his dissertation entitled ""PROTEIN KINASE MZETA (PKM-ζ) REGULATES KV1.2 DEPENDENT CEREBELLAR EYEBLINK CLASSICAL CONDITIONING" on March 20, 2017. Congratulations, Kutibh!
Estelle Spear Awarded the 2017 Edith D. Hendley Award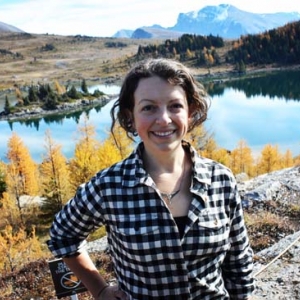 February 28, 2017
The Edith D. Hendley Award is presented annually to a woman pursuing graduate studies who has demonstrated excellence in research, scholarship and teaching, and who has performed dedicated service to women. This year, NGP student Estelle Spear has been awarded this honor!
The award is named after Professor Emerita Edith Hendley whose long history of academic excellence and dedication to women is evidenced in her history.
Congratulations, Estelle!
2017 Brain Bee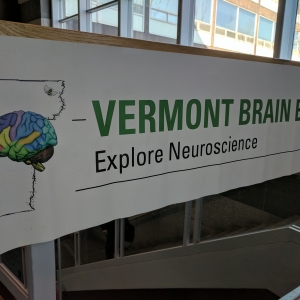 February 20, 2017
After a preparation boot camp with our NGP students, local high school students were ready to compete in last weekend's Vermont Brain Bee.
Young scientists arrived at the University of Vermont on Saturday, February 18th for the annual Brain Bee, run by Sean Flynn, PhD, Assistant Professor in the Department of Neurological Sciences and also faculty supervisor of the NGP Journal Club.
The winner goes on to the National Brain Bee in Baltimore, MD in March during Brain Awareness Week. The NBB winner will be eligible to attend the International Brain Bee.

Read more about it in the Burlington Free Press.
Estelle Spear Named Recipient of Parsons Award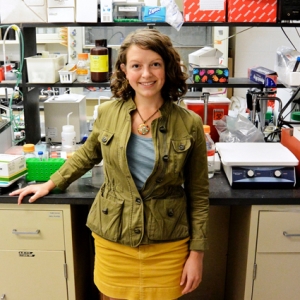 Students Present at the Women Can Do Conference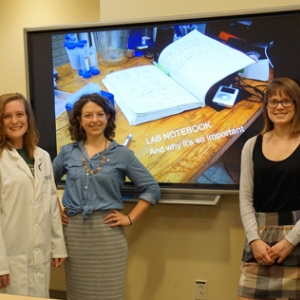 October 13, 2016
On Thursday, October 13th, four of our students (Estelle Spear, Riley St. Clair, Alisha Linton, and Megan Perkins) presented "Women in the Lab" at the 18th annual Women Can Do Conference, a one-day career immersion experience for 9-12th grade girls that showcases careers in the skilled trades and STEM fields. Great work, ladies!