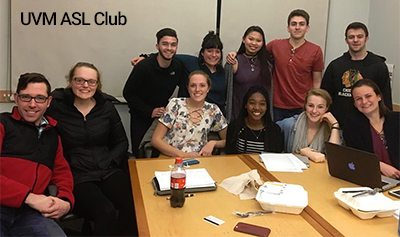 American Sign Language (ASL) is a complete, complex language akin to other languages such as Spanish, Italian, and Japanese. ASL has been recognized as such, by both the Modern Language Association and the American Council on the Teaching of Foreign Languages.
This minor students increase ASL language and cultural competencies while developing a deeper understanding of Deaf experiences through historical, social, and cultural lenses. The curriculum employs an interdisciplinary approach that offers opportunities for students to apply their linguistic skills and theoretical knowledge to create an understanding that inspires innovative solutions for problems that perpetuate the marginalization of Deaf people. The ASL minor serves as a valuable complement to any declared major in the sciences, social sciences, education, humanities, or the arts. A combination of ASL competency and cultural knowledge makes students strong candidates for graduate studies or employment in deaf-related fields.
Placement Assessment for American Sign Language courses
We encourage students who are considering enrollment into American Sign Language courses, and who have taken an ASL course(s) prior to coming to the University of Vermont, to take a language placement assessment (an interview with ASL faculty member). The assessment determines language proficiency and which course best fits each student's competence and knowledge of ASL. All students wishing to take the assessment should contact Dr. John Pirone at John.Pirone@uvm.edu to schedule an appointment.
Minor Requirements for American Sign Language Minor
To be eligible for the minor, students first must complete ASL 001 and ASL 002.
Course Sequence for American Sign Language Minor
Four language courses: ASL 051, ASL 052, ASL 101, and ASL 102
Two of the following courses: ASL 120, ASL 220, or ASL 280
Please see the ASL Courses tab for course descriptions.