PIONEERING A NEW WAY TO DO FOOD SYSTEMS RESEARCH
Research funded by the FSRC is unique because it is a joint venture between UVM and the USDA to address critical food systems issues, such as farm viability, human health, and poverty. UVM researchers and experts from many disciplines, from the medical school to the business school, collaborate with USDA researchers on campus.
Here's a look at where we've been and where we're headed.
OUR MISSION
We develop solutions for improving human health, well-being and livelihoods, and environmental sustainability through food systems.
OUR VISION
We envision a world in which all people are nourished and satisfied by the food they eat and where food systems sustain livelihoods and the natural systems upon which we all depend.
WHAT WE DO
The Food Systems Research Center at UVM (FSRC) conducts interdisciplinary and transdisciplinary research to study food systems: the networks of people, institutions, physical infrastructure, and natural resources through which food is grown, processed, distributed, sold, prepared, and eaten. We examine how different parts of a system interact to understand why food systems function the way they do. The FSRC focuses on the Northeast U.S. but considers the relationship of food systems across scales from local to global.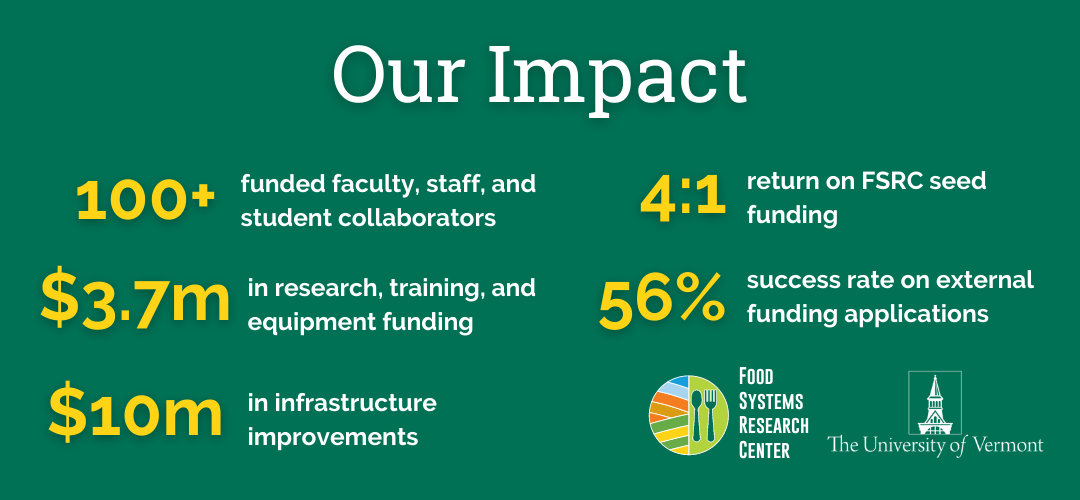 "Though FSRC funded research is regionally focused, it has global and international relevance because it shows the world what it's like to live in a place where people care not only about how their food tastes, but also about where it came from and how it was grown."
Polly Ericksen, Ph.D., Director of the UVM Food Systems Research Center