Querencia y Comida: Nuevomexicanx Tradition as a Model for Food Resilience
By Camilla Bustamante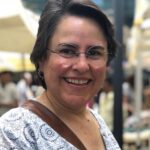 Camilla was a participant in this years Introduction to Agroecology course (PSS 311), part of our Certificate of Graduate Study in Agroecology (CGSA), and wrote this piece as an ALC guest author.
Querencia as "love of home, love of place" is described by American author and founding father of Nuevomexicano Chicano literature, Rudolfo Anaya, in his foreword to Querencia: Reflections on a New Mexico Homeland (University of New Mexico Press).  And it is this querencia for northern New Mexico- El Norte- that is inextricably tied to the land and how the practices of cultivation have defined both place and people.  This querencia extends to the wisdom of Native and colonist antepasados whose Indo-Hispano heritage is rooted in La Madre Tierra, from the headwaters that serve the oldest acequia systems in the United States, to the adobe walls that envelop familia, to the parciantes on these acequias who collaborate to share water to grow for the needs of the community.  It is these food traditions that have assured food security in northern New Mexico for centuries.  Continued colonization and development of irrigable land move away from these practices and threaten the livelihood of these agroecological systems.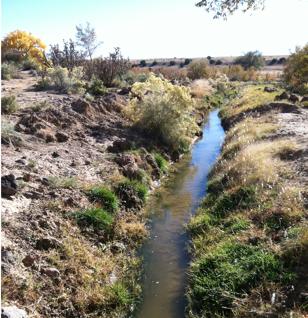 "…from centuries past to present, the wisdom of the ancestors alive, and I listening."- R. Anaya
The villages of northern New Mexico (El Norte) are home to the descendants of prehistoric Native Pueblo and Spanish colonist peoples who established communities along the headwaters and streams flowing into the Rio Grande in an otherwise arid land.  Access to these waters, joined with indigenous wisdom and colonist understanding created that which is sacred and has fostered ceremony, community and familia.  Seasonal and companion planting, such as the Three Sisters being squash, corn, and climbing beans; the use of the alkaline in soil to preserve dried maiz concho (corn) so it would be available in the winter for posolé and frijole con chico, that would be part of many family meals. Still today, though threatened by the affliction of greed, the food systems in El Norte cultivate an earnest respeto y permiso (with respect and permission) for the land and people.  
In a conversation with old-timers in northern New Mexico a rancher who was 86 in 2005 told me that the land degradation didn't start "until the fences came in with the Forest Service." He reflected on the days when livestock were rotated to new locations each season to keep the underbrush and risk for overgrazing down. He noted that the rotation of livestock was in its own way, fire management.  It was also the rotation of vegetation crops that maintained the quality of the otherwise sandy loam soil. Communities planned their crops and exchanged their harvests that supported a more balanced diet. Once I was referred to derogatorily by an employer as a beaner, referencing my Chicana heritage. It was shortly after that when the Food and Drug Administration revised the Food Pyramid, placing legumes at the top. Proudly I can note that the people of El Norte, and many other indigenous communities, have known what is healthy for them.
Community, by nature, is self-defined, fluid in the outcome of shared values with each generation contributing to its ongoing identity.  The communities of El Norte have long been formed by those who share a mutual respect for the relationship between water and land, sharing in the identity of El Norte.  It is here in El Norte, where nature is a sacred member of the community, where seeds are family, and where days for planting and harvest are aligned with those of patron saints and phases of the moon.  The food traditions of El Norte were born from the wisdo
m of the ancestors establishing an unwrote discipline that has been practiced for centuries.  Greed, contemporary and historic, has often challenged the balance of life in this area.  It has been in revisiting the folkore of our ancestors, and alignment with natures systems, where we have often found solutions to our modern-day conflicts.  
"…we learned a deep, enduring love for the sacredness of the earth, for the unity of life, a harmony that brings peace and happiness. Querencia means vecinos." -R. Anaya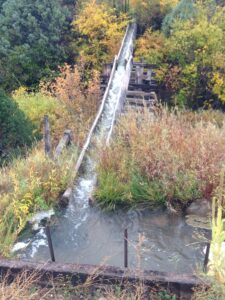 Nature as a sacred community member is ever evolving and adapting to the influences of its vecinos.  From the headwaters that are driven to nourish the fields, orchards and livestock, agua es vida – life wants to live.  Nature's course is to nourish, and traditional farming methods were seemingly aware of this fact.  It is in El Norte where querencia is born of indigenous knowing and cultivated in a manner that cannot be disputed, and are supported by science.  It is in these local practices where a sense of place and identity are formed and shared with our vecinos.  When we are in disharmony, nature will seek to create balance.  To live as a parciante on an acequia means to abide by a system that seeks to assure that all vecinos are served equally.  When we contest natural laws, nature will hold its course and time will reveal the victor.  When discord disrupts balance, our sense of unity and harmony is compromised.  The lessons of our ancestors teach us to work with and respect natural systems and hold natural laws as sacred. 
It has been said that the remains of ancestors that billow when the wind picks up the land.  It is this land where seeds are planted and provide nourishment as they have for the ancestors and will for future generations.  For farmers whose use of the land has become tradition, and the tradition is to produce food, the connection becomes integral to identity – if "for dust thou art, and unto dust shalt thou return" then there is profound meaning in connection to the land.  In El Norte there are communities whose identities are based on the connections to the land and the ancestors who billow in the seasonal winds.  It is not uncommon that seeds are identified by a family name and referenced by the grandmother who acquired it for a family or community.
As the local communities have transitioned from the barter to the cash economy, the local food system has become a complex dynamic of access, economics, tradition, and identity.
Our sense of place, with unique geographic elements, customs, practices and people, conforms only to the natural environment that surrounds it.  In historic communities with pre-historic roots, such as in El Norte, the foods are unique to place.  Some foods have been derived from indigenous tradition and others have been adapted from European influence to accommodate ingredients available to the area.  It is here where the influences of the natural environment on food culture contribute to both personal and community identity.  Shared experience contributes to community identity, and sense of place contributes to how we see ourselves in our community.  External influences on the traditional people of El Norte have only in the last century had a profound influence on the economics and perception of wealth, as well as the desire for convenience.  Labor on the land is less desirable when comfort and convenience can be purchased. Community food traditions are threatened by imported food commodities and systems and the threat to community health prevails.  As our traditional community food systems are challenged, so is identity.  Knowledge of oneself and sense of community is necessary for mental and spiritual health, and when nature is part of our community, our physical health is a benefactor.  The messages of our ancestors remain constant and the traditions contribute to the livelihood of the lands and its peoples. 
To learn more about the New Mexico Acequia Association https://lasacequias.org/  Donate https://lasacequias.org/product/donate/