Ernesto Mendez Joins International Researchers, Farmers, and Activists in Brazil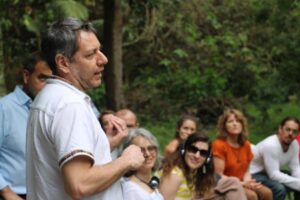 ALC Director and PSS Chair, Ernesto Mendez, traveled to Florianópolis, the capital city of Santa Catarina, Brazil, to attend a leadership team meeting of the Collaborative Crop Research Program (CCRP), of the McKnight Foundation. The week-long meeting brings together staff and researchers from the 3 regions of the CCRP in the South American Andes, West Africa and East and South Africa. As part of the visit the CCRP team met with CEPAGRO, an agroecology focused organization, based at the Universidade Federal de Santa Catarina (UFSC). CEPAGRO's work aligns well with the ALC's Participatory Action Research (PAR) approach. The gathering at the UFSC, brought together 30 professionals and students from the US, Brazil, Canada, El Salvador, Ecuador, Kenya, Germany, Tanzania, Burkina Faso, Peru, and England.
The history of agroecology in Brazil is a rich one, based not only in land stewardship and diversification of farmer livelihoods, but also in the struggle to maintain access to land. "In order for Agroecology to happen, the democratization of access to land for the people of the countryside and of the city is necessary," said Eduardo Rocha of CEPAGRO.
Throughout the afternoon, leaders and representatives from regional and local communities, indigenous communities, and urban farmers shared their triumphs and struggles employing agroecology in the face of inequitable access to land and its associated discrimination. Those present included Shirlen Vidal de Oliveira and Helena Jucélia Vidal de Oliveira, representatives of the Quilombo Vidal Martins Community, in Rio Vermelho, Florianópolis; Fábio Ferraz and Bárbara Ventura, of the Amarildo de Souza Commune Settlement, and Cacique Artur Benites and Alexandro and Fábio, of the Guarani community of Aldeia Tekoá vy 'a, in Major Gercino. Also present were urban farmers Raquel Solange de Souza and Alaércio Vicente Pereira Jr, CEPAGRO research partners Dana James and Evan Bowness of University of British Columbia, and Professor Antonio Munarim, of the Vianei Center for Popular Education.
What stood out to most participants that afternoon was the opportunity for knowledge sharing and collaboration amongst stakeholders of different backgrounds. Urban farmer Raquel Solange reflected on how impactful it was, "to communicate with the people who came from outside and also to know the natives and quilombos, because I have never visited a village or a quilombo. As a social worker I've given several lectures, but that theme I owned. And to be there to talk about Agroecology, it was just my personal experience, it was more to put my heart out."
CCRP members also enjoyed a presentation on direct marketing for family farmers from the Family Agriculture Marketing Laboratory (LACAF). As agroecology advisor of the CCRP, which aims to support access to local, sustainable and nutritious food through collaborative research and knowledge sharing among small farmers, research institutions and development organizations, Ernesto reflected, "Brazil is strong in Agroecology and it is very important to listen to you, the producers and indigenous people. It is very important to learn from the experience in Brazil."
This blog is based on an article, in Portuguese, by Clara Comandolli de Souza, Journalist at CEPAGRO. The original piece can be accessed here