By: Nell Carpenter and Martha Caswell, with input from Megan Browning, Vermont Agrarian Commons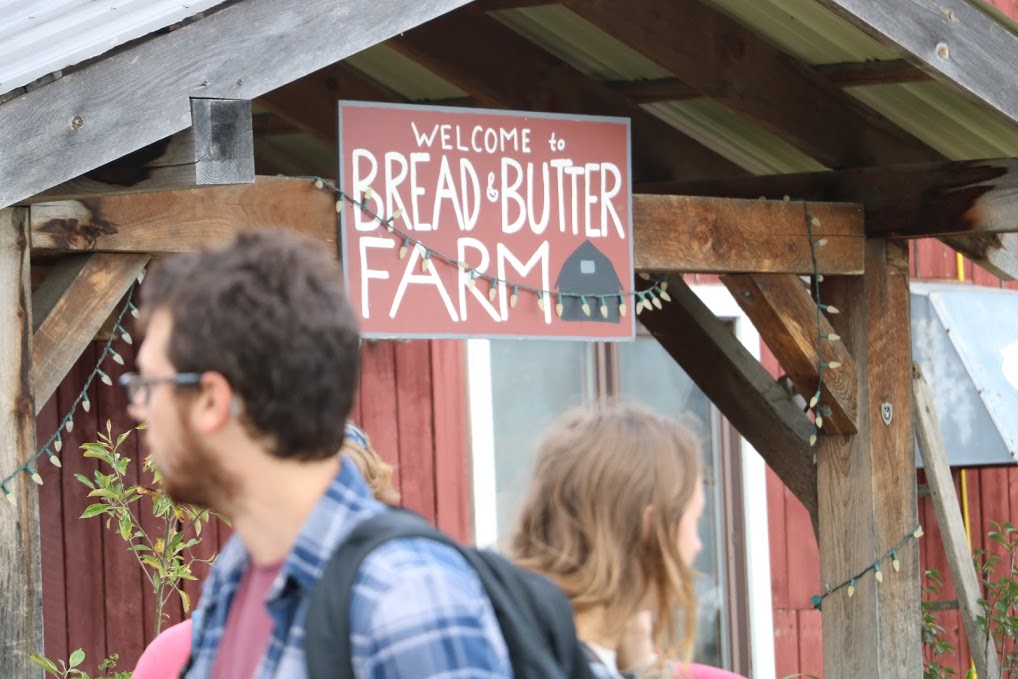 In the spring of 2020, Bread and Butter Farm, a farm partner of the ALC, became the founding farm of the Vermont Agrarian Commons, one of a collection of ten Agrarian Commons nationwide. The Agrarian Commons is a model for land access that challenges notions of land ownership established in the U.S. by European colonizers, and seeks to redefine land access for farmers, with particular attention toward the next generation of farmers. By reconsidering relationships to land, this movement provides new options in reaction to the U.S. Agricultural Crisis, and its many ecological, sociocultural, and economic impacts. Though there is a global movement toward agricultural commons as a viable, and desirable model – there are context-specific details that are particular to each locale. 
Below, we will dig deeper into the Bread and Butter example to better understand how this works, but to start let's set the stage for its relevance. The Agrarian Commons is a model inspired by centuries of thought, practice, and community. This model recognizes that the current model of land ownership over the land currently known as the U.S. was a foothold in colonizing the land, dictated by capitalist and white supremacist frameworks of leadership and governance. The Agrarian Commons model envisions a return to a relationship with the land that more closely resembles the reciprocal, stewardship of land that has been practiced through intergenerational management by BIPOC and peasant communities around the world.  Read more about who and what has inspired the Agrarian Commons here, and hear current stakeholder perspectives here. 
As we know, land is a limited and expensive resource, which can mean that farmers who are able to access land are perpetually working to lessen their debt, but aren't ever able to escape that burden. This can result in farmers spending the majority of their careers engaging in unsustainable agricultural practices to chip away at mortgage debt that only gets passed to the next farmers of that land. Many tools and structures such as conservation easements exist to help lessen these costs, however, land access for those who want it remains a primary challenge, especially for BIPOC community members who have been excluded by long histories of racist and exclusionary policies.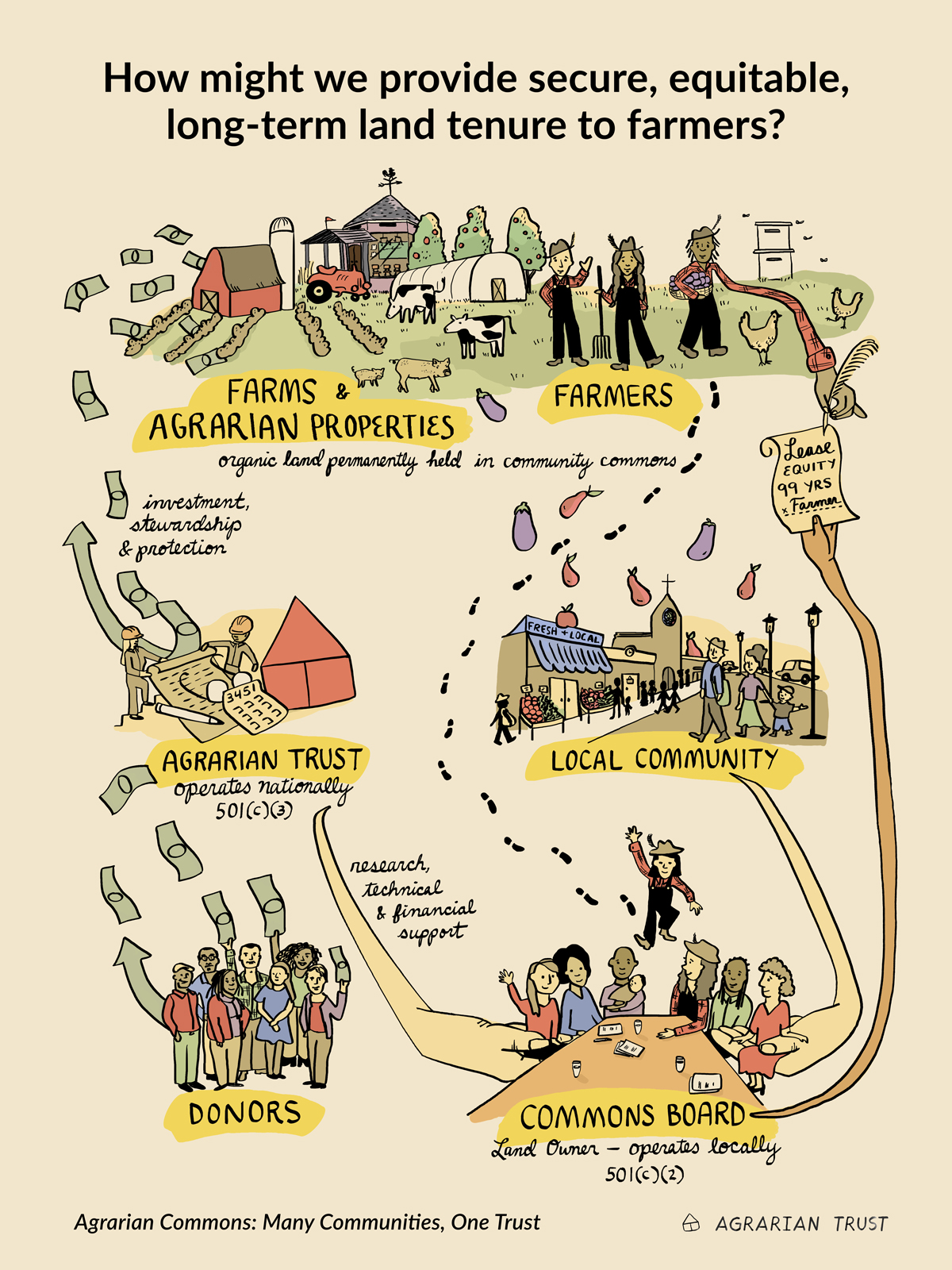 The commons is a strategy for increasing access to land and freeing up financial resources for regenerative agricultural practices by making land available at a lower price and providing a structure for land to be held in community, rather than individually owned. This lower price is possible because the land is acquired  by a nonprofit legal entity (501c2) – in this case the Vermont Agrarian Commons – through fundraising or land donation. The Commons then provides a 99 year ground lease of the  land to a farm business – in this case Bread and Butter Farm. The Agrarian Commons are governed locally by a board composed on ⅓ leaseholding farmers, ⅓ community stakeholders, and ⅓ Agrarian Trust staff, and exist in partnership with Agrarian Trust (501c3). The Agrarian Commons model and lease structure is governed by bylaws, such that each farm business operating in the commons adheres to a level of social and ecological sustainability in their operations with a focus on agriculture in community. The land in the commons is, thus, decommodified, out of the real-estate market, and considered a member of the commons alongside the business(es) it hosts.  While Bread and Butter is the founding farm for the Vermont Agrarian Commons, there will be opportunities for the Commons to grow with additional land and farms over time. Other Agrarian Commons exist around the country, in various states from California to Virginia. Explore them all here.
Beyond breaking the cycle of unsustainable land ownership and inequitable access and tenure to land, the Agrarian Commons can be a step towards food sovereignty, particularly for BIPOC and immigrant communities. In Central Maine, the Little Jubba Central Maine Agrarian Commons was just established in association with the Somali Bantu Community Association (SBCA). This land will expand their existing Liberation Farms land for SBCA farmers, an important foothold of food access and cultural vibrancy for the Somali Bantu Community. The Little Jubba Agrarian Commons and others will be able to ensure that the land remains in their possession for at least the next 99 years. In tracing the current and historic stealing of land, genocide, and racist land policy, this is a significant step in creating opportunities for BIPOC farmers and communities to reclaim land. And, in the event that an Agrarian Commons entity dissolves, the "bylaws ensure that all assets will transfer to Indigenous communities and communities of color as one small way to move against the perpetuation of white-led nonprofit ownership of land" (https://agrariantrust.org/). 
In late October, the ALC welcomed Megan Browning from the Agrarian Trust/VT Agrarian Commons for a discussion about the commons with our Community of Practice. In just a little over an hour, we learned about the overarching vision and then dug into the legal details. After lots of questions and discussion, it's clear that this movement is on its way towards very concrete impact in the United States.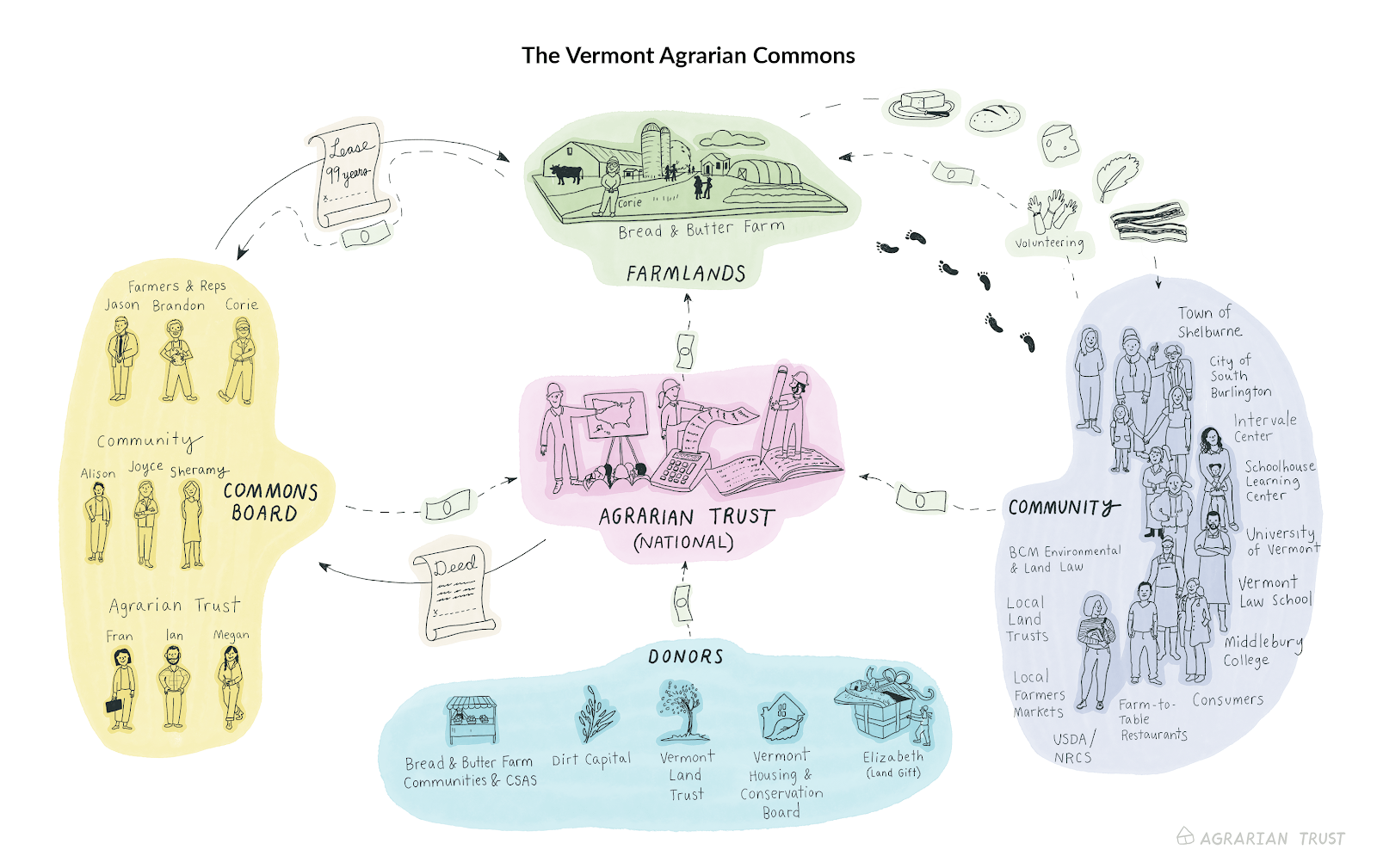 Megan is working with Corie Pierce and Brandon Bless of Bread and Butter Farm (BBF), as well as additional board members, to establish the Vermont Agrarian Commons through the acquisition of land. BBF is a collaborative working landscape that actively honors its land, animals, community members, soil, plants and history. The original parcel of land farmed by  BBF was around 140 acres of extremely depleted land. In 2018, BBF entered into a three year lease for eventual ownership of 375 acres of land that would have otherwise sold to developers. The negotiation involved significant contributions by the Vermont Land Trust, town of South Burlington, town of Shelburne, and Dirt Capital Partners, as well as the Vermont Housing and Conservation Board, and the Natural Resources Conservation Service. Currently, BBF  manages over 600 acres of land through ownership and lease, which is the land to become the Agrarian Commons with the support of the partners named above,  local community members and, Agrarian Trust. 
Corie wrote a piece about this experience that you can read here, but here's a preview to help you understand what this means to Corie and others at BBF.
"We absolutely love this model because it does so many things!!

Most importantly, it helps to guarantee a high standard of managing land forever by excellent farmers. 

It means that this land WILL be farmed forever! It can never be a gentleman farm that is just mowed each year and owned by an individual who chooses to work elsewhere and not farm but have the luxury of their own 500 acres for themselves.

Bread & Butter Farm is relieved of our mortgages and allows us to make investments in the farm business for the future for the people who work here and for the needed infrastructure.

We commit this land to a commons model where there will be 17 miles of beautiful trails that weave through the 500 acres for the community to enjoy (think Shelburne Farm walking trails in the southeast quadrant of South Burlington!), and…

This will become a model for future farms in Vermont and for the country, which is EXACTLY what we need!!  More viable models so that more amazing land steward/farmers are incentivized to farm and are ABLE to farm so that we can provide nourishing food for our community and simultaneously building soil and health of the land. And many more amazing reasons."
Read more about the Vermont Agrarian Commons here, and follow along by following @agrariantrust and @breadandbutterfarm on social media, as well as joining the Agrarian Trust newsletter list here.