A Note from Staff Council Leadership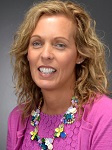 Dear UVM Staff,
Many members of our university community are feeling a great deal of stress and uncertainty right now about events in our country and around the world. In these times, it is all the more important that we stand by and support one another, recognize when our colleagues and students are in need of help or a friend, and work together to maintain the well-being of everyone in our community. UVM is, and will continue to be, a university that values respect, integrity, innovation, openness, justice and responsibility – the tenets of Our Common Ground.
I'd like to take this opportunity to remind you of the resources we have available on campus for those who may be in need. InvestEAP is available to UVM employees, and can provide counseling, resources, and referrals both over the phone and in in-person visits. The Office of International Education can answer your questions regarding how travel restrictions may impact you. The Staff Council Office can help you connect with a peer advisor if you are looking for support or need help identifying other resources that could be helpful for you. Don't hesitate to reach out to us. Continue reading...
Upcoming Staff Council Meeting
Staff Council's next meeting will take place on Tuesday, February 7, 2017, 12:05-1:30pm in Davis Center's Livak Ballroom. The agenda is available here.
Remember, if you print any of the information found in the Staffline, please choose the double sided or multiple page option on your printer to reduce paper usage.
Staff Council News:
Discounts:
Events:

Other Announcements:
Follow us here:

Email: Staff.Council@uvm.edu or call the Staff Council Office at 802-656-4493 Staff Council Office
85 So. Prospect Street
313 Waterman Building
Burlington, VT 05405

Hours
M -TH 8am - 3:30pm
F 9am - 1pm
www.uvm.edu/staffcouncil
Information from Staff Council:
February Board of Trustees Meeting - February 2-4, 2017

The February Board of Trustees Meeting will take place at the end of this week. Staff Council President Karmen Swim will address the Committee of the Whole on Friday morning, and our staff representatives will be in attendence at meetings of the Audit Committee, the Educational Policy and Investment Resources Committee, and the Budget, Finance and Investment Committee to report back on items of interest to staff.
All Board of Trustees materials, including schedules and agendas, are available here. If you have questions about the Board of Trustees meeting or are curious about a certain topic, let us know.
Staff Council Day Pass Ski Discounts

UVM Staff Council offers a few options when it comes to discounted ski tickets this season:
Jay Peak: Discount lift tickets are available for sale in the office. These tickets are good for any day of the current season with NO blackout dates.
Smugglers' Notch: $15 off vouchers are available in the office. These are valid against the code of a single-day 3 Mountain lift ticket, usable any day during the current season with NO blackout dates. Limit four per staff member.
Bolton Valley: UVM employees are eligible to receive $5 off each ticket they purchase. To do this, you'll need one discount code per ticket. Call or email our office to get your one-time use codes for Bolton.
To read more about these discounts, click here. (Remember - if you're stopping by the office, it always helps to call first in case we're in a meeting.)
Discount Ticket Alert! Lyric Theater Company Presents "9 to 5 The Musical" at the Flynn: April 8, 2017
Lyric Theatre Company is presenting "9 to 5: The Musical" this spring, and they are making discounted tickets available for University of Vermont employees and their guests. In addition, the Staff Council Social Committee is sponsoring your ticket purchases, so you'll receive a total of $5 off per ticket!
The discount performance is the April 8th matinee (2:00 PM). Ticket price is $26.00 for seats in Section B (regular price $31.00).
To receive this discount, you must pre-order your tickets at the Staff Council Office using this form. Please submit your form, as well as cash or a check, to Waterman 313 by the sales deadline of February 24th, 2017. Your tickets will be available at the Flynn box office on April 8th.
Take Advantage of FREE Classes through edu@uvm - March 14-16, 2017
Registration is now open for edu@uvm, a three-day signature learning event focused on staff development. This annual event brings colleagues together from across campus to share knowledge, cultivate skills and master the intricacies of UVM. More than 30 workshops are offered that aim to positively impact the work life of UVM employees through the three edu@uvm objectives: educate, develop, understand. This year there are diverse offerings from how to manage stress to how to improve your skills with Microsoft Excel (and everything in between). Register now, workshops fill quickly! Continue reading . . .