Agriculture
Pest Management (in Agriculture)
UVM Extension provides pest management information to homeowners and many types of crop producers. We use Extension's nationwide network of specialists to help you find the information that you need. Our faculty and staff can help you identity pests and determine your management options, following an IPM (Integrated Pest Management) approach: prevention, monitoring and use of least toxic controls if needed.
Looking for more on yard and garden pest management? See that section of the Extension website.
Find instruction on ...
General Pest Management Topics
Services
Pesticide education
Integrated Pest Management (IPM) for Vermont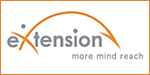 UVM participates in eXtension: A national organization creating rich education for local Extension programs.
Contacts
Wildlife damage management
Last modified May 03 2010 02:45 PM