Agriculture
Equine
Horse owners face many issues from finance to animal health. To meet the unique needs of this growing audience, the University of Vermont provides educational workshops and on-site assessments.
Are you a young person in Vermont? 4-H has a number of horse-related clubs and projects. Learn more about 4-H.
Find instruction on ...
Current news and events
Horse education topics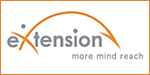 UVM participates in eXtension: A national organization creating rich education for local Extension programs.
Horsemanship/equine law
Vermont horse associations
Vermont horse clubs
Vermont farms
Horse businesses in Vermont
Additional equine resources
Last modified June 10 2009 12:23 PM