Agriculture
Livestock: Beef Cattle
According to the 2007 USDA Census of Agriculture, the number of Vermont farms is increasing and locally produced beef is among the products purchased by consumers. UVM Extension offers support for producers through the Women's Agricultural Network, the Center for Sustainable Agriculture, the New Farmer Project and other activities including webinars, conferences, workshops, discussion groups, individual consultations and articles.
Find instruction on ...
Current issues
Beef cattle education topics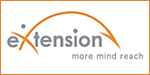 UVM participates in eXtension: A national organization creating rich education for local Extension programs.
Last modified April 20 2010 02:02 PM