Fun Photographs and Videos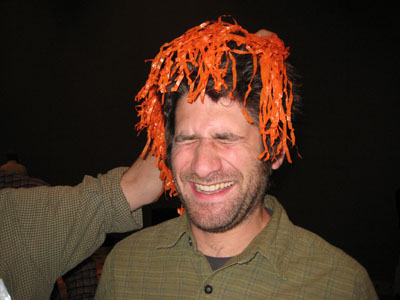 In the field, in the lab, and in the classroom we try and have a good time doing what we do. Here are just a few of the images and videos we have accumulated over the years. That's Lyman Persico in the image above at the QGG-fest, GSA 2007 in Denver.
See our Photo Albums
Rebuilding the Lab
- Not long after the Memorial Day 2007 fire, the rebuild began.
Other Labs
- Colleagues from around the world hosted our students after the fire.
Sample Storage
- Feel the cobwebs, smell the mold, see where old samples go to hibernate.
Big Events
- See things that are important to people in our research group.
See our Video Albums
The Newest member of our team
- Coffee time with Matt, Jane and Luke
Dryland Golf Anyone?
- Early morning, pre Mojave fieldwork exercise
Videos of Meetings
- Probably should be on the cutting room floor
Funny Field Videos
- See what we do and how we do it
Serious Lab Videos
- See what goes on behind the sliding doors