Hops Web Pages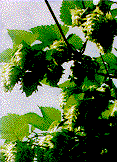 Click to see a larger photo of hops.
---
Français, Español, Deutsch, L'italiano, Portugese, Nederlands
The following documents outline research and general information relating to hops production in the United States, especially New England. Please select from the following documents for more detailed information.
NOTE: These trials described on these pages ended in 1999, with no further information added since then. For more recent trials, information, and events in New England, please visit the UVM Extension Agronomy and Crops website.
Dr. Leonard P. Perry, Extension Professor
Updated January 15, 2012

---