The Socially Responsible Investing Advisory Council (SRIAC) is a group of students, faculty, staff, and administrators that makes recommendations to the Vice President for Finance and Treasurer on sustainability investment at the University of Vermont, including positive investments of operating cash reserves and the Clean Energy Fund.
Increasing Impact: The University's Operating Reserves
The University of Vermont has a long history with socially responsible investing.
The endowment has divested from:
Tobacco (2000)
Investments in Sudan (2006)
Depleted uranium and cluster munition weapons (2009)
In 2013 the Board of Trustees rejected a formal proposal for divestment from fossil fuels.
In 2017, after debate at a public meeting, the Board of Trustees rejected a call for divestment from coal companies.
During the spring 2018 semester, SRIAC members researched options available for increasing the positive impacts of $10 million of the University's invested operating reserves at the request of Vice President for Finance Richard Cate.
A recommendation was made to Vice President Cate in May after several presentations, meetings with experts in the investment field, and substantial research. Graduate students in the Sustainable MBA Program at the Grossman School for Business advised SRIAC members throughout the development of a strategy.
Following recommendations from the SRIAC and the support of the VP for Finance, the University moved forward with a green bond strategy to improve the environmental, social and governance (ESG) metrics of a portion of UVM's operating reserves. This positive investing strategy targets companies with outstanding efforts towards gender equity, clean water investments and clean energy investments.
In fall 2019, investments in the green bonds portfolio was doubled, to $20 million.
Each spring, the University also takes proxy votes on increasing actions to mitigate and report on climate change impacts, the reduction of tobacco use and advertising, reducing discrimination in employment and against the development of anti-personal landmines.
AASHE Sustainability Tracking and Rating System (STARS)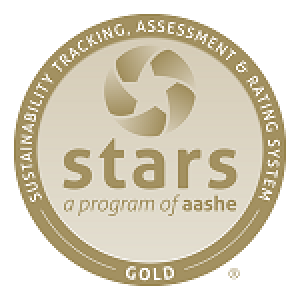 The Association for the Advancement of Sustainability in Higher Education (AASHE) STARS is a framework that guides and tracks sustainability progress on campuses across the country. In 2017, the University of Vermont earned enough points to be awarded the Gold designation, the second highest designation in the STARS system.
The STARS framework is organized into three main sections - Education, Operations, and Planning and Administration.
Under Planning and Administration, the subheading Investments guides and tracks progress on socially responsible investing. In this category, the University of Vermont has earned 3.01 points out of a total of 7 points for the existence of a Socially Responsible Investing Advisory Council, and a small amount of positive investments. The full report can be found on the AASHEE website. The Socially Responsible Investing Advisory Committee is using STARS to guide their goals and decisions on socially responsible investing at UVM. Read more about UVM's STARS ratings.