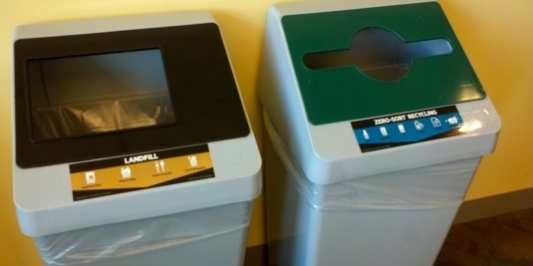 Get an At-Desk Box for your Office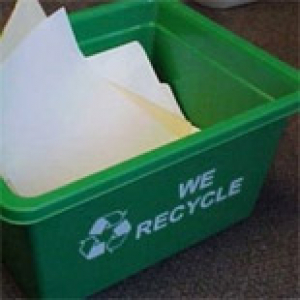 Staff and faculty can request a desk-side recycle box to use in their office. Email recycle@uvm.edu with the following details: your name, department, building name, room number, and how many boxes you need. We'll deliver one to you.
Need Another Type of Bin?
| Container | How and where we use it? | Availability |
| --- | --- | --- |
| | These are our general purpose containers and are the current standard in use for most academic and administrative buildings.   | Available on request |
| | These multi-unit disposal stations are custom-ordered and can be found in buildings such as the Davis Center, Howe Library and Waterman. They are made from 100% recycled plastic. Contact UVM Recycling for more information on how to purchase these for your building. | Custom Ordered  |
| | These are the older style of collection bins that were the campus standard until 2015.  Don't let the slotted openings or labels confuse you; all recycle bins on campus accept the same materials regardless if the labels say otherwise.  | No longer available. |
| | These 65-gallon capacity rolling carts are primarily used for office cleanouts, e-waste collection and special events. UVM Recycling will deliver these upon request When using these carts the important thing is to keep the material stream homogenous. Do not mix! Enter a FAMIS service request to get carts delivered to your location.   | By Request  |