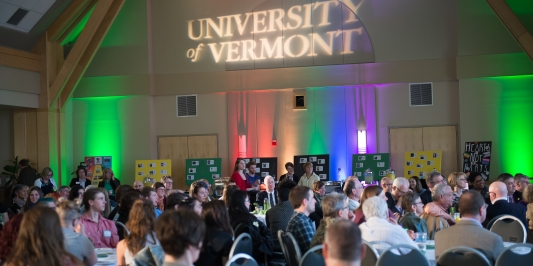 From Annual Events to Social Gatherings
The Prism Center holds a variety of events, social and educational programs, and training & advocacy opportunities throughout the year for students, staff, and faculty members. Join us!
Annual Events
Fall Welcome
Kick off each academic year with a party on the Allen House green to welcome new and returning campus community members with pride. Connect with new and old friends and enjoy food, crafts and games. All members of the UVM community welcome including alums, partners, friends, and children.
Queer Community Dinner
Build community at this monthly, informal social gathering and FREE homemade meal. Check the calendar for dates.
Home for the Holidays
A nondenominational holiday gathering and reminder that no matter what your winter break is like, there is an LGBTQ+ affirming community on campus to return to in January. Join us for crafts, games, and treats!
LGBTQApril
A full month of events to educate, entertain, and empower. Previous events have included everything from Queer Monologues poetry to panel discussions, from movie showings to political activism.
Rainbow Graduation & Awards
Recognizing important contributions to UVM's LGBTQ+ community and celebrating the graduation of queer & trans scholars.
SAVE THE DATE!
Thursday, April 30th, 2020
Grand Maple Ballroom, Davis Center
Rainbow Graduation & Awards
Each year we pause to recognize the important contributions to UVM's LGBTQ+ community and celebrating the graduation of queer & trans scholars. We have celebrated the achievements of over 500 LGBTQ+ graduates since the awards and graduation ceremony was founded in 2002. All are welcome and encouraged to join us in celebration.
Students do not need to have been involved with the Prism Center to walk in Rainbow Graduation; participation is open to all LGBTQ+ students. Graduates must RSVP.
Registration information coming soon.
Education & Training
The Prism Center provides educational programs and training exploring sexual and gender identities and expression, language, the multiplicity of identity, and how student groups, offices, and others on campus can become more affirming and inclusive of LGBTQ+ students.
Our Education & Training efforts are geared toward student groups (clubs, organizations & student staffs such as peer mentors, RAs & orientation leaders). Requests from campus faculty & staff who work directly with students will be considered as our capacity allows. Staff, Faculty and campus community members should check out additional LGBTQ+ related offerings through Professional Development and Training or consider other local training opportunities such as the Pride Center of Vermont.
Request a training, workshop, or consultation from the Prism Center.
Other On Campus Programs & Events