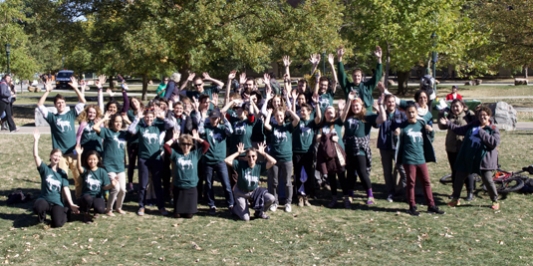 Find your place in UVM's LGBTQA+ community.
The LGBTQA+ community at UVM is made of people like you!  Join us!
Annual Events
FALL WELCOME:  Kick off each academic year with an open house gathering to welcome new and returning campus community members with pride. Connect with new and old friends and enjoy food, crafts and games. All members of the UVM community welcome including alums, partners, friends, and children.
QUEER COMMUNITY DINNER:  Build community at this monthly, informal social gathering and FREE homemade meal. *paused during covid*
HOME FOR THE HOLIDAYS:  A nondenominational holiday gathering and reminder that no matter what your winter break is like, there is an LGBTQ+ affirming community on campus to return to in January.  Join us for crafts, games, and treats!
RAINBOW GRADUATION & AWARDS:  Recognizing important contributions to UVM's LGBTQ+ community and celebrating the graduation of queer & trans scholars. To RSVP for the 2022 ceremony visit http://go.uvm.edu/rainbowgrad
Student Affinity Groups
Aro/Ace:  For people who identify on the aromantic and/or asexual spectrums. They meet every other week during the semester to socialize and have discussions around aro and ace experiences.
Bi/Pan:  Formerly known as "Hearts Not Parts", this affinity space is for folx who identify with bisexuality, pansexuality, or any other middle sexuality.
Hineinu:  For trans and queer Jewish folx to be in community with others who understand experiences at the intersections of being LGBTQIA+ and Jewish.
QTBIPOC:  For LGBTQIA2S+ folx who are Black, Indigenous, and/or People of Color to gather and be in community with other folx who understand experiences at the intersections of race, sexuality, and gender.
Trans & ENBY:  For folx who identify under the trans and/or non-binary umbrella (i.e. trans men, trans women, gender-queer, gender-fluid, agender, etc.).
Student Clubs & Organizations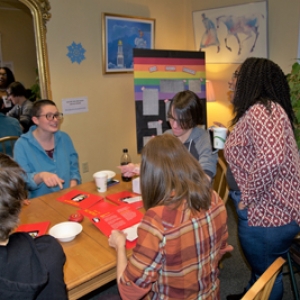 Queer Student Union
oSTEM (Out in STEM*)   * Science, Technology, Engineering, Math
UVM Larner College of Medicine Gender-Sexuality Alliance (CoMGSA)
Want to start a group OR have a new group that you'd like listed?
If you have a new LGBTQ+ group that you'd like us to list below please let us know.  We can also help you get a new group started.  Our student lounge and meetings spaces are available for group meetings & social events.  Please contact us to schedule.
Faculty & Staff
UVM has a vibrant community of engaged LGBTQ+ faculty and staff serving our campus.  Potlucks, dinners and other social gatherings typically happen once or twice per semester. LGBTQ+ faculty & staff can join an e-mail listserv to receive updates and announcements by e-mailing Prof. Val Rohy and requesting to be added.
Alumnx
Join
UVM alums just like you, connect and stay involved.  Learn more about the LGBTQA Affinity Group and become one of thousands of UVM alums using the UVM Connect networking platform.  Be sure to join the LGBTQA group in UVMConnect too.  
UVM Connect now offers a platform for UVM alums to promote their businesses, and soon will include a mentorship matching program that allows alumni to offer mentorship services to UVM students preparing to graduate.  There are so many ways to find community and get involved.
The LGBTQA Affinity group also operates a Facebook group with 250+ members.  
Document
Contribute to the UVM LGBTQ+ archive and help document LGBTQ+ life around campus from your time as a student, staff, or faculty member. We accept photos, posters, articles and other memorabilia.  To learn more contact us at prism@uvm.edu.  For those interested in seeing the contents of this historical archive, please reach out to our colleagues who helped us archive and preserve this history at UVM Special Collections.