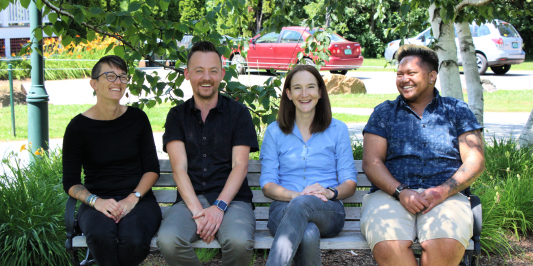 Our Purpose
The Prism Center has been serving the diverse queer and trans communities at the University of Vermont since 1999. 
We support and empower lesbian, gay, bisexual, transgender and queer (LGBTQ+) students and work to create a campus community where people of all sexual and gender identities can thrive.
The three facets of our work are:
Student Empowerment: We partner with students to build their leadership skills, expand understandings of gender and sexuality, and support LGBTQ+ student success.
Community Building: We create opportunities for all members of UVM's LGBTQ+ communities to be together, meet, and learn from one another.
Campus Equity: We champion efforts to make all aspects of campus life equitable for, and fully inclusive of, LGBTQ+ people.
Meet Our Staff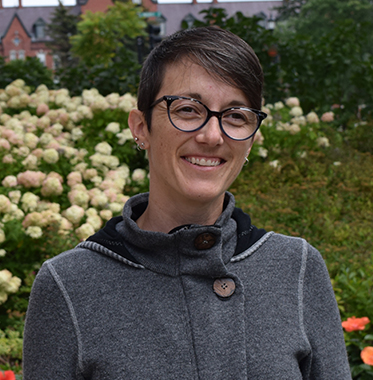 Kate Jerman, Director (pronouns she/her) 
Kate joined the center as Director in July 2017. Her career thus far has focused on building communities where all people thrive, health equity, and liberation for queer and trans people. Kate holds a BSW from New York University and an MPH in Sexuality & Health from Columbia University. She is interested in possibilities for radical transformation, ceramics, and reading books of all kinds. 
Phone:  802-656-8637  /  Email:  kjerman@uvm.edu 
 Alex Hazzard, Student Empowerment Coordinator (pronouns he/him)
Alex became a part of the Prism team in July 2019 after receiving his M.S. in Higher Education Policy and Student Affairs from West Chester University of Pennsylvania. A Trans and Queer man of color, he is a passionate advocate for social justice and equitable access in higher ed. When he's not discussing philosophies of social justice, Alex can be found at home cooking, reading, or watching anime. 
Phone:  802-656-4907  /  Email:  ahazzard@uvm.edu
Laura Aguilera, Education & Outreach Coordinator (pronouns they/them, she/her)
Lauren joined the Prism team in January 2020 and is pursuing an M.Ed in Higher Education and Student Affairs with a graduate certificate in Disability Studies at UVM.  They seek to create space for marginalized students to feel validated and to develop their consciousness about disability, healing, and transformative justice. 
Email:  laguiler@uvm.edu
 Evan Litwin, Operations Assistant (pronouns he/him)
Evan is a former student staff member, graduating in 2005.  He rejoined the staff in the summer of 2012 after receiving his M.S. in Public Affairs & International Relations from UMass Boston. He brings over 10 years of operations management experience from his time at Verizon and UVM.  His academic and community service interests have always centered on social, economic, and political justice.  
Phone:  802-656-1762  /  Email:  elitwin@uvm.edu
Our Space
The Prism Center is conveniently located in Allen House, on the corner of South Prospect and Main Streets.  Inside, you will find a welcoming space with a variety of resources including:
A Student Lounge for studying, hanging out, and small gatherings in a queer-affirming space.  The lounge features a coffee/tea/cocoa station, games, couches, work table & chairs, a resource shelf and free snacks.
The David Bohnett Cyber Center, providing students with free Internet access and subsidized printing services.  Our Cyber Center was established with a gift from the David Bohnett Foundation in 2007 and features five workstations that expand students' academic, research, and professional opportunities in a safe and affirming environment. It also offers discounted printing at $.03/page and a motor-assisted, adjustable-height desk and a computer with various software for those using adaptive technology.
A Library containing LGBTQ-related books, comics and magazines.  Our LibraryThing site contains a listing of all of the titles available for lending.
Accessibility at the Prism Center
The Prism Center strives to develop events, programs, trainings, and services that are accessible to all people. Whenever possible, we utilize campus locations that are wheelchair accessible, have gender inclusive restrooms, and elevators.
We offer ASL interpretation at all major events and programs through our colleagues at Student Accessibility Services, and we include captions on videos we show. We aim to provide food that is accessible to people with a broad range of dietary restrictions, and we are intentional to provide information about ingredients.
If you need additional accommodations to ensure your full participation, please e-mail prism@uvm.edu.  Every effort will be made to accommodate all requests for accommodation.  To help ensure we are able to provide the services you need, please leave ample time before an event or program.  
Unfortunately, the Prism Center itself is not totally accessible. We are located in a multi-storey historic house (Allen House) without an elevator. Some staff offices and a conference room are located on the second floor. Our front door is accessible only via a short flight of stairs. The rear door, facing the parking lot, is ramp accessible.  One handicap parking space is located at this door, but if it is taken, those with appropriate placards may park in any open parking space as long as it is not reserved for service or emergency vehicles.  
All of our restrooms are single use and gender inclusive.  None of these restrooms are wheelchair accessible. Some doorways in the building (approximately 30 inches wide) may not be large enough for some wheelchair users to access.  However, the doorways for the Prism Center communal spaces are all wheelchair accessible.  
We recognize that accessibility is foundational to intersectional social justice work. We are working closely with University administrators to increase accessibility. In the meantime, if you would like to be connected to the Prism Center but are unable to access it or you would like to be part of the conversation about accessibility, please contact us.
As part of our commitment to building an inclusive community we ask that everyone coming to the Prism Center please be fragrance/scent-free to the extent that you are able.  This helps keep our space accessible to those who are harmed by fragrances and chemicals.  For more information about why and how to be frangrance-free, please visit this website.  
This section has been adapated from the statement on accessibility by our colleagues at the LGBT Resource Center at Syracuse University.
Student Employment & Volunteer Opportunities
Student Employment
The Prism Center hires several student staff members at the beginning of each academic year to support us in achieving our mission. If you have a work-study award and are interested in working with the diverse members of UVM'S LGBTQ+ community, we'd love to interview you! Our student staff teams help with planning programs and events, marketing and social media, as well as special projects and office administration. To learn more about the available positions or to apply you must use the JobX site accessible through your MyUVM portal or by visiting the Student Employment Office website.
Volunteering
Charitable Giving
Please consider supporting the Prism Center at UVM.  Each year we touch hundreds of lives in positive ways through education, support, and programs.  Online giving is convenient and your gift makes a signficant impact in the experiences of LGBTQ+ students on our campus.