Our Spaces and Support
There is a lot to know about the LGBTQA Center at UVM. We encourage you to meet our staff, visit our campus spaces, investigate our resources, and look into ways to get involved and support all that we do for our students, staff, and faculty.
Meet Our Staff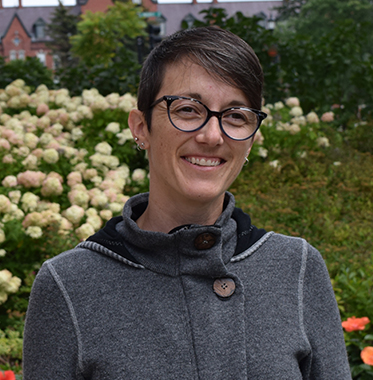 Kate Jerman, Director (pronouns she/her)
Kate joined the LGBTQA Center as Director in July 2017. Her career thus far has focused on building communities where all people thrive, health equity, and liberation for queer and trans people. Kate holds a BSW from New York University and an MPH in Sexuality & Health from Columbia University. She is interested in possibilities for radical transformation, ceramics, and reading books of all kinds.
Phone: 802-656-8637 / Email: kjerman@uvm.edu

Evan Litwin, Operations & Alumni Initiatives (pronouns he/him)
Evan is a former student staff member at the LGBTQA Center, graduating in 2005 and rejoined the staff in the summer of 2012 after receiving his M.S. in Public Affairs & International Relations from UMass Boston. His academic interests have always centered on social, economic, and political justice with a focus on climate change migrants in the Indo-Pacific region, neo-liberal economic policies in Haiti, and climate sustainability. He enjoys travel, exploring Vermont's outdoors with his dog, and rooting for his beloved Boston Bruins. Phone: 802-656-1762 / Email: elitwin@uvm.edu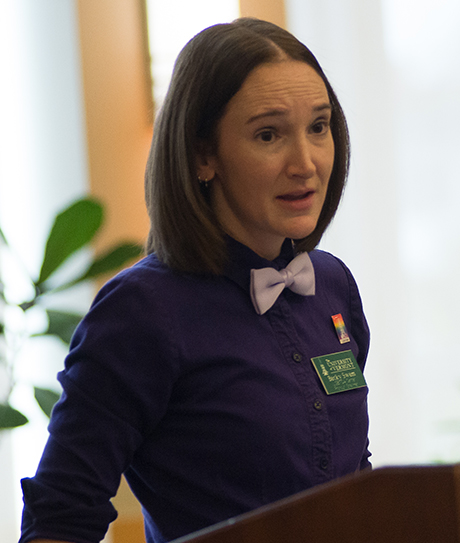 Becky Swem, Education & Outreach Coordinator (pronouns she/her)
Becky joined the LGBTQA Center in 2013 after having been a graduate intern and temporary employee throughout the 2012-2013 school year. She received her Master's in Student Affairs Counseling from SUNY Plattsburgh in 2012. Prior to that, Becky worked as a teaching assistant in a middle school. Her interests include college student development with a focus on identity development. In her free time, she can be found out in the woods, near the water, and climbing mountains. Phone: 802-656-4907 / Email: rswem@uvm.edu
Our Space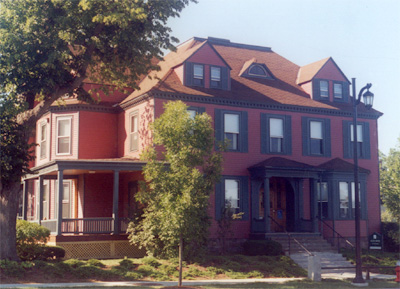 The LGBTQA Center is conveniently located in Allen House, on the corner of South Prospect and Main Streets. Inside, you will find a welcoming space with a variety of resources including:
A Student Lounge for studying, hanging out, and small gatherings in a queer-affirming space. The lounge features a coffee/tea/cocoa station, games, couches, work table & chairs, a resource shelf and free snacks.
The David Bohnett Cyber Center, providing students with free Internet access and subsidized printing services. Our Cyber Center was established with a gift from the Bohnett Foundation in 2007 and features four workstations that expand students' academic, research, and professional opportunities in a safe and affirming environment.
A Library containing LGBT-related books, comics and magazines. Our LibraryThing site contains a listing of all of the titles available for lending.
History of Allen House
The Allen House was built by Henry Boardman, son of pioneer boat builder, Benjamin Boardman, in 1838. Other owners included Farrand N. Benedict, professor of mathematics and engineering at UVM; Dr. Leonard Marsh, a medical doctor and a cousin of UVM President James Marsh and Dr. George P. Marsh; and John Allen, a lawyer whose family spent summers in Burlington and winters in Brooklyn, N.Y. After Allen and his wife died, his daughter sold the house to UVM in 1936. The house has been used as both a women's and a men's dormitory; the Luse Center for Communication Sciences; and, since 1977 the Center for Cultural Pluralism.
Work Study & Volunteer Opportunities
Work Study
The LGBTQA Center hires several work-study students at the beginning of each academic year to support us in achieving our mission. If you have a work study award and are interested in working with the diverse members of UVM'S LGBTQA community, we'd love to employ you! Previous opportunities have included events planning, research projects, office support, and website maintenance. If you're interested in applying, contact us for more information.
Volunteering
Charitable Giving
Please consider supporting the LGBTQA Center at UVM. Each year we touch hundreds of lives in positive ways through education, outreach, and programs. Giving is fast and easy and appreciated!
Contact Info