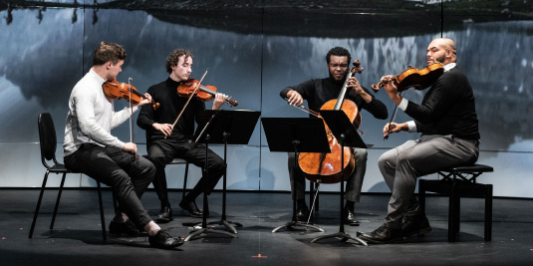 Date: Friday, February 24, 2023
Doors: 7:00pm | Show: 7:30pm
Venue: UVM Recital Hall
Address: 384 South Prospect Street, Burlington, VT 05405
Tickets: $43.25 Adult | $6.20 Student (including fees)
Winners of 2022 Banff International String Quartet Competition, the Isidore String Quartet is heavily influenced by the Juilliard String Quartet and the idea of approaching the established as if it were brand new and the new as if it were firmly established. Their triumph at Banff brings an active touring schedule in North America and Europe, a two-year appointment as the Peak Fellowship Ensemble-in-Residence at Southern Methodist University, performances at Haydn Hall in Eisenstadt and the Lucerne Festival, plus a two-week residency at the Banff Centre including a professionally produced recording. The quartet will also be working as a resident ensemble with PROJECT: MUSIC HEALS US providing encouragement, education, and healing to marginalized communities including elderly, disabled, rehabilitating, incarcerated, and homeless. Their program for us will include a segment of the string quartet version of Bach's Art of Fugue.