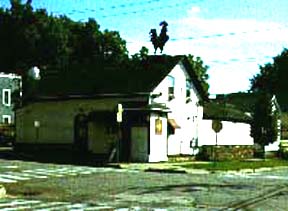 The CaptainWhite Place
43-45 King Street
By Mary O'Neil
Historical Significance

The history of the White Place is neither brief nor prosaic. Recent research places this building as one of a dozen or so of the oldest structures in downtown Burlington. Listed on the National Register as a contributor to the Battery Street Historic District, and an anchor on a corner of three other historic homes, its identity and role in Burlington's maritime history has only recently come to light.

Early research on the Champlain Street Corridor brought a quick focus to this property. Although some of the fenestration placement may have been altered, this building retains the same footprint that is presented in Ammi B. Young's 1830 Map of the Village of Burlington. This distinctive form remains constant through subsequent Burlington maps such as the 1869 Beers map as well as the 1894, 1942/60 and 1978 Sanborn insurance maps.

Contemporary residents of the area may associate this dwelling with its commercial usage as a tavern called the Chickenbone. Great notoriety was gained upon the 1992 seizure by the federal government under provisions of Title 21, section 853 of the United States Code for Crimes and Criminal Procedure, (Comprehensive Drug Abuse Prevention and Control Act of 1970). The White Place, however, began as a small cottage, and remained residential at least until the second part of this century. Moe Glasstan opened a small market there sometime around 1947. Its service as a local tavern did not begin until the early 1970s.(1) David Abdoo purchased the property in 1977.

The importance of this property lies in both Burlington's early history, and the history of maritime trade on Lake Champlain in the beginning years of the nineteenth century. A main reason why Burlington exists is the activity that took place in this small enclave around the wharves. When all goods traveled by water, Lake Champlain was the superhighway between New York and Canada. As a port of call, Burlington was dominant. Ship captains such as Robert and Lavater White, Dan Davis, Dan Lyon and Gideon King all called Burlington home during this age of extensive lake commerce and international trade.[2] Gideon King, who was a leading shipper and controlled most lake traffic, resided down the street, at 35 King. It is widely reported that Captain Gideon King, the "Admiral of the Lake", at one time owned or had mortgages on almost every vessel that plied the waters of Lake Champlain. [3] It was this same Gideon King that purchased 43-45 King Street from Captain Robert White and his brother Andrew, on July 12, 1822.[4]

The ownership of this residence by Gideon King warrants mention and description of the property in both his Last Will and Testament and the inventory of his estate in 1826:

"Also the House and Land now occupied by John Brooks in Burlington, being the same place I had of Whites"[5]


"Ditto No. 95 and the south half of No. 94 being the place formerly owned by the Whites"[6]
The house is eventually sold, after numerous attachments have been placed against Kings' sons. In 1829, the parcel was sold for $575.00 to William Everts, who had been owed $800.00 by William King.[7]

Abby Maria Hemenway gives particular praise to both the White brothers and Captain Gideon King, indicating that they were among a handful of principal navigators and ship captains at that time.[8] She also relates a significant event: The burning of the Steamer Phoenix. According to Hemenway, during the late night hours of September 4, 1819, a candle left burning in the pantry after a midnight meal taken by the crew set the vessel aflame. Fourteen miles offshore from Burlington and about four miles from Colchester Point, the crew dispatched one lifeboat with twenty aboard in the pitch dark. A second boat with fourteen people aboard was "settled" in the water, but was cut loose before all could board. Eleven souls remained on the burning vessel, which was quickly being consumed by fire.
The light from the burning vessel was seen from the shore by Captains Robert and Lavater White, Capt Almans Truman, and Captain Dan Lyon, all of whom launched their sloops from the Burlington Harbor in the early morning darkness in an effort to rescue the passengers and crew. [9] It can be reasonably assumed that the close proximity of this residence offered a spectacular vantage point from which a disaster of this nature could be viewed.
The actions of the White brothers, as well as the other responding ship captains, can be characterized as nothing short of heroic: Their response was quick and deliberate. To a small community like the village of Burlington, this was a shared tragedy and loss. Despite the best efforts of The Whites and their colleagues, five lives were lost that night when the Phoenix went down.

Hemenway gives a tally of the vessels built upon Lake Champlain between 1790 and 1815, and indicates that Robert and Lavater White were sailors and officers on most of these vessels at different times. [10] It has been documented that although Gideon King held title to most of the vessels on Lake Champlain, he had them built and held mortgages for many captains that he held in employ. Robert and Lavater White, who sailed these vessels for King, came from a family of ship captains who sailed Lake Champlain extensively. [11]

Interesting also in Hemenway's account is the mention of Captain Dan Lyon, who also owned 43-45 King Street in 1841.[12] Clearly this was a residence that housed men with lake water coursing through their veins.

Almost anecdotally, there is another story which reflects the strong role the White Place takes in the maritime history of Burlington Bay. In 1832, Edward Lyon together with Johazel Sherman bought the Steamer Defiance, then at wharf in Vergennes. From property transfer records, it would appear that Mr. Lyon sold 43-45 King Street, which he owned, to help finance the purchase of the vessel as he had a balance to be paid in installments. [13] And his partner, Johazel Sherman, was none other than the captain of the ill-fated Phoenix and whose illness the night of the tragedy had warranted replacement by his son, Richard.[14]

Further Archival Evidence

The 1862 Wainright Map gives the name of the occupant at 43-45 King Street as H. Rolfe. Henry Rolfe was a successful lumberman, employed as an agent of the Hunterstown Lumber Company, located at the Central Railroad Wharf, in 1866. Abby Maria Hemenway invited Mr. Rolfe to write an article in her 1857 Gazetteer about the substantial lumber trade out of Burlington Harbor.
Burlington had become the hub of trade both by water and land after the establishment of the rail lines in the 1850s. Water and tracks converged here in this neighborhood, and lumber was being shipped through Burlington by rail, and by water to destinations west and as far away as Europe. Burlington was a trade metropolis, and the White Place continued to house some of its more important players. [15]

By 1869, the Beers Map indicates that W.J. Scott is the resident. City of Burlington Land Records show a land parcel transfer between William J. Scott and Nathaniel Parker on April 4, 1867. Nathaniel Parker had purchased the property from Jeptha Derby of Freleighsburg, Quebec on April 21, 1845, when reference is made to exact lot location. This information relates to a 1833 survey map, and an earlier survey done by John Johnson in 1810 to assign property parcel numbers. It is believed that information on both of these surveys duplicate the site plan rendered by William Coit in 1798 at the Proprietors' Meeting. Through these lots numbers, one can track the chain of title of 43-45 King Street. Even as early as 1843, the property is described as "The north half of Quarter Acre Lot Number 94 and Quarter Acre Lot Number 95, which is subject to an incumbrance of Twenty-Five Dollars per annum to Mrs. Clarissa Lyman of said Burlington"[16] The selling price in 1843 was $2,050.

Besides the mortgage on the house to Mrs. Lyman, the other distinctive feature becomes the parcel description. Every property transfer preceding this indicates the house and outbuildings sitting on the Whole of Lot Number 95 and the north half of Lot 94.[17] It can be determined that these two lots retained their separate and complete identities in 1807, when Thaddeus Tuttle sold them, as well as most of the village block, to John Norton Pomeroy[18]; but were divided by Pomeroy in 1815 when he sold the whole of lot 95 and the north part of lot 94 to the White Brothers. [19] The remaining half of lot 94 was deeded to Elias Nye by John Pomeroy in 1824, as per a decree of the Supreme Court held in Burlington.[20] This "half lot" would be the site of 184 South Champlain Street. And who was Elias Nye? He was owner of the wharf at the end of King Street.
Physical Evidence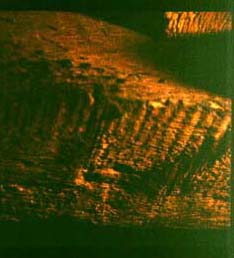 An early construction date can be confirmed upon inspection of structural members. Beams have sash saw marks typical of early 19th century construction.. Beams under the Champlain Street section, obviously hand -hewn, are notched to intercept each other. Injudiciously these have been truncated, their task interrupted to facilitate the placement of more modern mechanical systems. Further fortification has been required to continue adequate structural support. Their heritage is unmistakable. Here is evidence of early nineteenth century construction; as are the ax score marks evident on the major support beams.

There are the remains of two early chimneys, one physically intact below the floorline on the eastern basement wall, the other only residual bricks faced in the stone foundation of the southeastern part of the Champlain Street foundation. Significant also are the foundation stones. Some are local, while the King Street façade presents a limestone material. This is noteworthy, because limestone may have been quarried in Isle La Motte, and these stones could have only been delivered to this site c. 1815 by boat. Even the building's materials reflect a dependency on the water trade of Lake Champlain.

The building retains such important historic character defining features as its form, the roof trim with Federal style cornice returns, a Federal style fanlight over the front door and its distinctive stone foundation. As one would expect with a building of its age, the roof shingles and clapboard sheathing have been replaced. The National Register inventory suggests that this was originally a classic cottage, having had its north-east front windows converted into a store front and a corner recessed door added.
"There is a long ell along South Champlain Street which appears to date earlier than the main building; windows are high on the cornice line and other small details; which are mostly obscured, suggest an earlier date." [21]
The Captain White Place does present itself as one of the best surviving example of wooden Federal style architecture in Burlington . This structure does have a much higher level of physical integrity than other such surviving wooden buildings of the period, such as the Ethan Allen Homestead (c. 1785), the Colonel Pearl Place at 17 Colchester Avenue (1789), or the Oziah Buell Place at 247 Pearl Street (c.1812).
The only surviving wooden building in Burlington of the age of the White Place with a higher level of integrity might be 31 South Prospect Street (1809), but this too has had its sheathing and roofing covered with more recent materials.

The significance the White Place possesses gleans not only from its age, but from its historical association. When everything that moved went by boat, and Lake Champlain was the highway to get anywhere, The White Place was a major component in the maritime industry, interstate and international trade, and Burlington's residential landscape. After Jefferson's Embargo Act of 1807, and President Madison's ultimate Declaration of War against England in June of 1812, it was forbidden by federal law to trade with foreign markets. For men like Gideon King, who ran a regular route between St. Johns, Quebec; Burlington; Plattsburg; and White Hall, New York, this could mean economic and financial paralysis. It has been said that Gideon King, as well as many other local ship captains, earned both large reputations and fortunes conducting illegal trade, believing that Vermont could work out differences with its neighbors without the involvement of the federal government. His trade arrangement with John Jacob Astor and his associated fur business has been documented. [22] Most people are aware of the smuggling that occurred in St. Albans and Smuggler's Notch during this period, but it takes little imagination to understand why a small cottage one block from the main wharf could be built with twin basements; one of which was only accessible by trap door.

The Captain White Place has been in the ownership of several notable personalities pertaining both to the history of Burlington itself and the maritime history of Lake Champlain: Thaddeus Tuttle, John Pomeroy, Robert White, Gideon King, Horatio Gates, Dan Lyon, and Henry Rolfe. One could include current owner, David Abdoo; a local businessman who has generously supported community activities in the King Street area as well contributed to the drama and folklore of the White Place.
Sadly, recent research by the University of Vermont Historic Preservation Program has roughly determined that less than 10 % of the buildings that appear on the 1830 Young Map still stand. Of that small number, fewer than 10 of these buildings are timber frame, as is this structure. Sitting proudly at 43-45 King Street, The Captain White Place still stands as a witness to the prominence of Burlington; its harbor, its industries, and its people, in the earliest days of the 19th century.

------------------------------------------------------------------------
[1] The name "Chickenbone" was suggested by John Perkins, and comes from the song by NRBQ called "Chickenbone Blues".
(Burlington Free Press, Wednesday, December 6, 2000.)
[2] United States Heads of Household (Census), 1820. Burlington, Chittenden County.
[3] David Blow, "Lake Champlain's First Steamboat", Vermont History (Vermont Historical Society,1966), 34:2:118.
[4] Town of Burlington Land Records, 7:114. "said premises with the House and Shed thereon standing"
[5] Last Will and Testament of G. King. Vermont Probate Court, Chittenden County, 19 September, 1826.
[6] Inventory of the Estate of G. King. Vermont Probate Court, Chittenden County, 1826.
[7] Town of Burlington/Record of Attachments 1823-1836. 18 March, 1829. Refers to debt of February 3, 1829. Attached all of the land in the Town of Burlington as property of the defendant.
[8] Abby Maria Hemenway, The Vermont Historical Gazetteer: A Magazine Embracing A History Of Each Town (Burlington:Miss. A.M. Hemenway, 1867), 1:669.
[9] Ibid.,1:691.
[10] Ibid. 1:670.
[11] Lavater White was a brother of Robert and Andrew, who were often described as being "of Shelburn". It is believed that their Ship building business is now Shelburne Shipyard. With their foster brother, Captain H.B. Sawyer, they were recognized as major contributors to the shipping and lake community all along the shores of Lake Champlain. The four boys, raised together since infancy, offered themselves in service to their country, (Capt. Sawyer inducted into the Navy in Burlington in 1812) and their hometown, plying the waters both here and, (in Sawyer's case), abroad.
Sawyer himself piloted significant vessels on Lake Champlain: The Growler, Eagle, Cyane, and Levant.[Hemenway, 1:589] His numerous engagements had sometimes ended in capture, where he served time imprisoned in Canada.
[12] Town of Burlington Land Records. 15:138.
[13] Ibid., 11:85.

[14] Abby Maria Hemenway, The Vermont Historical Gazetteer: A Magazine Embracing the History of Each Town (Burlington:Miss A.M. Hemenway, 1867),1:689.
[15] Several prominent Burlington residents called King Street their home. Both Henry Rolfe (43-45 King) and Samuel Pope (64 King) were members of the Prudential Committee (School Board) in the 1860s. (Burlington City Directory 1866-1867,12.)
[16] Town of Burlington Land Records, 16:97. The mortgage is further outlined in a warranty deed 9:406 that states:
"...house and parcels of land...$20 on the first day of May 1830 and $20 on the first day of May in each and every year thereafter, during the natural life of said Clarissa, or if said Clarissa prefers it, in board at one dollar a week with suitable lodging and attendance, or in such other articles as said Clarissa may prefer at their cash value..." The mortgage value was annuitized upon the sale of the property in 1841. Court records indicate that for a person aged 63, according to life annuity tables in the American Almanac for 1835, the annuitant's interest is $161.20. (Guardianship of Cornelia Lyon, Vermont Probate Court, 1841)
[17] Guardianship Hearing for Cornelia Lyon of Detroit, Michigan , Vermont Probate Court, Chittenden County (1841, 1849). As a minor of the age of eight years, a guardian was appointed for Miss Lyon to manage her ownership of residence described by these distinctive lot numbers. Her guardian was required to give bond worth double the value of the property, which the court listed as $435.00. After obtaining a license to sell the house and land, Hawley Giddins (Guardian) settles the mortgage with Clarissa Lyman (see previous note) and pays into a life estate for Edward Lyon as required by the court. He uses the remainder of the land sale proceeds to purchase 10 share of stock in the Farmers and Mechanics Bank at $35.00 per share.
[18] Town of Burlington Land Records, 3:317.
[19] Ibid., 7:372. "Land which was deeded by Thaddeus Tuttle to John Pomeroy 1807 except to much thereof as has been deeded by said Pomeroy to Robert and Andrew White."
[20] Ibid., 7:372
[21] Battery Street National Register Historic District Nomination, Burlington, Vermont (Washington: National Park Service,1977), 14:7:13.
[22] H. N. Muller, "Smuggling Into Canada: How the Champlain Valley Defied Jefferson's Embargo", Vermont History (Vermont Historical Society, 1970), 38:1:5-21. Author refers to Haswell MSS, Jabez Penniman to Nathan B. Haswell, St. Albans, 3 May 1808.
Introduction | 1830 Young map | 1830-1988 overlay maps | Street index | Surviving 1830 buildings | UVM Historic Preservation Program