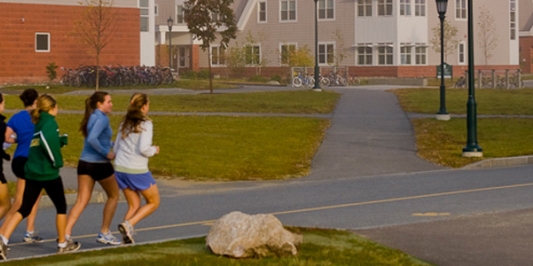 Take the first step in a fruitful relationship — contact us.
Let us visit you.
FOUR would love to come to your class, club or staff meeting to spread the word about our resources and way to engage students in undergraduate fellowships and research at UVM. Let us know who you are, what you are hoping to learn, and when you would like us to visit by sending us an e-mail.
Visit us at the Hub.
Times for meeting up with FOUR student advising assistants at the Hub (100 Davis) are Wednesdays from 10–4 p.m. We are always available at other times by appointment, set up an appointment via e-mail. Check out the FOUR calendar for workshops and info sessions this month..
Dive in deeper.
When you have a more in-depth question or you're in need of a meeting with one of our full-time staff advisors, come by Open Hive (University Heights North, Suite 17) on Thursdays from 2:00 p.m. to 4 p.m. To set up an appointment, email the Undergraduate Research Coordinator or email the Fellowships Advisor.