FEMC Regional Project
REGEN: The Northeastern Forest Regeneration Data Network
---
---
---
About
Detailed metadata is provided for each project, such as the size of the plots, the definition of a seedling, and what species nomenclature was used. Projects can be filtered by metadata as well as by analysis suitability, selecting only those projects that would be suitable for a particular analysis, such as analysis of sapling mortality over time.
For analysis suitability, projects were assessed on whether they had sufficient information to perform the following seedling or sapling analyses, based on the required data needed for that analysis:
| Analysis | Required data |
| --- | --- |
| Density | Species, count, plot size |
| Species Composition | Tallies by species |
| Mortality | Status (i.e. live and dead stems) or tracking of individual trees over time |
| Biomass | Diameter, Height |
| Browse Impacts | Browse assessments |
| Change over time | Data collected over two or more timesteps |
| Effects of treatment or management | Data per treatment or management |
| Relationship with overstory trees | Overstory tree data collected in the same locations as regeneration data |
We rated each project's suitability for analysis for that characteristic as Suitable, Partially suitable, or Not suitable:
Each project was also assessed for its compatibility with USDA Forest Service's Forest Inventory and Analysis (FIA) program and was ranked with an FIA similarity of High, Medium or Low:
Technical Report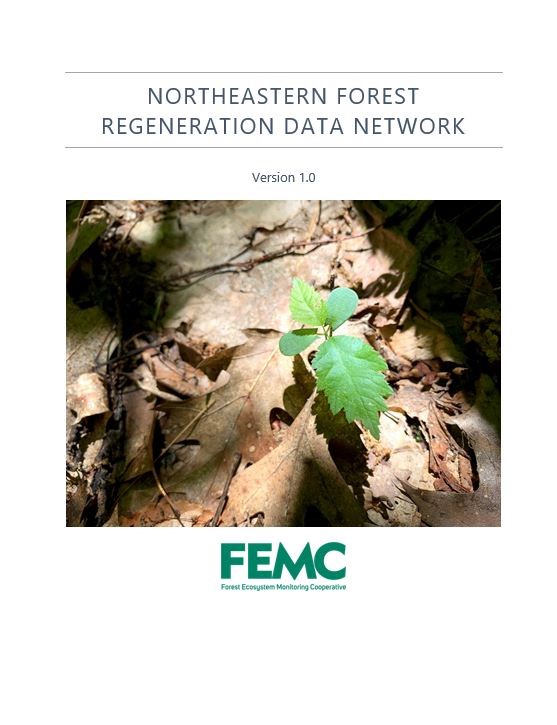 REGEN: Northeastern Forest Regeneration Data Network
Alexandra Kosiba, Emma Tait, Julia Pupko, Alyx Belisle, and James Duncan
Kosiba AM, Tait E, Pupko J, Belisle A, and Duncan J. 2020. Northeastern Forest Regeneration Data Network, Version 1.0. Forest Ecosystem Monitoring Cooperative: South Burlington, VT. https://doi.org/10.18125/17wowp
The technical report provides more information on the project and the methods used for data aggregation, standardization and comparison of various regeneration data products. View report
---
REGEN compare Tool
The REGEN Compare Tool was designed to provide a quick visualization of how various regeneration data sets compare in their methodology and utility for addressing different aspects of forest regeneration, survivorship and health. This tool can be used to drill down into specific metadata for various data products, as well as to filter to identify datasets of interest.
To get started, browse the suitability of projects for the seedling or sapling analyses listed or use the Filter button to filter the projects by characteristics of interest such as location (state), time frame, elevation or inclusion of specific metrics such as browse or overstory crown condition.
For full details on using the compare tool, view the "How to Use" menu item at the top of the tool.
This tool was last updated on 6/19/2020.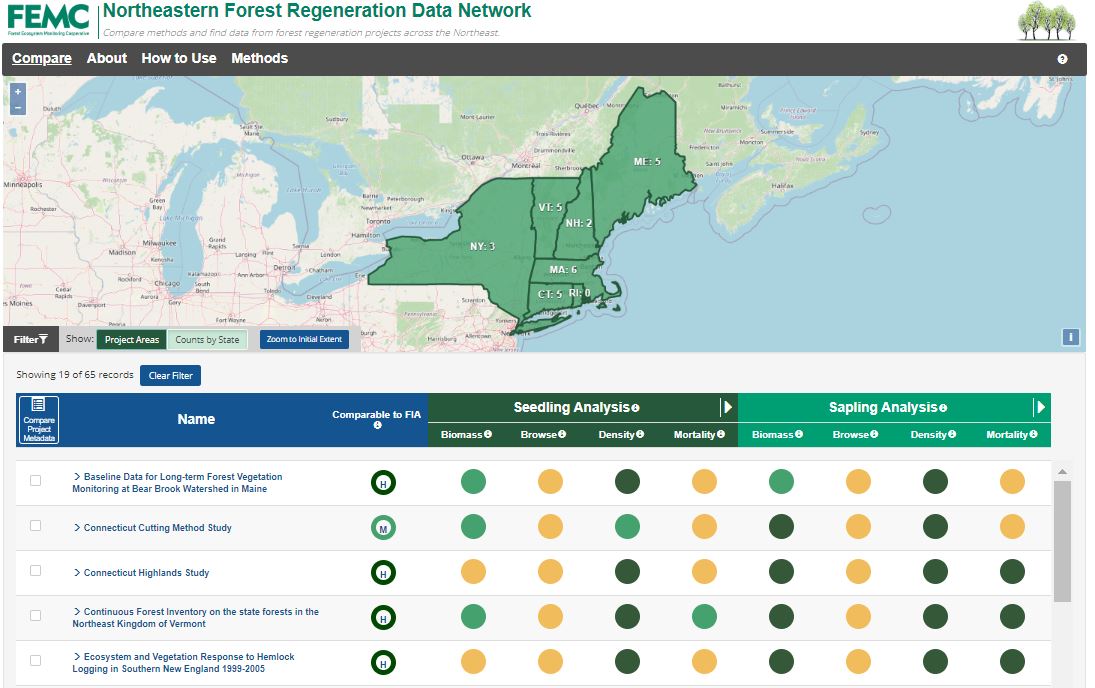 ---