FEMC Regional Project
Forest Health Monitoring
The Forest Health Monitoring Program (FHM) was established in 1991 through a joint effort between the Vermont Department of Forests, Parks and Recreation (FPR) and the Vermont Monitoring Cooperative to monitor the condition of tree species in Vermont. Plot design follows the structure set by the USFS National Forest Health Monitoring Program, with additional metrics added to reflect improvements in monitoring technologies and additions to monitoring objectives. As of 2019 FEMC began the process of regionalizing the FHM network which resulted in 49 annually monitored plots in VT and 20 plots in MA. In 2020 FEMC began conversations with state partners from various organizations and agencies to design a regional plot network that would be comparable to that of the USFS FIA program and meet the needs of the states in the New England region and New York.
Project Goals
To collect annual forest monitoring data that focuses primarily on forest health and detecting subtle disturbances that may otherwise go unnoticed using other similar protocols and techniques. The FEMC FHM program aims to create a comprehensive FHM protocol that can not only be integrated with the nation's standard forest monitoring protocols but also be flexible enough to monitor issues that various forest stakeholders may have.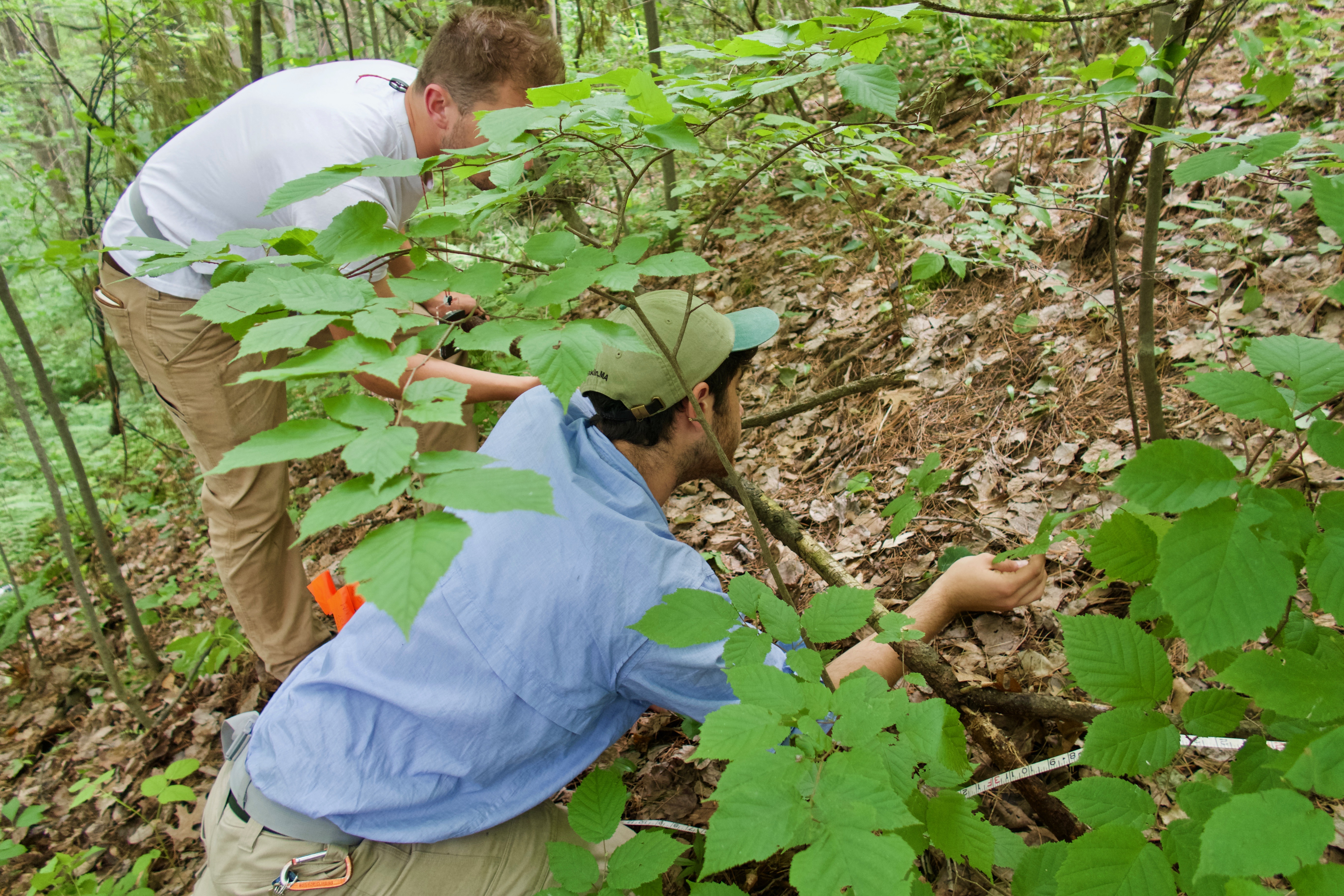 Regional Plot Network
In future updates of the Regional Forest Health Monitoring project page this map will be dynamic and downloadable for all users. In the meantime we are using a static version of the current proposed plot network as of January 27, 2020.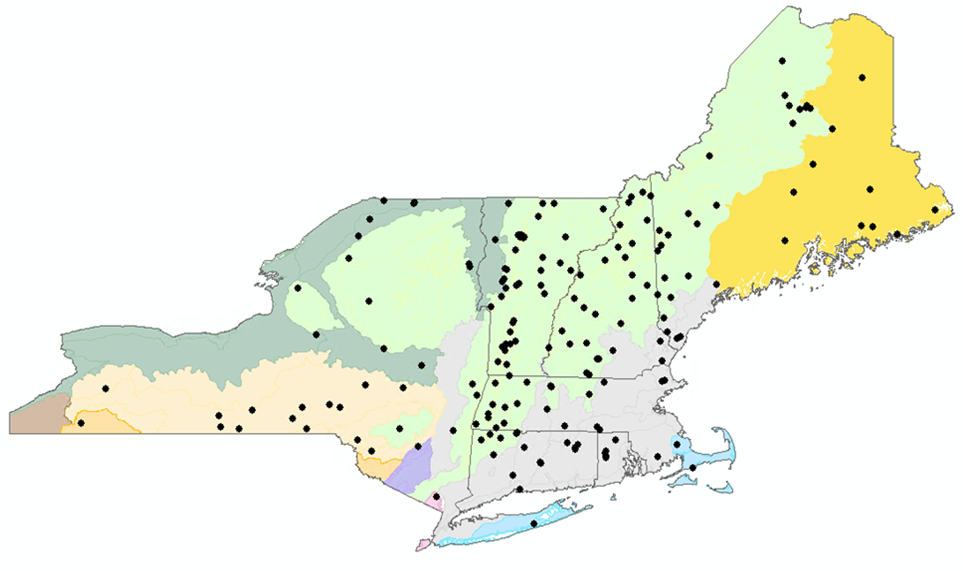 Project Quick Facts
Start Date:
1/1/1991
End Date:
Ongoing
Sampling Cycle:
Annual
Number of Plots:
Established:
69 in VT and MA
Planned:
132 additional
States:
Vermont
Massachusetts
New Hampshire
New York
Connecticut
Rhode Island
Maine
Project Personnel:
FEMC Staff:
Project Contact:
Related Links:
National Forest Health Monitoring Program Information
---
Standard FHM plot layout based on USFS FIA P2 plots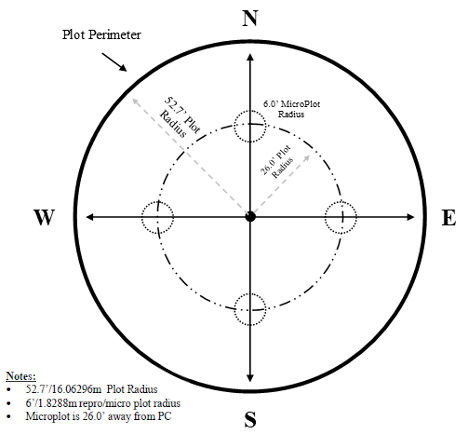 Modified plot layout in Massachusetts based on state's existing CFI network
General Metrics
Browse: Crews survey each subplot for presence/absence of browse. Beginning in 2020 crews began classifying the size of the browse damage present within the subplot.
Invasive Species: Crews survey each subplot for presence/absence of invasive species and classify the observed area that the species occupies within the subplot.
Regeneration and Saplings: On each subplot there is a designated 6.8' radius microplot that is 12' east of the subplot center. Within this microplot technicians will carefully survey seedlings ( <1" DBH) and saplings ( >1" DBH and <5" DBH). The seedlings are further divided into two different classes. Class 1 seedlings encompass conifers that are <6" in height and hardwoods <12" in height. Class 2 seedlings account for conifers that are >=6" in height and hardwoods >=12" in height. For saplings, technicians will measure DBH and status (live or dead). Once a sapling's DBH reaches 5 inches it becomes a tree.
Prism: Technicians use a 10 Basal Area Factor Wedge prism to assess all live and dead trees from the subplot center.
Physiological measurements (DBH/Height)
Vigor
Crown Health (Dieback/Transparency)
Damages
This is the field protocol used to support the FEMC field crew in the summer for the Forest Health Monitoring Project while they are out in the field. This protocol is a shortened version of the full protocol. This manual was last updated in 2020.
This is the full protocol used by the Forest Ecosystem Monitoring Cooperative and partners for collecting annual forest health measurements on a permanent network of plots across the state of Vermont. These measurements include crown health assessments, digital canopy photography, assessments of invasive species abundance and browse intensity, regeneration inventories and surveys for forest pests and pathogens. This is the 2019 update to the manual, completed on 9/20/2019.