FEMC Regional Project
Monitoring and Communicating Changes in Disturbance Regimes
Project Objective
The FEMC: Tracking Shifts in Disturbance Regimes portal was created to allow users to track changes, explore trends and look for shifts in disturbance regimes across northeastern forests. This project synthesizes important regional data and provides summary analyses of trends and patterns in key drivers of disturbance.
Overview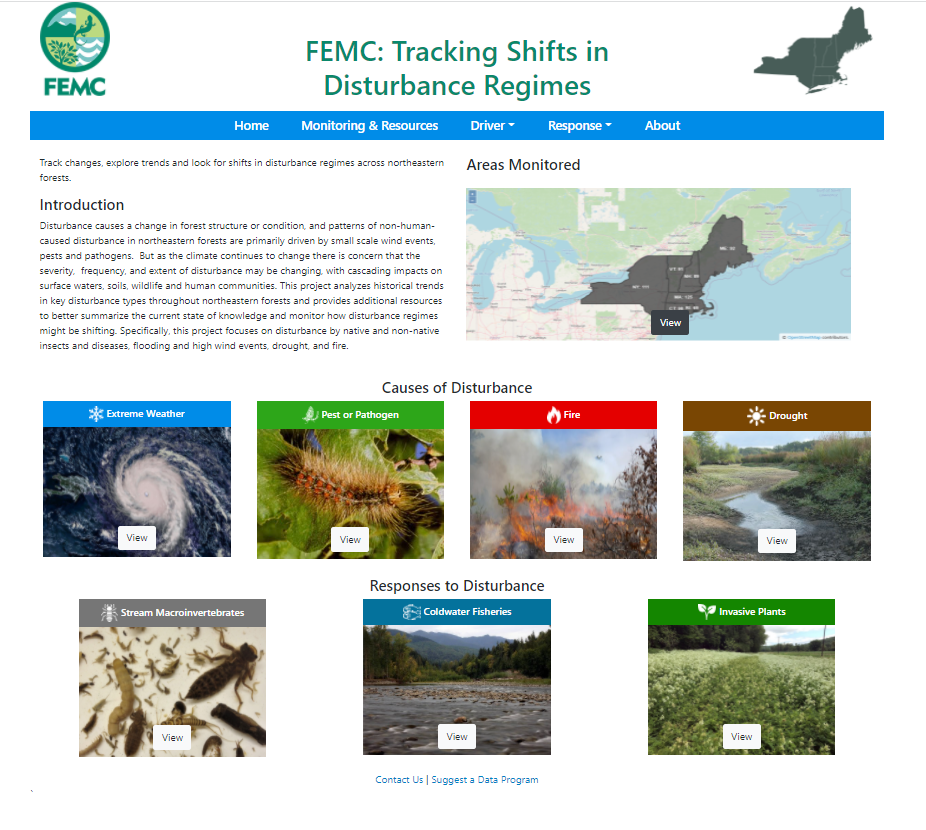 Disturbance causes a change in forest structure or condition, and patterns of non-human-caused disturbance in northeastern forests are primarily driven by small scale wind events, pests, and pathogens. But as the climate continues to change there is concern that the severity, frequency, and extent of disturbance may be changing, with cascading impacts on surface waters, soils, wildlife, and human communities.
This project analyzes historical trends in key disturbance types throughout northeastern forests and provides additional resources that can be used to interpret how disturbance regimes are shifting. Specifically, this project focuses on disturbance by native and non-native insects and diseases, flooding and high wind events, drought, and fire. The project also highlights three ecological 'response' components that are sensitive to the impact of disturbance events and provides a visual tool to determine where monitoring efforts are occurring. We use these key drivers of and responses to disturbance events to capture changing trends in disturbance regimes and provides baseline historical data to anticipate future shifts.
This project took place over 2020 and 2021.
Project Quick Facts
Start Date:
5/1/2020
End Date:
10/15/2021
Products:
Technical Report:
Online Tool:
Webinar:
Project Contacts:
About
The FEMC: Tracking Shifts in Disturbance Regimes (Version 1.0) web portal was built in collaboration with a regional advisory committee. Through discussion with experts and a thorough literature review, seven disturbance regime types were selected from the project.
These disturbance types are:
Drought
Extreme Weather
Fire
Pests

Advancing Invasives
Native Pests
Established Invasives
The project also includes three selected 'responses' which are: Macroinvertebrates, Coldwater Fisheries, and Invasive Plants. The disturbance 'drivers' and 'responses' included in this project are not meant to be comprehensive of all types of disturbance but were selected because of they are considered high priority and had large, well-documented datasets that could be used for accurate trend analyses.
In addition to the analysis of trends in key disturbance drivers, this online tool provides users with access to data programs and related data products (i.e. datasets) that are related directly to disturbance regimes that impact forests. The tool also gives users access to a newly compiled index of historical forest health reports from across the region.
---
Acknowledgments
Thank you to our advisory committee members: John Neely, Robery Fahey, Joshua Halman, Bill Keeton, Randall Morin, Daniel McKinley, Kyle Lombard, and David Orwig.
Thank you to our contributing FEMC web development staff: Jeanine McGann, Nancy Voorhis, and Alexana Wolf.
Technical Report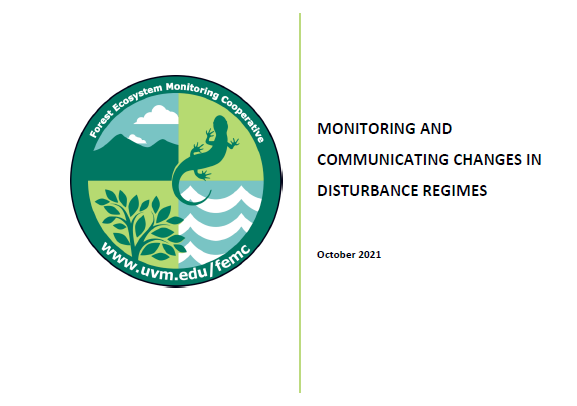 MONITORING AND COMMUNICATING CHANGES IN DISTURBANCE REGIMES (VERSION 1.0)
Emma R. Tait, Pia Ruisi-Besares, Matthias Sirch, Alyx Belisle, James Duncan, Jen Pontius, Elissa Schuett
Forest Ecosystem Monitoring Cooperative. 2021. Technical Report on Assembling Indicators to Monitor Climate-Driven Change in Northeastern Forests. https://www.doi.org/10.18125/cc0a0l. South Burlington, VT.
The technical report provides more information on the project and the methods used for data aggregation, standardization, and comparison of various regeneration data products.
---
Disturbance Trends Analysis and Monitoring Information Tool: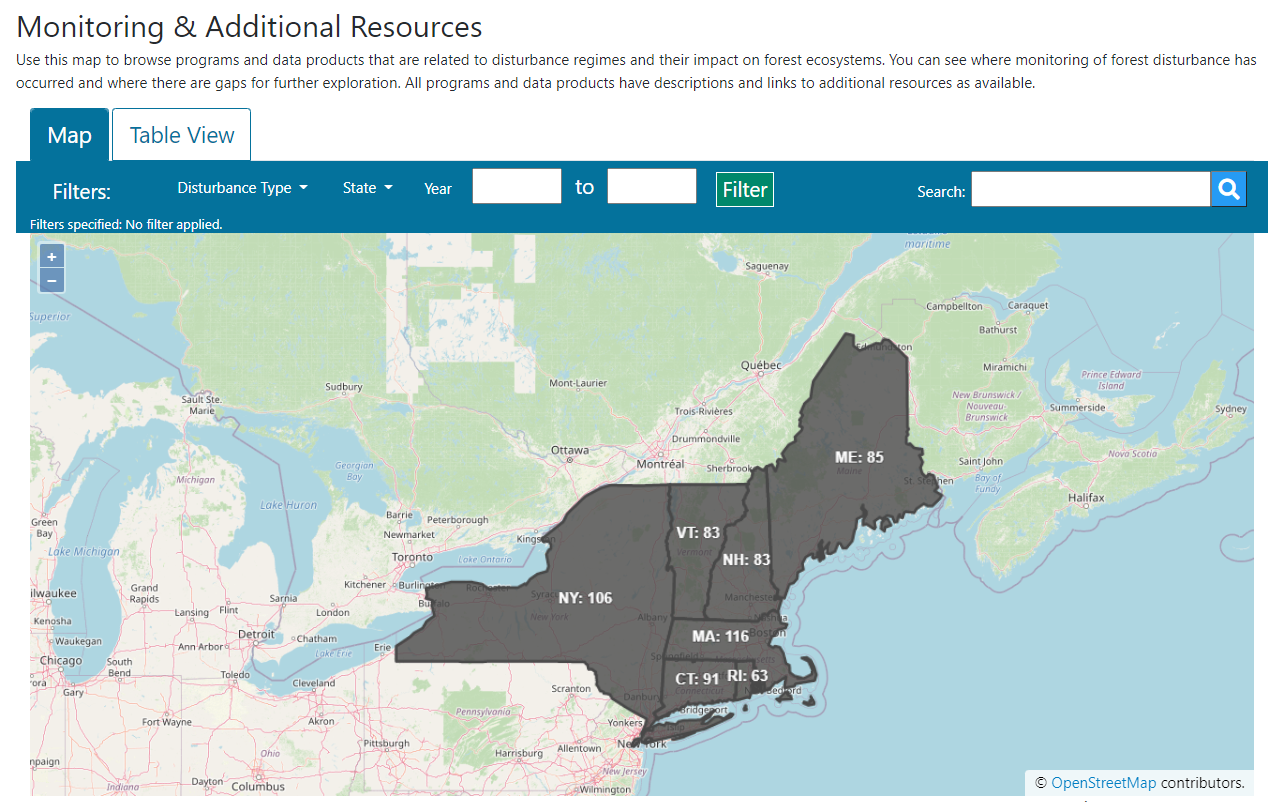 Find where disturbance monitoring is happening
The FEMC: Tracking Shifts in Disturbance Regimes portal is designed to provide users with the ability to explore trends in disturbance regimes across the Northeast. Users can search for data programs related to seven different disturbance types as well as filter through the information by year, or state. There is a tabular view and map viewer with this information on the 'Monitoring and Resources' page of the site.
Explore patterns and trends in disturbance
Each disturbance driver identified by this study has a unique set of trend analyses and data summaries interpreted by FEMC staff and cooperators. When possible, the analyses capture trend information about changes in extent, severity and frequency of seven disturbance regimes over time.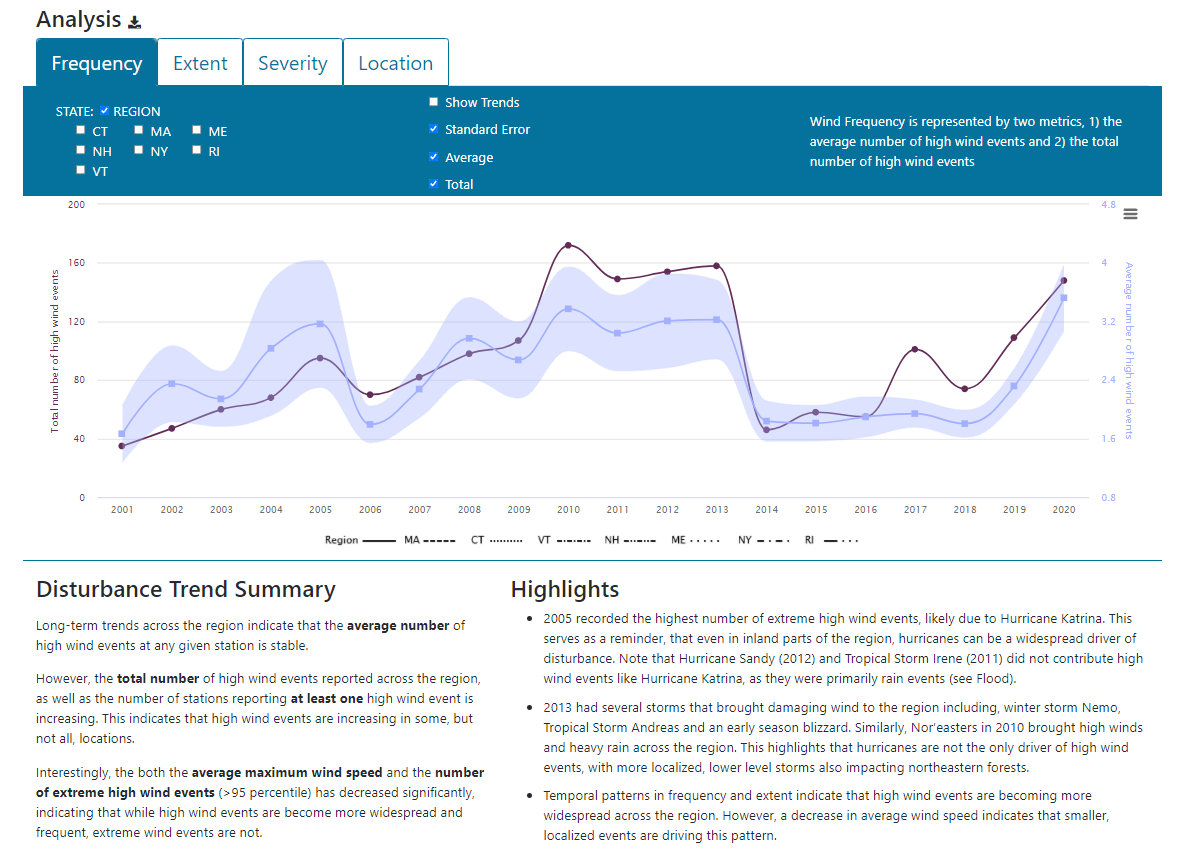 Extreme Weather
Fire
Drought
Pests

Advancing Invasives
Native Pests
Established Invasives
Each 'response' variable also has a designated page on the site that shows related highlighted studies and additional resources of note.
---
Recorded Webinar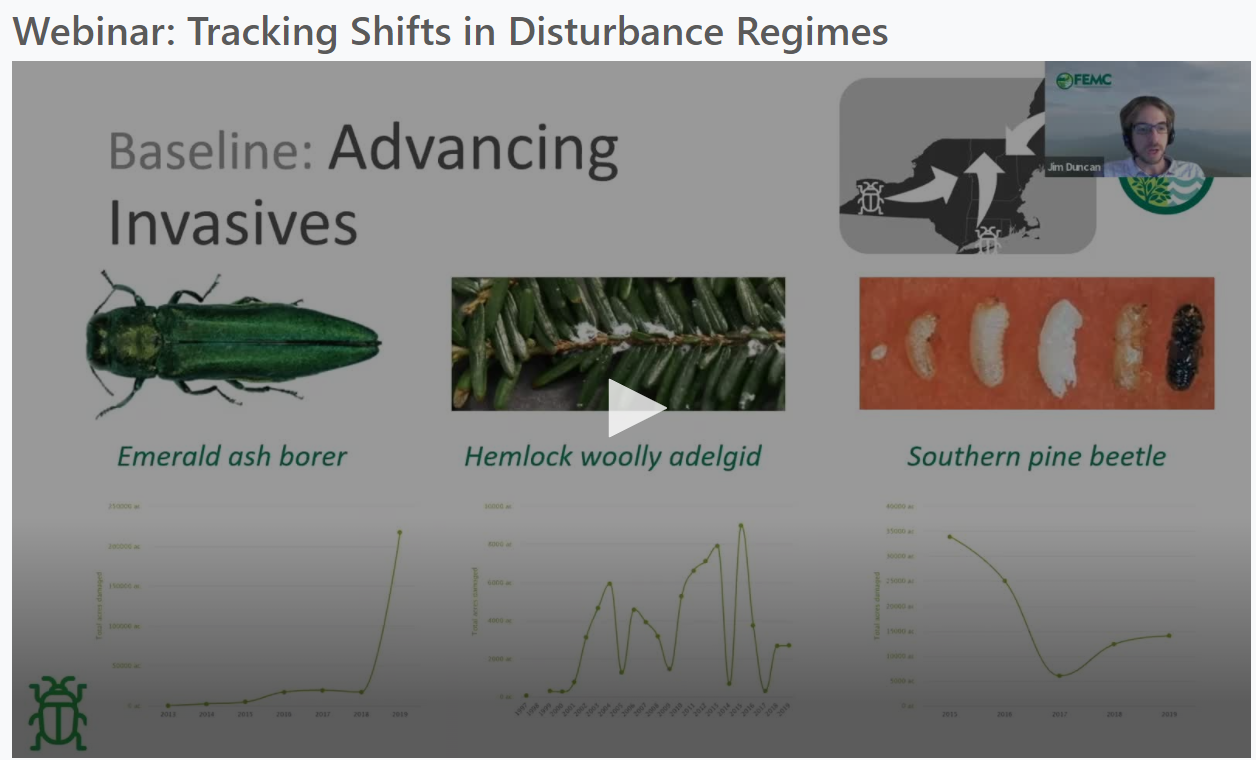 Click here to view our webinar sharing information about the FEMC online tool Tracking Shifts in Disturbance Regimes that can be used to track changes, explore trends, and look for shifts in disturbance regimes across northeastern forests.
---