FEMC Regional Project
Monitoring northeastern forest indicators for signs of climate-driven change
Project Objective
The Forest Impacts of Climate Change: Monitoring Indicators tool was created by the Forest Ecosystem Monitoring Cooperative (FEMC) to provide land managers and professionals with a web-based portal to find data and methods needed to monitor the impacts of climate change on northeastern forests.
Overview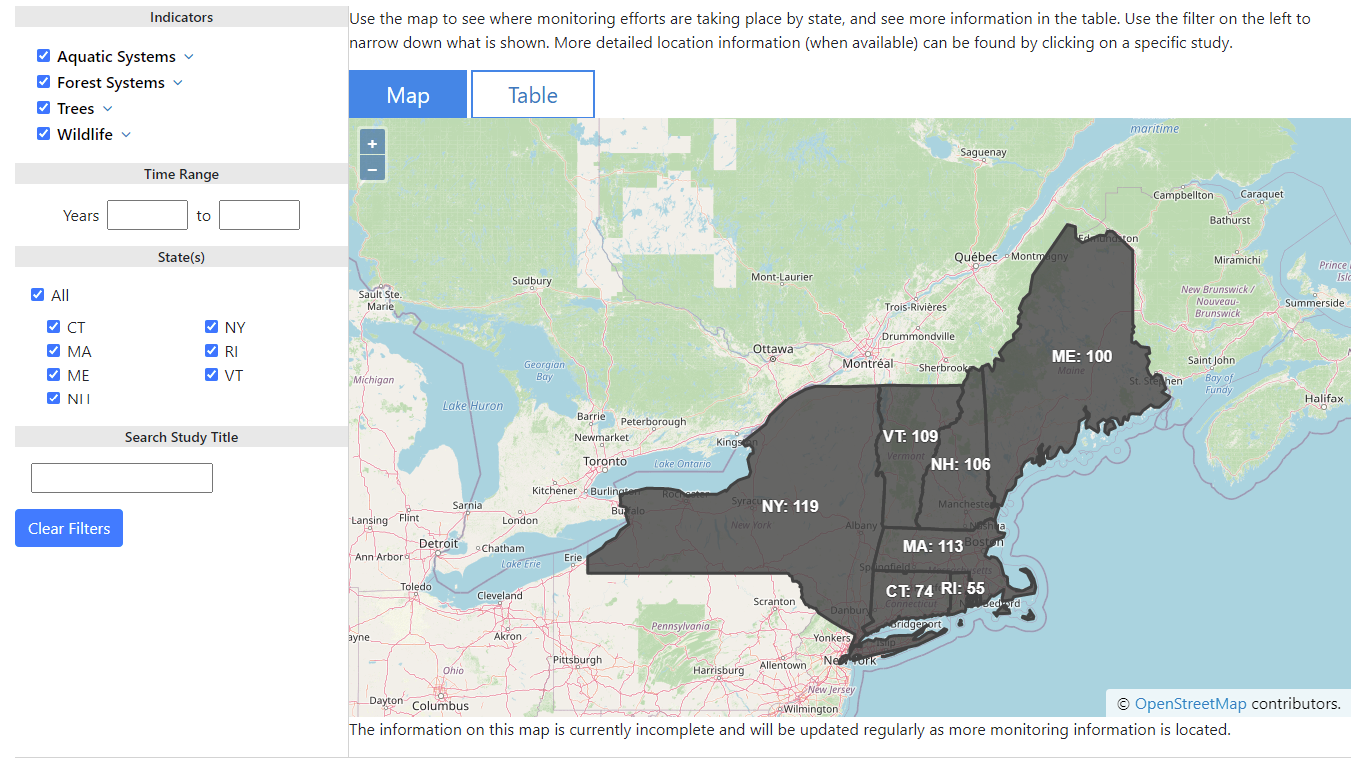 Forest ecosystems are experiencing the impacts of climate change in many forms. Being able to anticipate when and to what extent ecosystems are being impacted by climate change is critical for proactive, adaptive forest management practices. In order to predict patterns in ecosystem response, it is necessary to establish accurate baseline conditions through structure long-term monitoring.
The Forest Impacts of Climate Change: Monitoring Indicators tool aggregates information about key ecosystem processes from four ecological categories:
Wildlife
Forest Systems
Trees
Aquatic Systems
Focusing on critical indicators within these categories, this project determines where monitoring efforts of these indicators are being conducted and provides links to associated studies, datasets, and protocols. It provides easy access to replicable protocols for use in future monitoring programs and identifies where there are gaps in monitoring data. It consolidates information about indicator monitoring which will continue to grow as data is added. By developing this growing network of monitoring sites, more information will become available to the community to help discern how forest ecosystems are changing.
This project and its related tool was initially developed in 2020-2021.
---
Project Products
Explore the products from this project using the shortcuts below or visit the  Products tab to get more details on the various products. You will also find pointers there on how to use the Climate Change: Monitoring Indicators tool.
Links to:
---
About
The Forest Impacts of Climate Change: Monitoring Indicators tool was identified as an important need for the FEMC community to provide researchers and forest managers with a collection of protocols being used across the Northeast U.S. region to monitor and track impacts of climate change. The tool can be used to identify appropriate methods for varying land covers and land uses and can also highlight gaps in available data. By collecting this information, monitoring projects can target the needed data and managers can prepare for impacts due to climate change using adaptive management appropriate for the land.
The first iteration of this tool (Version 1.0) compiles an inventory of hundreds of studies and protocols from across the region. The tool allows users to see detailed study information based on selected projects with more exact location and contact information. Users can also easily navigate across tabs to see any datasets or protocols associated with a specific study.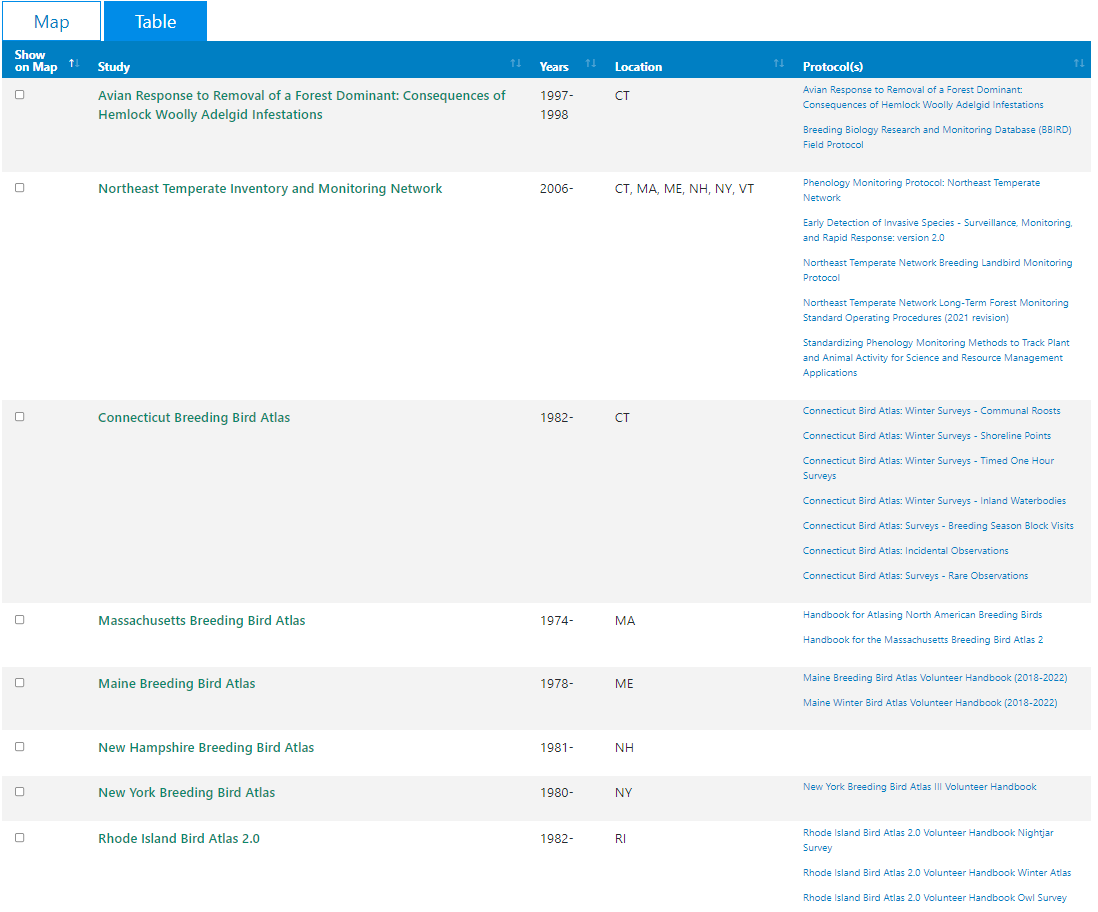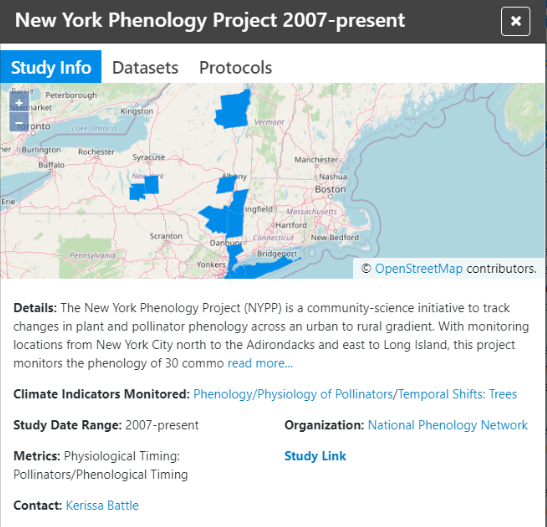 The tool also provides a table and map view that allows users to browse by category indicator to see a list of clickable protocols and studies for an easy overview of available resources. Information in this table is stored within an intricate data framework that allows viewers to see protocols that are used across multiple studies or that cover multiple indicator types dependent on what is selected. Users can also view more information about specific indicators on individual indicator pages that detail the key metrics used to monitor individual indicators.
---
Acknowledgments
This project is possible due to long-term funding provided by the U.S. Department of Agriculture, Forest Service State & Private Forestry, the Vermont Agency of Natural Resources, the Massachusetts Department of Conservation and Recreation, and the University of Vermont.
Technical Report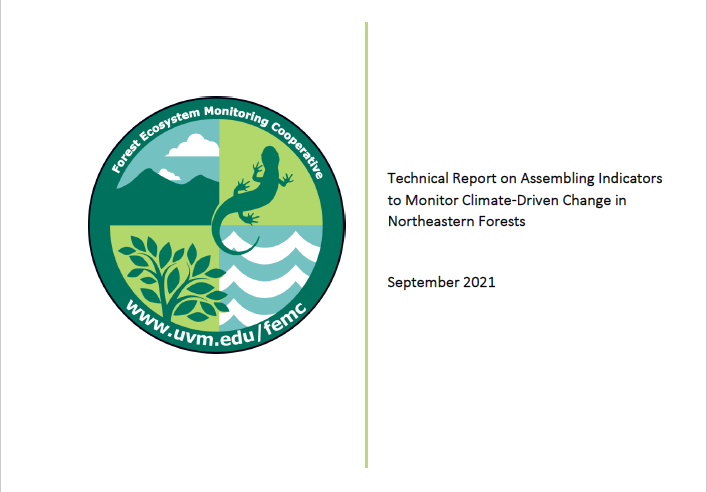 TECHNICAL REPORT ON ASSEMBLING INDICATORS TO MONITOR CLIMATE-DRIVEN CHANGE IN NORTHEASTERN FORESTS (VERSION 1.0)
Pia Ruisi-Besares, James Duncan, Matthias Sirch, Josephine Robertson, Jennifer Pontius, Danielle Cook, Elissa Schuett
Forest Ecosystem Monitoring Cooperative. 2021. Technical Report on Assembling Indicators to Monitor Climate-Driven Change in Northeastern Forests. https://www.doi.org/10.18125/99o4tq. South Burlington, VT.
The technical report provides more information on the project and the methods used for data aggregation, standardization, and comparison of various regeneration data products.
---
Climate Change: Monitoring Indicators Tool
The Forest Impacts of Climate Change: Monitoring Indicators (Version 1.0) tool provides users with the opportunity to explore a variety of climate change indicators from four ecological categories. The user is able to select an indicator of interest and get information about how many studies have been conducted for that indicator, the protocols used in the studies, and where the studies were conducted. When available, there are also links to datasets collected using the listed protocols.
The indicator page also provides a map to visually identify where there are gaps in monitoring.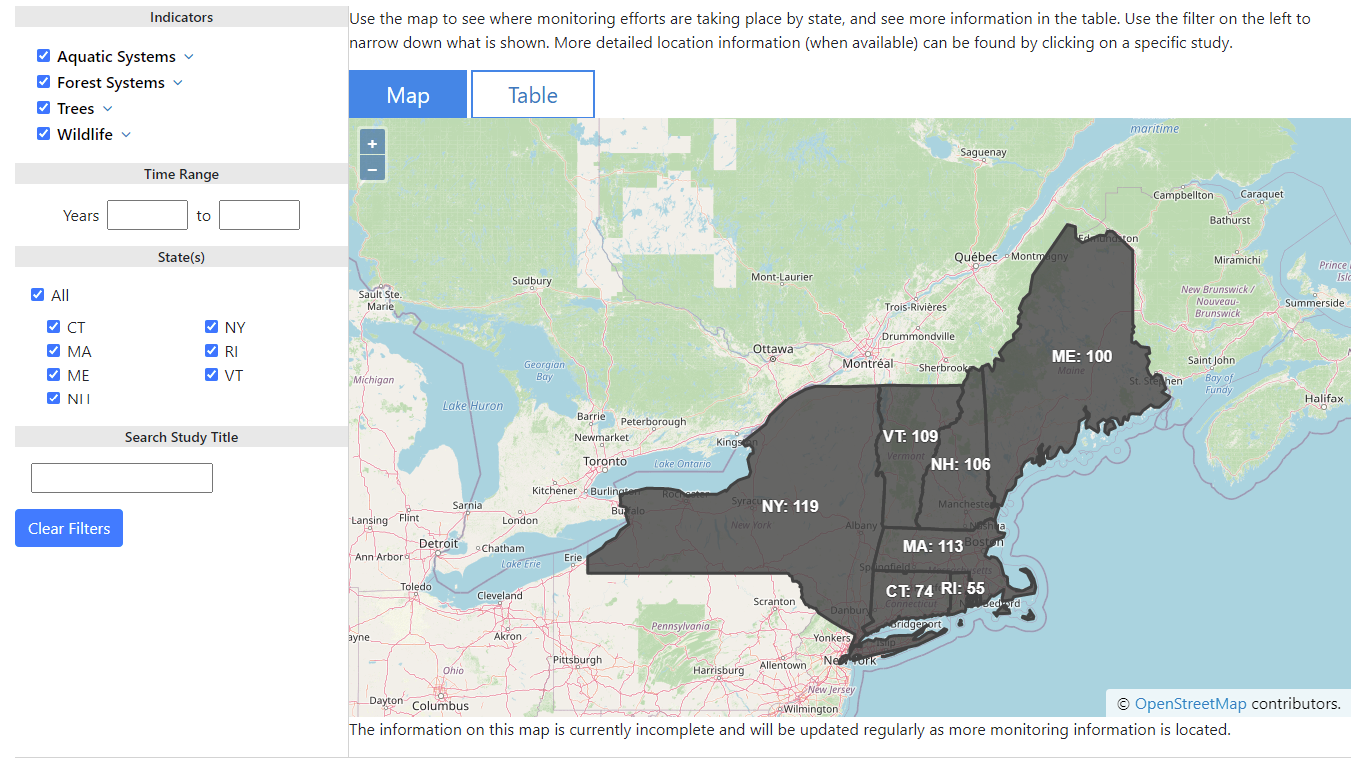 ---
Recorded Webinar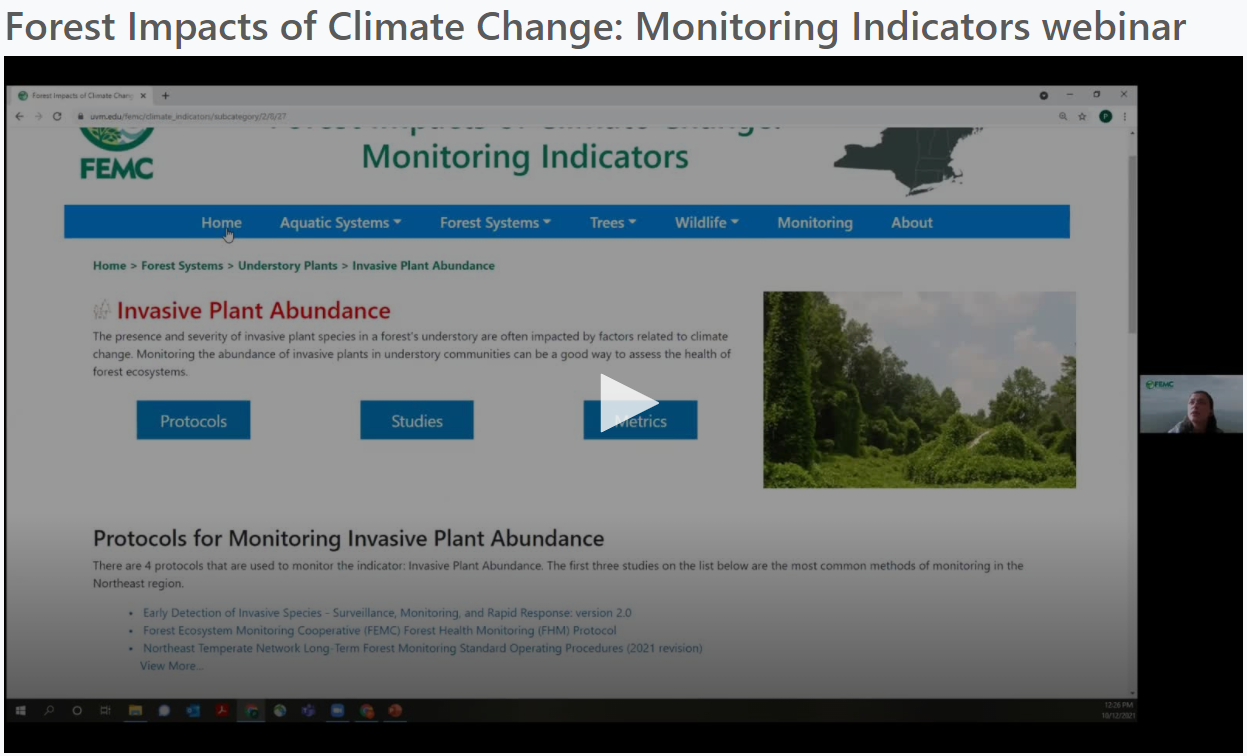 Click here to view our webinar that shares how to use the new FEMC tool "Forest Impacts of Climate Change: Monitoring Indicators" and a brief analysis of monitoring northeastern forest ecosystems".
---