The Davis Center Art (DCart) program is run by a two-student curation team.  These students are responsible for the planning, organization, promotion, and curation of all art in the Davis Center — including art exhibits on display in the building's two gallery spaces and all public works on display throughout the building and it's meeting rooms.
Meet the DC curators —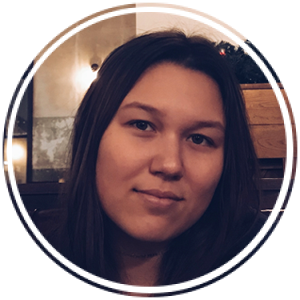 Ally Tanaka
Majors: Art History and Psychology
Class of 2021
Ally Tanaka is a sophomore studying art history and psychology at the University of Vermont. As a student art curator, Ally aspires to strengthen the voice of the student population through artwork, and promote art with a message of social justice. While Ally explores and learns more about the artist environment, she looks forward to gathering a greater understanding of the Burlington art community.
Outside of the Davis Center, Ally is the community outreach coordinator for Asian Student Union. She also spends her time reading Kerouac, kayaking in lake Champlain and skiing at Sugarbush.
Noah Zhou
Major: Art Education & Art History
Class of 2021
Noah Zhou is a junior studying Art Education and Art History at the University of Vermont. Born and raised in the Burlington area, Noah sees the teaching, production, and instruction of art as a way of interacting with the community. As a student art curator, Noah aims to enable a diverse range of perspectives and ideas through the display of fine arts.
Noah also works as a studio assistant for Burlington City Arts, an after-school teacher at the Sustainability Academy, and as the illustrations editor for the Vermont Cynic. In his own artistic pursuits, Noah investigates unconventional approaches to drawing, painting, printmaking, and photography. Noah also enjoys playing the guitar and loves to play video games on his free time.