The Center for Teaching & Learning (CTL) explores, promotes, and supports excellence in teaching, with diverse technologies, at UVM.
Remote Teaching Strategies
Teaching Continuity | Open Hours | Events | Blackboard Info
From Our Blog
Contemplative Pedagogy for Transformative Education and a Creative Response
February 5, 2020 From guest contributor, Laura Hill, Plant Biology—[snippet]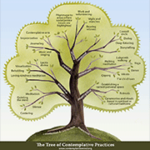 Today's college student is seeking more from their higher education than simply gaining knowledge and skills. They are asking faculty to make the classroom experience more participatory, inclusive, and relevant. College students are searching for life purpose and meaning, according to an extensive survey of first-year students across the U.S conducted by Alexander Astin and colleagues. Students reported preoccupation with life's big questions such as: "What are my most deeply felt values? Do I have a mission or purpose in my life? What kind of person do I want to become? What sort of world do I want to create?" Continue reading…
Using the Bb Grade Center? Here's a must see little tip!
Posted on January 10, 2020 [snippet] When I mentioned this in the CTL Blackboard Grade Center workshop this week, people were SO grateful that I thought I should post the tip to our blog. Continue reading…
Career Readiness Modules for Blackboard
November 17, 2019 [snippet] Workforce outcomes (aka: good jobs) are, research confirms, "far and away, the driving motivation for pursuing post-secondary education across all ages, races, and degree types" (D'Amico, 2018). So how can you ensure that your students graduate career-ready, able to put their learning to use for a better tomorrow? Continue reading…