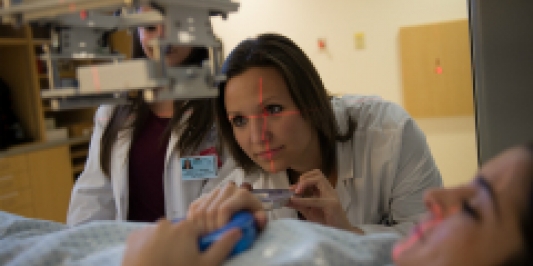 Department of Biomedical and Health Sciences programs integrate courses in the humanities and basic health and medical sciences with hands-on experience through clinical practica, research, or field work to prepare graduates for employment or the pursuit of graduate study.
Medical Laboratory Science Careers
UVM Medical Laboratory Science alumni are actively recruited by employers, including hospitals, research laboratories, public health agencies, biotechnology companies, the pharmaceutical industry, and diagnostic instrumentation and computer firms. Recent graduates have taken jobs in settings that include Yale New Haven Hospital, Brigham and Women's Hospital, John Hopkins Hospital, New York Presbyterian Hospital, the Mayo Clinic, the Fred Hutchinson Cancer Center, Green Mountain Antibodies, and Hematologic Technologies.
Many of our alumni enter into graduate programs in medicine, biomedical sciences, pharmacy, and Public Health, and physician assistant programs. Alumni have gone on to Cornell, John Hopkins University, George Washington University, the University of Pennsylvania, Franklin Pierce University, Northwestern University, and Massachusetts College of Pharmacy, among others.
Medical laboratory scientists have the best of both worlds: medicine and science. You will perform laboratory tests used to uncover and diagnose diseases. Physicians will rely upon your knowledge and skill and count on you to perform essential patient laboratory tests. In today's clinical laboratories, areas of scientific exploration include immunology, microbiology, hematology, chemistry and transfusion medicine. All physician-ordered lab tests, from therapeutic drug monitoring to bacterial identification, are performed by medical laboratory scientists. You'll operate complex electronic equipment, computers and precision instruments and be trained to identify various pathogens and human cells using microscopes and a battery of scientific methods.

Public health laboratorians work on the front line by protecting the nation's health. You will work closely with other public health professionals and clinical laboratorians in investigating and controlling emerging infectious diseases and outbreaks, preventing disease and disability in vulnerable populations, and monitoring the environments in which we live, work and play. You will also prepare for and respond to local, state and national emergencies such as pandemic influenza, bioterrorism and natural disaster.
Who employs medical laboratory scientists? You'll have many choices of practice settings: Hospitals, research centers, independent laboratories, clinics, public health facilities, industrial and forensic laboratories, biotechnology companies, the pharmaceutical industry, and diagnostic and computer firms all have positions open for qualified medical laboratory scientists.

Opportunities in public health laboratories. National funding has been increased to improve infrastructure and incorporate advanced technology. These government positions are advertised on state and local government websites.
According to the U.S. Bureau of Labor Statistics, employment of medical laboratory technologists is expected to grow by 22 percent between 2012 and 2022, about as fast as the average for all occupations. An increase in the aging population will lead to more diagnoses through laboratory tests. The median annual wage of medical laboratory technologists in May 2012 was $57,580.
Radiation Therapy Careers
UVM Radiation Therapy alumni take jobs providing direct patient care in a variety of settings, including treatment centers, hospitals, and major medical facilities.
The baccalaureate degree provides a foundation for professional certification as a radiation therapist. Medical Dosimetry, sales, research and development, and hospital administration provide additional career options. Students also pursue advanced study in the life sciences, physical sciences, and medicine.
Radiation therapists deliver radiation treatment in accordance to the physician's directive and observe the patient's clinical progress, as well as the first signs of treatment side effects. Because treatment often occurs over a length of time, therapists have an opportunity to develop close relationships with patients. The radiation therapist will prepare patients for treatment through a procedure called simulation. During this procedure, a patient's specialized treatment is tailored; immobilization devices are constructed; and fabrication of beam-shaping devices is completed. Radiation therapists may also be required to calculate radiation dosage for an area to be treated.
If you like to interact with people and want to be in a helping profession, radiation therapy may be for you. These personality traits, coupled with an interest in the health sciences and hands-on learning, will position you for success in the field of radiation therapy.
According to the National Bureau of Labor Statistics, employment of radiation therapists is projected to grow by 24 percent between 2012 and 2022, which is faster than the average for all occupations. An entry-level radiation therapist earns an average wage of $59,820 per year, according to payscale.com.