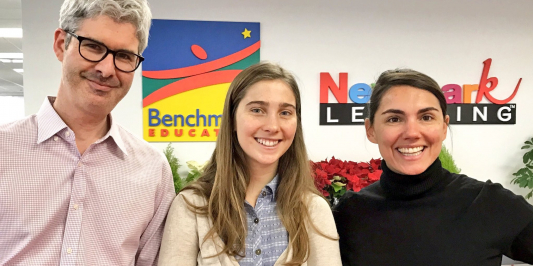 Job Shadowing Overview
Career exploration can be a complex process, and we encourage students to research industries and positions so that they can make informed decisions about their career paths.
By offering a job shadowing experience, you can help students get an up-close opportunity to see what a typical day in your industry looks like. This may be the first professional experience that many students will have, and it can be a fantastic learning opportunity about workplace environment and company/organization culture.
We hope that job shadowing can help students:
Increase confidence
Learn about a career field
Begin to determine if this field may be an option for the future
Understand professional etiquette
Learn networking skills and make professional contacts
Possibly set the stage for a future internship
Utilize Career Center resources
Many students seek job shadow opportunities for a day over winter break (mid-December through mid-January), though you are welcome to schedule a job shadow day at any mutually convenient time.
Connecting with Students on UVM Connect to Schedule a Job Shadowing Day
If you are interested in hosting a student for a job shadowing day, please join UVM Connect, our exclusive online community of UVM alums, students, staff and faculty. If you are new to UVM Connect, you can create an account by signing in with LinkedIn, Google, Facebook, or registering your email.
To indicate your willingness to host a student shadower, select Mentoring then Settings, and select "Host a student to shadow me at work". We encourage you to consider how many students you have the capacity to host and inform students if you have reached your capacity. You can adjust your mentee limit as you wish in Mentoring Settings.
What Does a Job Shadowing Day Look Like?
On the agreed upon shadowing day, the student will arrange their own transportation and meet you at your workplace.
As a shadowing host, we ask that you allow the student shadower to observe your typical workplace activities, and provide them a chance to ask questions about your industry and position.
After the shadowing experience, both students and hosts will complete an evaluation of the shadowing experience. Please also remember that students will be in different stages of the career development processes, and that for some, this will be their first professional experience in the workplace. We do not expect students to be experts in your industry – our main goal is to have them learn from this experience. We appreciate your patience and guidance as they navigate this process.
Suggestions on How to Have a Successful Job Shadowing Day
Create a Shadowing Day Schedule and Plan Activities
A full day will likely feel longer than you think! Plan varied activities and ask colleagues to help with the hosting responsibilities.
Possible activities for the day include:
Taking a tour of your organization/department
Sitting in on a meeting
Talking about/demoing a current project
Suggesting resources (websites, professional organizations) that may help them further explore your field
Visiting with clients/constituents
Sharing your own journey and how you ended up in this position
Advising the student on how to make the most of their time at UVM
Offering to review the student's resume
Allowing the student to listen in on a phone/conference call
Taking the student to lunch, possibly with other colleagues
Consider Offering the Student Shadower a Hands-On Experience
Past shadowing hosts have had students:
Write a blog post about their shadowing day for the company website
Provide a student or Generation Z perspective in a marketing meeting
Help set up or break down an event
Post on the company's social media sites
Help Set the Student Shadower Up for Success
After a shadowing experience, many students reflect upon how nervous they were on the shadowing day, and how they wished they had asked more questions. The shadowing day may be your student's first experience in a professional workplace, and they are likely still building their professional confidence. Many students are nervous about getting in your way, and want to make sure to put on a good impression. Though UVM coaches student shadowers about professionalism and preparation, your students will also benefit from hearing advice from you as a shadowing host.
You can help set them up for success by doing the following:
Talk with your student about what the shadowing day will look like. Who will the student meet? Where will they go? Is there any important context that they should know about meetings or activities? Is there background information that the student can read before the shadowing day?
Ask the student if there is anything that they are nervous or confused about, and address it before they show up for the shadowing day.
Let the student know that it's ok to ask questions during their visit. If there is a best time and place to ask (e.g. after a meeting is finished), let the student know when and where that will be.
Identify with the student's journey. Share your early career experiences, and what the transition from college to work was like for you. Give them some advice on how to be successful as a young professional.
Ask the student about their goals for the day. Are they just beginning to explore career options? Or are they committed to this field of work and trying to make contacts for job and internship opportunities? Is there anything in particular that they might like to see?
Ask about the student's expectations for the shadowing day, and make your own expectations clear. Discuss:

Dress code
Parking
Plans for lunch (should they bring food? Be prepared to buy it?)
Nuances about company culture or etiquette
What you expect them to know about your organization before arriving, and how they can learn it.
Sharing your shadowing day: #UVMshadow
If you or your organization use Twitter or Instagram, you can use the hashtag #UVMshadow to share a picture or note about your shadowing day! It's a great way to connect with UVM and other alumni, and a chance to show your Catamount pride.
Questions about shadowing? career@uvm.edu