Interested in deepening your knowledge of Participatory Research?

Want to take a deep dive into Social Movement organizing for food sovereignty and agroecology?

This Fall, the Agroecology and Livelihoods Collaborative is offering two online courses for graduate students, advanced undergrads as well as activists and professionals seeking creative learning in agroecology. Read below to learn more about these course offerings.
We believe that we learn best from a diversity of sources and a diversity of voices – online participation means you can join us from almost anywhere. Read below about our two offerings this autumn (September-December 2022).
Note that two additional agroecology courses will be offered in the spring semester (Jan-May 2023):
The Ecological Foundations of Agroecology (PSS 312) and a new course tentatively titled "Agroecological Transitions for More Just and Sustainable Food Systems" will be offered in Spring '23. These courses can be taken as a part of a Certificate of Graduate study in agroecology (learn more here).
Available for credit or for non-credit (continuing professional development)
Instructor: Colin R. Anderson (colin.anderson@uvm.edu)
Class meeting times and location: August 30-December 6. 2 hour Weekly online meetings on Tuesdays (time tbd).
Participatory, transdisciplinary and action research have become internationally recognized as pillars of knowledge production for sustainable and just food systems. Participatory Action Research (PAR) can be described as a process of research, education and action in which participants work together to understand and transform reality.
In this course, students will examine how these approaches can deepen our collective understanding of complex issues and support societal transformations for social justice and sustainability, especially in the context of agroecology. Together, we will encounter the 'politics of knowledge' or the ways that power and privilege shape science, academia, innovation, and development, as well as the value of "people's knowledge". We will also engage with critical theoretical traditions, such as feminism and decoloniality.
Then we will get practical and focus on the nuts and bolts of doing PAR in agrifood system studies and action. We will examine examples of agroecological PAR projects, to draw lessons learned and to find inspiration. We will shine a spotlight on several methods used within this tradition including, for example, participatory photography, popular education, theatre, indigenous approaches, deliberative methodologies, auto-ethnography and different forms of qualitative, quantitative and mixed methods inquiry. This course develops students' PAR and transdisciplinary competencies through a systematic engagement with theory, skills, methods, and a critical reflexive self-examination of our role in the research processes.Au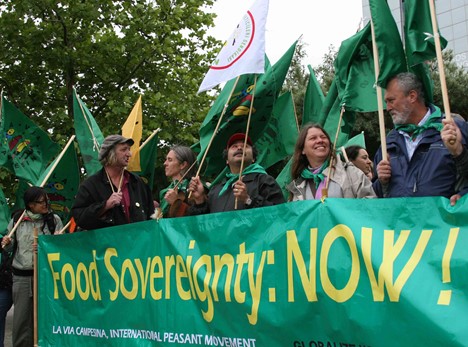 Agroecology, Food Sovereignty & Social Movements (PSS 314)
Available for credit or for non-credit (continuing professional development)
Instructor: Martha Caswell (martha.caswell@uvm.edu)
Class meeting times and location: Weekly online meetings on Wednesdays from 9:00 – 10:30 EST.
Agroecology and food sovereignty are increasingly seen as intertwined alternatives to the predominant globalized and industrial agrifood model. "Food sovereignty is the right of peoples to healthy and culturally appropriate food produced through ecologically sound and sustainable methods, and their right to define their own food and agriculture systems. It puts the aspirations and needs of those who produce, distribute and consume food at the heart of food systems and policies rather than the demands of markets and corporations." (Declaration of Nyéléni, 2007)
In this course, we will ask questions about the coherence of food sovereignty as the path forward, and about the role of social movements as the driver of change. Students will investigate social, political, and economic elements of the global food system from multiple perspectives, considering the ability to scale-up agroecology, and the potential intersection between agroecology, food sovereignty, and government policies. We'll benefit from guest lectures by several professionals actively involved in the struggle for agroecology and food sovereignty.