Welcome    Courses    FAQ's    Application Process    Contact
Welcome
'Scaling up agroecological practices can simultaneously increase farm productivity and food security, improve incomes and rural livelihoods, and reverse the trend towards special loss and genetic erosion.'
Former United States Special Rapporteur on the Right to Food, Olivier De Schutter.
The ALC is excited to announce the launch of a new UVM-accredited Certificate of Graduate Study in Agroecology (CGSA). These types of programs are being increasingly recognized as an effective and accessible learning option for working professionals and graduate students to gain deeper knowledge and credentials in a particular field or discipline. Our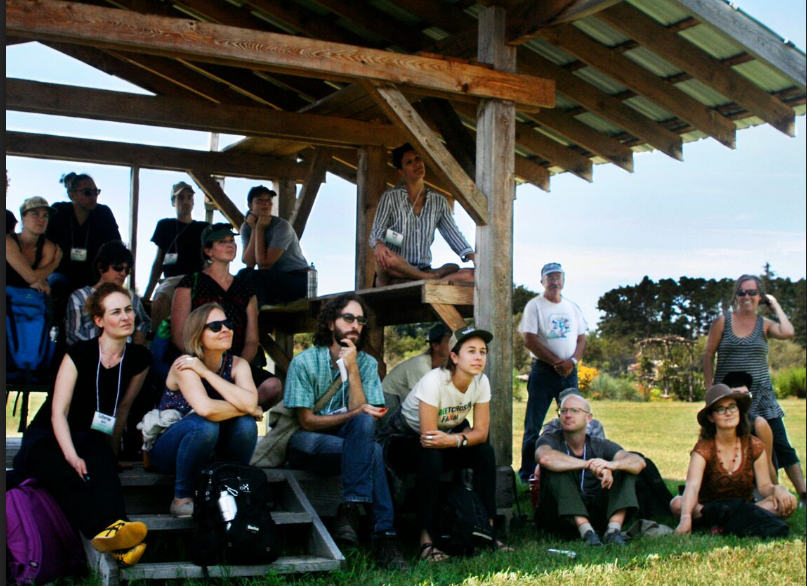 low-residency program is composed of 1 hybrid course, which includes both face-to-face and online delivery, and 4 online courses. The goal of the CGSA is to provide participants with graduate-level, conceptual and applied knowledge in agroecology. More specifically, it is a response to an increasing demand for a deeper curriculum that focuses on all dimensions of agroecology, including its expressions as science, social movement and practice. The curriculum of the CGSA fully encompasses the ALC vision of agroecology as a transdisciplinary, participatory and action-oriented approach.
The Certificate of Graduate Study in Agroecology is a 15-credit program that can be completed within one year.  The curriculum encourages students to integrate ecological, social, and economic perspectives in developing practical solutions to contemporary problems in our agrifood system. The fully prescribed coursework consists of one residential hybrid course, three foundational online classes, and a final synthesis seminar course. Students will be placed in yearly cohorts so that we are building community and expanding the network among program participants. The certificate's hybrid design means you can live in your own food shed while learning lessons that you can apply anywhere.

Courses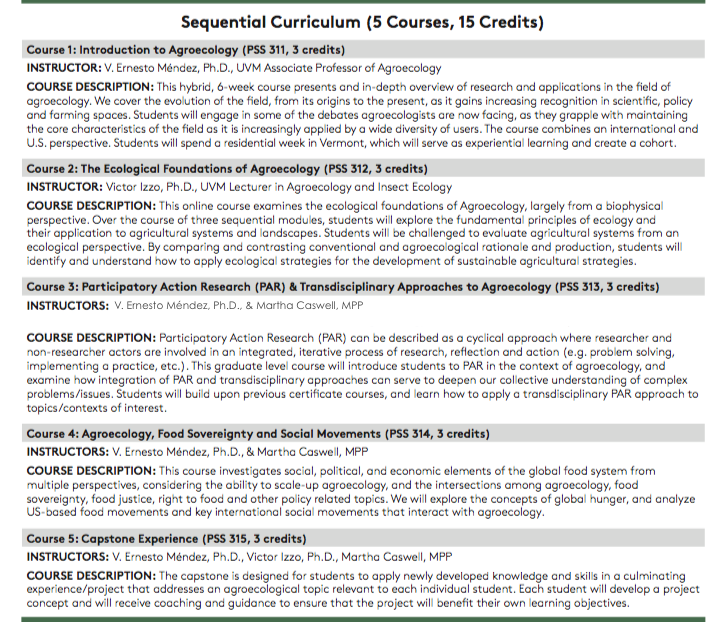 FAQ's

Why Agroecology?
Identifying the most viable and sustainable ways to improve our agrifood system remains one of the most important challenges of our time. While there are no magic bullets, the field of Agroecology is a demonstrated, holistic approach that addresses the social, ecological and production challenges of current agrifood systems.
Why now? 
The field of agroecology is gaining influence in a diversity of academic, political and advocacy spaces worldwide. In 2014, for the first time in its history, the U.N. Food and Agriculture Organization (FAO) held an International Symposium on Agroecology for Food Security and Nutrition. Agroecology has also received endorsement from La Via Campesina, and the Journal of Sustainable Agriculture was recently renamed as Agroecology and Sustainable Food Systems (Gliessman)-demonstrating that groups of peasant farmers, scientists, and international policy makers are each convinced of agroecology's value and potential. This increased attention has brought with it a call for empirical research about the performance of agroecological practices and a demand for training in agroecological principles. In response to these demands, we are developing a rigorous and practical option that offers a foundation in agroecology, opportunities for research, and a design that makes it accessible to students, international audiences, and mid-career professionals. 
Do I have to take these courses in a specific order?
It is highly recommended that students enroll in these five courses sequentially. In special circumstances, these courses can be taken out of order, although in order to promote the Community of Practice and cohort model that we are striving for, we encourage students to take the courses in the designed sequence.  
How much does the Certificate of Graduate Study in Agroecology cost?
The tuition rates are pending. Please check back January 2018 for further details. 
Can I take the CGSA as a compliment to a Graduate Program I am currently enrolled in at the University of Vermont?
Yes! Students who are currently enrolled in UVM's Graduate Program in Food Systems and Masters in Leadership for Sustainability have the opportunity to take the Certificate of Graduate Study in Agroecology (CGSA) as a compliment to their ongoing studies.
When will the residential portion of Course 1: Introduction to Agroecology be held?
The residential program will be held Sunday, August 5-Friday, August 10, 2018 (5 days and 6 nights) at the University of Vermont. 
I am from California, therefore I am on Pacific Coast Time (UTC). How will I be able to tune into lectures?
Aside from the week long residential portion, the CGSA is being run as an asynchronous learning opportunity meaning the course content will be disseminated online to facilitate information sharing outside the constraints of time and place among the cohort of students. This method of teaching design makes it accessible to students, international audiences, and mid-career professionals.
Application Process
(A) I intend to register for the full Certificate of Graduate Study in Agroecology:
Registration process is pending. Please check back January 2018 for instructions.
(B) I intend to take these courses à la carte:
Registration process is pending. Please check back January 2018 for instructions.
Contact