Undergraduate Program in Biochemistry
Chemistry... in action!
Biochemists study the molecular interactions that guide many processes involved in living organisms. This involves exploring the underlying chemical and physical properties of these organisms, from metabolism and enzyme kinetics to gene transfection and cellular signaling. With the recent publication of the Human Genome and other discoveries describing the molecular basis of life, tremendous opportunities await those students with the right background and training in this field. Don't just watch the future of science: join us and become part of the community of scientists who are making it happen!
For more information, contact Prof. Matthias Brewer, 802-656-1042.
Meet the Biochemistry Program Directors:
Prof. Matthias Brewer
Dept. of Chemistry
College of Arts & Sciences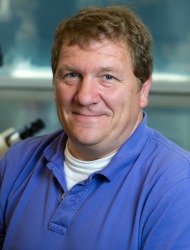 Prof. Stephen Everse
Dept. of Biochemistry
College of Medicine
Prof. Sylvie Doublie
Dept. of Microbiology and Molecular Genetics
College of Agriculture and Life Sciences
Note: This page contains information about undergraduate (minor or B.S.) degrees in Biochemistry. If you are interested in finding out more about graduate (M.S. or Ph.D.) degrees, click on the link to the Department of Biochemistry on the left menu.
Last modified February 13 2016 12:27 PM