Blackboard Jungle 11 Symposium
The Blackboard Jungle 11 Symposium is designed to support UVM faculty, staff, and all others seeking to develop skills, knowledge, and a deeper understanding of diversity that supports excellence in teaching, service, and research. The symposium sessions are dedicated to creating "open spaces" where all members of our community can participate in authentic dialogue, valued reflection, and expanded learning to promote inclusive excellence for all.
Read more about the history of Blackboard Jungle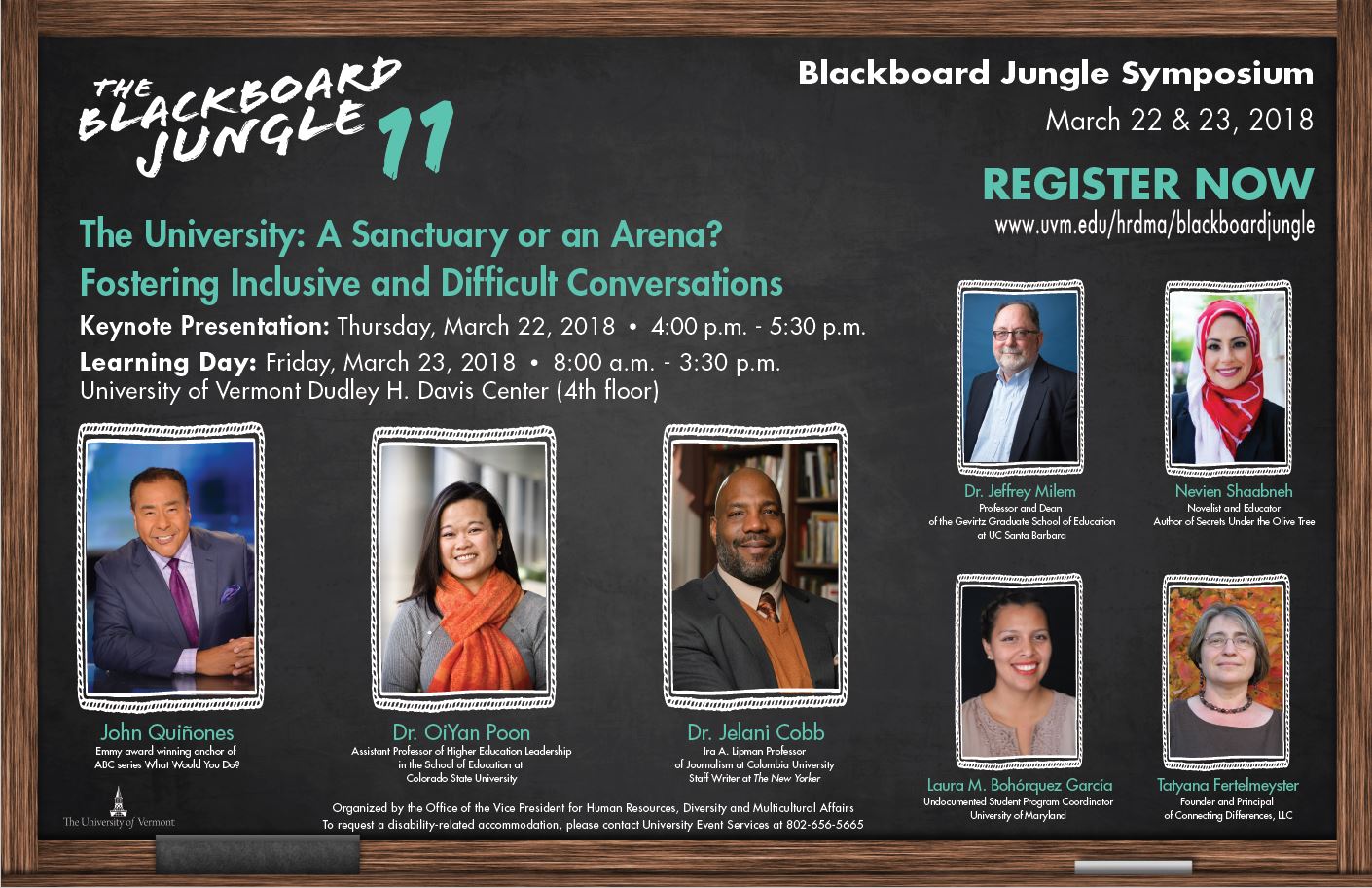 Contributors
Dr. Judith Aiken, Dr. Tracy Ballysingh, Dr. Angela Batista, Dr. Emily Bernard, Laura Bohórquez García, Richard Cate, Center for Cultural Pluralism, Dr. Sarah M. Childs, Dr. William Jelani Cobb, Dr. Kelly Clark/Keefe, College of Agriculture and Life Sciences, College of Arts and Sciences, College of Education and Social Services, College of Engineering and Mathematical Sciences, College of Medicine, College of Nursing and Health Sciences, Dani Comey, Rev. Laura Engelken, Dr. Alec Ewald, Tatyana Fertelmeyster, Dr. Cynthia Forehand, Diane Gaboriault, Dr. Jason Garvey, Dr. Nancy Gauvin, Grossman School of Business, Dr. Luis A. Garcia, Graduate College, Shana Haines, Dr. Susanmarie Harrington, Dr. Wanda Heading-Grant, Honors College, Dr. Jinny Huh, Dr. Karen Johnson, Yolanda Jordan, Dr. Nikki Khanna, Libraries and Learning Resources, Dr. Nancy Mathews, Dr. Thomas Macias, Alan Maynard, Emily McCarthy, J.D., Sarah Mell, M.A., Dr. Jeffrey Milem, Dr. Frederick C. Morin, Office of the Vice President for Human Resources, Diversity and Multicultural Affairs, Dr. OiYan Poon, Dr. Patricia Prelock, President Tom Sullivan, J.D., Provost's Office, Provost and Sr. VP Dr. David Rosowsky, John Quiñones, Gregory Ramos, LaShanda Reed-Larry, Dr. Cynthia Reyes, Rubenstein School of Environment and Natural Resources, Mara Saule, Dr. Lisa Schnell, Nevien Shaabneh, Joel Shapiro, Dr. Sanjay Sharma, Dr. Sherwood Smith, Dr. Veronica Sosa-Gonzalez, Nick Stanton, J.D., Dr. Moise St Louis, Doris Sumner, Linda Tarr-Whelan, Dr. Scott L. Thomas, Annie Valentine, Marie Vea-Fagnant, Dr. Jim Vigoreaux, Dr. Thomas Vogelmann, Krista Walter, Marie Waterworth, Paul Yoon.
Last Modified: