Information from Staff Council:
Staff Council 45th Anniversary - 1971 - 2016

Staff Council was established 45 years ago in March 1971.We're planning several events throughout 2016 to celebrate this milestone. Continue reading . . .

Coffee 'Meet & Greet' with President Sullivan and Wanda Heading-Grant: March 14, 10:00-10:45

Join us in this casual setting where staff have an opportunity to have a cup of coffee or tea and chat with UVM Leadership. Bring a question or share about a program or project that is important to you or just say "Hi". This event is a part of Staff Council's 45th anniversary. Please note the location has changed to the Sugar Maple Ballroom and click through for additional details. Continue reading . . .
Open Skate Night (BYOS): March 18, 6-9pm

We're hosting an Open Skate Night at Gutterson for the UVM Community. It's a BYOS (Bring Your Own Skates) event. Staff Council Office will provide Catamount Ice, some music, hot cocoa and the opportunity to skate with your colleagues, friends or family. For more details, continue reading . . .
Information from Around Campus:
Have thoughts about parking?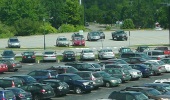 Parking Services is looking for staff feedback on parking issues!  They are looking for staff members who will relate to issues on a personal level, as well as staff who can represent departmental needs. Please contact Mary Provost at mprovost@uvm.edu if you would be willing to give your feedback and click through to see some of the specific issues Mary hopes to hear about. Continue reading . . .
EDU@UVM - MARCH 8-10, 2016 - Deadline Today!!

edu@uvm is a three-day signature learning event focused on staff development. Important themes like diversity, social justice, and commitment to Our Common Ground are woven throughout the workshops! Register now, workshops fill quickly, Continue reading . . .