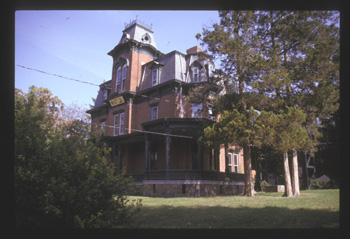 The William Wells house, located at 158 South Willard Street, is a three bay two-and-one-half-story, brick, Mansard-roofed mansion typical of the French Second Empire style. The building massing is a rectangular block with projecting central tower, two and one-half-story polygonal bays on the north and south walls, and a large veranda that wraps around the façade and southwest corner of the house.

This mansion has 1/1 sash with decorated cast iron lintels. Segmental arched window heads embellish the first two stories, while there are paired, round-headed windows on the third floor tower. The main entrance features cut granite stairs, and ornate double doors with a leaded glass transom and a recessed brick door surround. The initials W.W, for William Wells, decorate the door as well.1 The Italianate porch stops on the southwest corner in a polygon with polygonal hipped roof. Granite curbing with an iron fence surround the property.

The William Wells house, designed by the prominent builder A.B. Fisher, is a classic example of the French Second Empire residential home. The lot which it stands was purchased by Wells from Lawrence Barnes' Grassemount estate.2 This was Fisher's first contract in Burlington, both he and his son went on to design many more significant buildings in the South Willard Street area as well in the city.

William Wells (1837-1892) had a memorable military career during the Civil War, rising to the rank of General and receiving the Congressional Medal of Honor. He was also a prominent businessman in Burlington with his company, Wells, Richardson and Company. Wells was also involved in public office in Vermont and was president of numerous other companies.

This house reflected his self-image and his prominent place in the Burlington community. Shortly after his death in 1892, Dr. H, Nelson Jackson married into the family and moved into the house in 1899.3 In 1972, the University of Vermont fraternity, Phi Gamma Delta that was chartered November 1, 1969, purchased the house.

1. Burlington Historic Sites and Structures Survey, Vermont Division for Historic Preservation, 1977.
2. Burlington City Tax Assessors Records
3. Burlington City Directories, various years.