Burlington 1877
What still stands from between 1869 and 1877 in Burlington, Vermont?
87-89 Intervale Avenue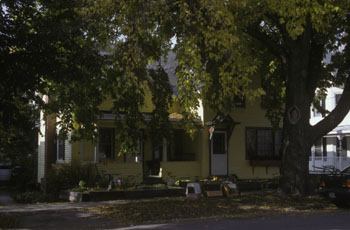 This Gothic Revival house, built between 1870 and 1877 and easily identifiable on the 1877 Bird's-Eye-View map, has survived with many of its original details intact. The one and one-half story, gable-front ell house has an additional gable centered in the ell. A cantilevered door hood sheltering the front door also points to the Gothic Revival style. The house retains its original clapboard and variegated slate roof. A one story porch set in the ell is a later addition and has an asphalt roof. Several small additions have been added to the rear of this structure.

The 1881-83 Burlington City Directory lists the first known residents of this house as Lucy, Louis, and Alexander Paye; both Louis and Alexander were carpenters. All three Payes lived at this address in 1885, as well as a boarder named George Fleury, an employee of Walker, Hatch, and Company, a stair and cabinet-building company. In 1890, Antoine Goddette, a barber with a shop at 184 South Battery, lived at this address.[1] By 1895, three women, at least two of whom were widows, resided here: Julia Lagualt, Sarah A. McClellan, and Mrs. Julian Rogers.[2]

[1] Burlington City Directory, 1890.
[2] Burlington City Directory, 1895.
Previous
Next
Return to Church Street, Elmwood Avenue, and Intervale Avenue Corridor
Return to Burlington 1877
A Research Project of the
University of Vermont Historic Preservation Program
HP 206 Reseaching Historic Structures and Sites - Prof. Thomas Visser
in cooperation with the UVM Bailey-Howe Library