Burlington 1877
What still stands from between 1869 and 1877 in Burlington, Vermont?
109 Intervale Avenue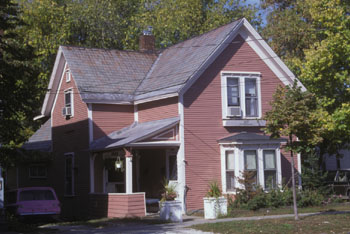 This one and one-half story, cross-gable house, built between 1870 and 1877, is a vernacular Italianate structure that retains much of its original appearance in plan and stylistic detail. The original clapboards and corner boards clad the walls of the house while the original slate shingles protect the roof. Italianate details include a bay window on the first story of the gable end, brackets at the bay window cornice and the porch corner post, as well as decorative lintels with modillions. Only two small additions have been made to the rear of this structure. This house is typical in size and plan to other worker housing built during this period along Intervale Avenue.

Little is known of the history of this house. Alfred J. Beaupre, a carriage factory worker first listed in the city directories in the mid-1880s, is the first known resident of this house.[1]

[1] C.R. Morsbach, Historic Sites and Structures Survey, 109 Intervale Avenue, Burlington, Vermont. August 30, 1978.
Previous
Next
Return to Church Street, Elmwood Avenue, and Intervale Avenue Corridor
Return to Burlington 1877
A Research Project of the
University of Vermont Historic Preservation Program
HP 206 Reseaching Historic Structures and Sites - Prof. Thomas Visser
in cooperation with the UVM Bailey-Howe Library