Burlington 1877
What still stands from between 1869 and 1877 in Burlington, Vermont?
237 Elmwood Avenue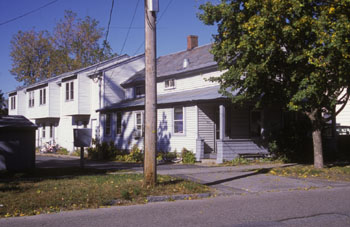 This two-story gable-front house, built circa 1870, has been added on to extensively, but the original block of the house is easily identifiable among them. Sometime before 1890, a one room, one story addition was built at the center of the southern side of the house. A one-story wrapped porch running the full length of the front and south facades of the building was built after 1890. The shingled porch skirt indicates that the porch was probably added before 1910. The side porch was enclosed at an unknown date; paired sashes point to the location of the one-room addition. In recent years, a series of two-story apartments was built off the back of this house.

The Downs family lived in this house for many years and are the first known residents of the structure. The 1885 Burlington City Directory lists James Downs, an employee of Kelsey and Brodie, and Patrick Downs, a city employee as residents of this house. Five years later, the 1890 directory lists Patrick as an employee of Shepard and Morse Lumber Company. Several Downs boarded here in 1890, including James H Downs, Miss Lizzie Downs, a dressmaker, and Miss Mary A. Downs.

Previous
Next
Return to Church Street, Elmwood Avenue, and Intervale Avenue Corridor
Return to Burlington 1877
A Research Project of the
University of Vermont Historic Preservation Program
HP 206 Reseaching Historic Structures and Sites - Prof. Thomas Visser
in cooperation with the UVM Bailey-Howe Library