Burlington 1877
What still stands from between 1869 and 1877 in Burlington, Vermont?
42 Elmwood Avenue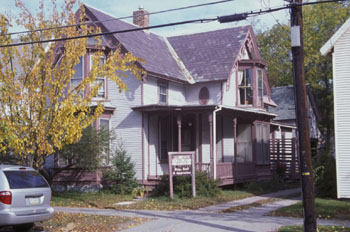 The house at 42 Elmwood Avenue was built ca. 1868-1870 as the last of six similar houses in the first block of this street.[1] Its tri-gable plan, set sideways on the lot, and steeply pitched roof trimmed with scroll-cut bargeboard are a late example of the Gothic Revival style. The two-story protruding bay windows at the front and side gables, visible on the 1877 Bird's-Eye-View map, are indicative of the Italianate style's popularity at this time. The house retains much of its original character with only one small addition to the rear, the partial enclosure of the rear porch, and the apparent enclosure of the front entryway. The fenestration is largely unchanged with the original two-over-two sashes lighting the bays. The front and rear porches, located in the ells of the house, are probably original as well. The roof is clad with variegated slate shingles.

A carriage barn with a similarly patterned slate roof is located behind the house. This structure, also set sideways on the lot, has changed very little in its outward appearance with only a shed addition on one side.

The 1869 Beers Map lists the owner of this lot as "A.K.B." The first known resident of this house was George Towle, a partner in Towle and Chayer, a dry goods business. In the mid-1880's, Mrs. P.B. Towle is also listed as a resident of this address.[2] Towle lived at this house from 1883 until 1898.[1] This building is now used jointly for commercial and residential purposes.

[1] C. Richard Morsbach, Historic Sites and Structures Survey, 42 Elmwood Avenue, Burlington, Vermont. June 15, 1978.
[2] Burlington City Directory, 1884-85.
Previous
Next
Return to Church Street, Elmwood Avenue, and Intervale Avenue Corridor
Return to Burlington 1877
A Research Project of the
University of Vermont Historic Preservation Program
HP 206 Reseaching Historic Structures and Sites - Prof. Thomas Visser
in cooperation with the UVM Bailey-Howe Library