Burlington 1877
What still stands from between 1869 and 1877 in Burlington, Vermont?
150-156 Church Street (Exchange Block)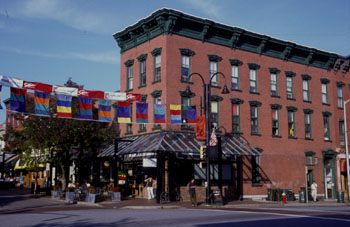 Built circa 1876-1877,[1] this Italianate structure is one of the finest examples of late-nineteenth century commercial buildings in Burlington. While the third story of 150-54 was destroyed by fire in the 1940s, the original stamped metal cornice can still be seen on 156 Church.[2] This structure also contains its original cast iron lintels and sills and still has many of its original two-over-two sashes. The first floor has seen some changes with some windows bricked in and the two storefronts modernized.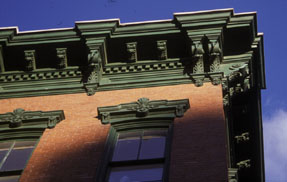 The earliest known business in this building is listed in the 1881-83 Burlington City Directory as Nye and Lavelle, a grocery store located at 150 Church Street. The 1885 directory also lists the office of J.C. Rutherford, a physician, at 152 Church Street. Many residential tenants lived on the upper stories of this building over the years.
[1] David J. Blow. Historic Guide to Burlington Neighborhoods. (Burlington: Chittenden County Historical Society, 1991), 163.
[2] Clark Schuttle. Historic Sites and Structures Survey, 156, 154, 150 (174) Church Street, Burlington, Vermont. N.D.
Previous
Next
Return to Church Street, Elmwood Avenue, and Intervale Avenue Corridor
Return to Burlington 1877
A Research Project of the
University of Vermont Historic Preservation Program
HP 206 Reseaching Historic Structures and Sites - Prof. Thomas Visser
in cooperation with the UVM Bailey-Howe Library