Burlington 1877
What still stands from between 1869 and 1877 in Burlington, Vermont?
29 and 31 Spring Street
29 and 31 Spring Street are two of three one and one-half story, gable-front Greek Revival houses built next to each other between 1870 and 1877. The third of these structures no longer exists, but probably stood where 27 Spring Street stands today. The similarity of these buildings indicates that they were probably constructed by the same builder.
29 Spring Street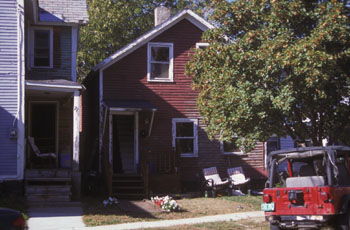 29 Spring Street is a very simple structure that has changed little since it was built. If any stylistic detail ever existed on this house it has since been stripped; however, the original clapboards still exist. The plan for this structure remains the same with the exception of a small addition extending to the rear of the house. The medium-pitched roof, gable-front orientation, and similarity of plan to 31 Spring Street identify this house as a Greek Revival structure.

The first known occupants of this house are listed in the 1885 Burlington City Directory as Israel Marquette, a laborer; Charles Valley, a marble company employee, and Mary Lebeau. In the 1890 Directory, Alfred Jodoin is listed as a resident of this house.

31 Spring Street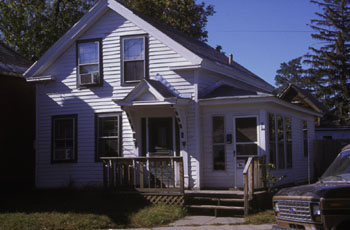 This house retains more stylistic detail reflecting the Greek Revival style: the house has a large cantilevered door hood with a modified portico and the roofline ends in a box cornice with returns on the gable end. Other details on the house were probably added later: while the lower two-pane sashes might be original, the upper sashes contain a single large square pane surrounded by twelve smaller panes, a detail typically seen in Queen Anne houses. The front door is also Queen Anne in style. This house has several small additions as well as a large, one-story addition extending to the rear.

The first known occupants of this house were the Vigeant family (also spelled Vigean and Vigant in the directories). The 1881-83 directory lists the residents as: Louis Vigant, an employee of the cabinet making company Walker and Hatch, Julia Vigant, and JB Vigant, an engineer. The 1890 directory lists the occupants as: Angeline Vigeant, widow of John, as well as Miss Julia Vigeant and Louis Vigeant, now listed as a carpenter.

Previous
Next
Return to Church Street, Elmwood Avenue, and Intervale Avenue Corridor
Return to Burlington 1877
A Research Project of the
University of Vermont Historic Preservation Program
HP 206 Reseaching Historic Structures and Sites - Prof. Thomas Visser
in cooperation with the UVM Bailey-Howe Library