Burlington 1877
What still stands from between 1869 and 1877 in Burlington, Vermont?
30 Spring Street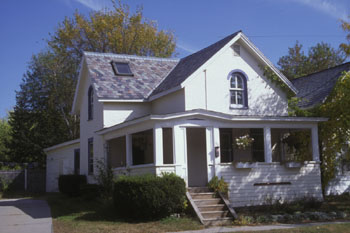 30 Spring Street is an excellent example of a vernacular Italianate building and a relatively rare example of a brick house in the Old North End. This one and one-half story gable-front ell house has a single Italianate window in each gable end; not only is the lintel arched, but the upper sash of the original two-over two windows is arched as well. The house has many additions, including several extending from the rear of the house. The 1877 Bird's-Eye-View map shows a porch tucked into the ell of the house, but this has been expanded to wrap around the gable end. The original variegated slate shingles protect the roof.

The Lemerise family occupied this house from at least the early 1880s. Amos Lemerise, a shoemaker with a business next door at 32 Spring Street lived at this address, as did Mrs. Mary Buloil, Laure Lemerise, and Carrie and Libbie Lemerise, both employees of Mrs. Loveland, a dressmaker. The 1890 directory lists Miss Anna Lemerise and Joseph Lemerise, a shoemaker, as residents of this house.

Previous
Return to Church Street, Elmwood Avenue, and Intervale Avenue Corridor
Return to Burlington 1877
A Research Project of the
University of Vermont Historic Preservation Program
HP 206 Reseaching Historic Structures and Sites - Prof. Thomas Visser
in cooperation with the UVM Bailey-Howe Library