Burlington 1877
What still stands from between 1869 and 1877 in Burlington, Vermont?
28 Church Street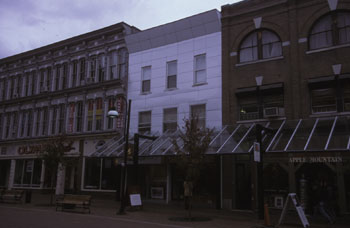 28 Church Street is another building that has seen many changes in its appearance over the years. First shown on the 1877 Bird's-Eye-View map of Burlington, the original structure was a two-story, gable-front structure with a center bay entrance. Since that time, a third story has been added with a flat or shed roof, the windows have been replaced, and the entire façade has been sheathed in white enamel panels. These panels cantilever out at the top, possibly concealing a decorative cornice. Along with many other stores along Church Street, the first floor entrance and walkway outside is protected by a glass or clear synthetic awning.

Located next door to the Bacon Block, this building may be one of sixteen buildings built by Nelson Bacon circa 1874.[1] However, the 1890 Hopkins map lists the owner of this structure as G.L. Warner. The first known storefront tenant was Patrick H. Corley, a "grocer and dealer in Catholic books."[2] By 1900, the Raine and Burt grocery store had taken over the storefront. After 1915, this structure has seen a variety of businesses, including a shoe store, a florist, and a sporting goods store, among other things.
[1] Adele Cramer, Historic Sites and Structures Survey, 28 Church Street, Burlington, Vermont. June 14, 1977.
[2] Burlington City Directory, 1885.

Previous
Next
Return to Church Street, Elmwood Avenue, and Intervale Avenue Corridor
Return to Burlington 1877
A Research Project of the
University of Vermont Historic Preservation Program
HP 206 Reseaching Historic Structures and Sites - Prof. Thomas Visser
in cooperation with the UVM Bailey-Howe Library